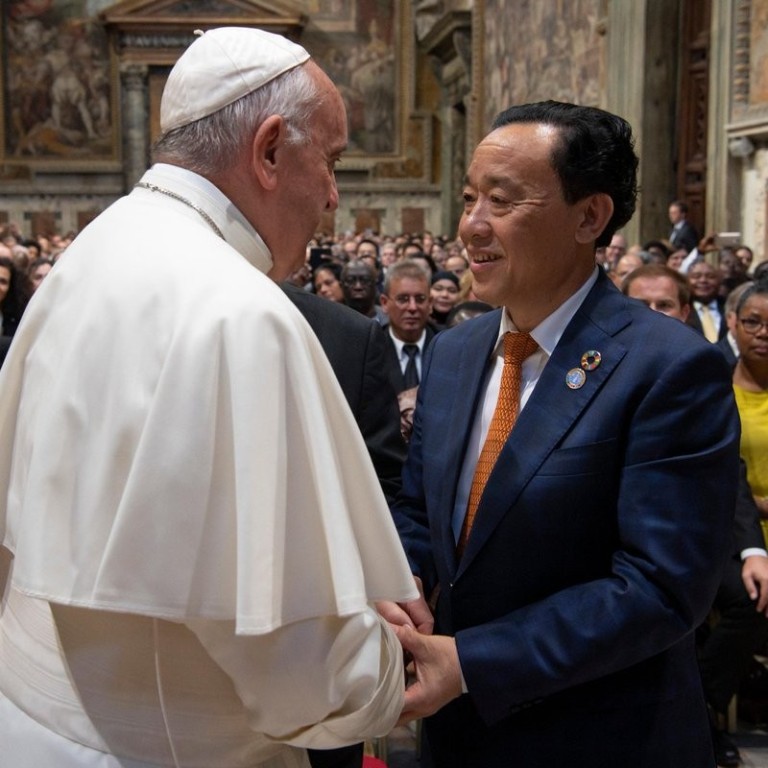 Why does new Chinese head of UN food agency feed US suspicion?
Beijing's vice-minister for agriculture Qu Dongyu takes over at the United Nations' biggest technical agency in August
His election furthers China's advance at the UN as US slashes its funding of international bodies
As China's Qu Dongyu takes up his new position as director general of the UN's Food and Agriculture Organisation next month, the burning question among Western embassies is whether Beijing can draw on China's experience of beating poverty to feed the world. Or will it be more concerned about feeding the power of the Chinese Communist Party?
The election of the Chinese vice-minister for agriculture to head the UN's largest technical agency – with a wide brief ranging from trans-boundary livestock diseases like African swine flu to fisheries and food standards – was a significant victory for Beijing as it seeks to expand its diplomatic influence.
Qu
won the ballot
in Rome last month, securing the votes of 108 of the 191 participating countries to beat candidates from Georgia and France, largely because of support from African and Latin American nations.
There were, however, fewer smiling faces in Washington, where the concern was over whether Qu would use China's position at the FAO's helm to further the ambitions of the
Belt and Road Initiative
, President Xi Jinping's cross-continental infrastructure strategy, in Asia, Africa and Latin America.
The FAO has already endorsed the initiative as a road out of poverty for many developing countries.
"Is [Qu] going to dance to China's political rule?" said Tim Benton, a director at the London-based non-governmental organisation Chatham House, which analyses and promotes understanding of international issues.
"If he is batting for China, clearly it's about encouraging belt and road thinking, and putting China in a position to win the profits of the next generation of agricultural systems."
The US, which supported the Georgian candidate, David Kirvalidze, appeared to have been caught napping. Its ambassador to the food agencies in Rome, Kip Tom – a large-scale farmer appointed by US President Donald Trump – took up his post only weeks before the FAO election.
In a last-minute bid to halt Qu's election, the US circulated a non-official discussion document to FAO members outlining its concerns, which was obtained by US development news website Devex.
"Chinese leaders at Interpol, the International Telecommunications Union and the International Civil Aviation Organisation have demonstrated a bias towards Chinese foreign policy and a lack of transparency and accountability," the US said.
"This is in keeping with public statements by a senior Chinese official that Chinese nationals working in international organisations are expected to align with Chinese policy without question."
There have also been concerns expressed about how the election was handled. Critics point to the "coincidence" that Medi Moungui from Cameroon dropped out of the race soon after China cancelled US$78.4 million of debts owed to Beijing by his country's government.
The outgoing director general, Jose Graziano da Silva of Brazil, made no secret of his preference for Qu. According to Rome-based website Italian Insider, China has promised to allow him to remain at the FAO as an adviser.
"There has never been, in the history of the FAO, a candidate who received as many votes in the first round [of ballots], especially as they did so little to campaign," said one US source close to the election process.
Meanwhile, diplomats in Rome have played their cards close to their chests, waiting for Qu to take office on August 1.
But in the corridors of FAO's mammoth headquarters, the main concern is whether the US will respond by cutting funds to the organisation, which is more than 70 years old.
The US is the largest donor to the FAO, contributing nearly US$290 million in 2018 on top of regular payments via the UN – about 20 per cent of the agency's budget.
According to Italian media reports, the US is considering withdrawing US$100 million in funding and diverting it to the FAO's sister agency the World Food Programme, also based in Rome and traditionally run by an American.
"If Trump was elected [US president] again and the US sees China using the agency for its advantage, it could act," said Benton.
There have been precedents. The US and other Organisation for Economic Co-operation and Development countries withdrew funding from the FAO during the 20-year management of Lebanese director general Edouard Saouma.
In 2011, the US stopped paying its dues to the UN cultural agency Unesco before officially quitting the organisation two years ago because of Trump's disdain for the UN. Last year, the US withdrew from the UN Human Rights Council and ended all funding to the UN agency for Palestinian refugees.
"There is a risk they could pull out of FAO altogether, like they did with Unesco, and make a statement that they are against this kind of management," said the US source.
Qu appears prepared for such an outcome. In his only pre-election address to the FAO in April, he expressed an aim to increase the agency's funding by 10 per cent and made it a priority of his leadership.
Some critics have expressed doubts that the 55-year-old biologist from Hunan province would be up to the job. However, Qu has the technical and management skills to run an organisation the size of the FAO, as well as considerable international experience.
He has a PhD in agriculture and environmental sciences, has headed two Chinese horticultural organisations, and worked on the Three Gorges Dam project across the Yangtze River – the world's largest hydroelectric power plant, which began operating in 2008.
He was vice-chairman of the Ningxia Hui autonomous region, one of China's key cotton-producing areas, before becoming China's vice-minister of agriculture and rural affairs in 2015. An expert in potato breeding, he is a well-known figure in international agriculture research organisations and has negotiated for China at the World Trade Organisation on fisheries subsidies. Those who have met him said he is ready to listen.
"Dr Qu brings great scientific expertise and policy knowledge to the position," said the award-winning economist Jeffrey Sachs, a special adviser to the UN Secretary General Antonio Guterres on the UN's sustainable development goals.
Sachs, who reportedly briefed Qu before the election, said China was in a good position to help the UN reach those goals as well as the daunting targets of the Paris climate accord.
According to the World Bank, more than 800 million people in China have been lifted out of extreme poverty since the country initiated market reforms in 1978.
"China has shown how to eliminate extreme poverty and can share that knowledge with today's low-income countries," Sachs said. "At the same time, China is a key part of every major agricultural supply chain in the world, and many of these supply chains are under environmental stress.
"The Belt and Road Initiative, too, offers a crucial opportunity to implement the sustainable development goals and the Paris agreement in the context of the world's largest multilateral infrastructure programme."
Benton, of Chatham House, also pointed to the challenge of resolving a global food crisis.
"We are at a crucial point in time," Benton said. "It is increasingly recognised that the food system as it stands is not fit for purpose."
Qu has so far avoided specifics on which direction he plans to take the agency, which under his predecessor shifted its focus from increasing production to help feed the world's 821 million hungry people to a more sustainable smallholder-based and climate-friendly agriculture.
The US has traditionally supported market-driven food policies and production increases.
"We have different pathways ahead with different consequences, but if we don't move soon governments will have a serious problem in 10 or 20 years' time," Benton said.
UN observers have said that the US has only itself to blame for China's advance at the UN. While under Trump Washington has slashed funding, China recently surpassed Japan as the UN's second-largest contributor.
Japan's contribution has traditionally made up about 10 per cent of its funding, but China's has reached 10.8 per cent and it plans to increase its support, reinforcing its influence on the administrative and budgetary committee, which in turn controls the budget of the Human Rights Council. China now provides the most troops for UN peacekeeping missions among the permanent members of the Security Council.
"There are policy areas where China is becoming really influential and one is in economic development," Francois Godemont, Asia adviser at Paris think tank Institut Montaigne, said.
"It is not surprising they will take an important role in agricultural policies."
Eric Olander, managing editor of the China Africa Project, based in Beijing, said of Qu's election: "It's the kind of win that most people in the West don't follow closely, but slowly these wins are adding up."