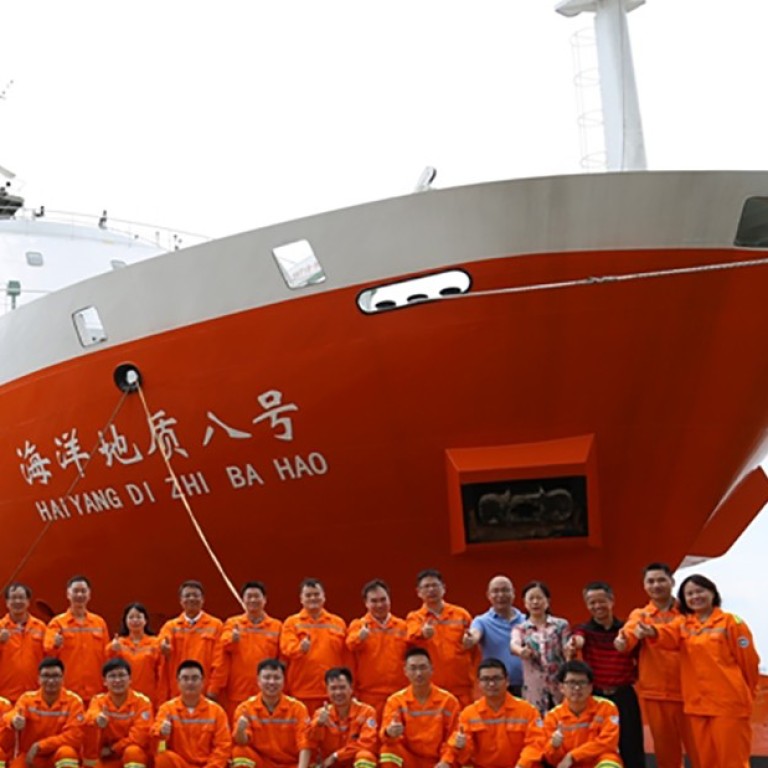 China and Vietnam in stand-off over Chinese survey ship mission to disputed reef in South China Sea
Coastguard vessels eye each other across Vanguard Bank
Haiyang Dizhi entered waters near reef to carry out seismic survey operation
Chinese and Vietnamese coastguard vessels have been involved in a week-long confrontation over a reef in the South China Sea, risking the biggest clash between the two nations in five years.
The stand-off may trigger a wave of anti-China sentiment in Vietnam not seen since 2014, when a Chinese oil rig arrived off the disputed Paracel Islands.
Six heavily armed coastguards vessels – two Chinese and four Vietnamese – have been eyeing each other in patrols around Vanguard Bank in the Spratly group of islands since last week. About a dozen vessels were reported in the vicinity by marine tracking websites on Thursday.
The stand-off emerged despite a pledge in May by Chinese and Vietnamese defence ministers to settle maritime disputes by negotiation.
On Wednesday last week, Chinese survey ship Haiyang Dizhi 8 (Marine Geology 8) entered waters near the Vietnamese-controlled reef to conduct a seismic survey, Ryan Martinson, an assistant professor at the US Naval War College in Newport, Rhode Island, said in a tweet on Friday, citing ship tracking data.
Its escorts included the 12,000-tonne armed coastguard vessel 3901, complete with helicopter, and the 2,200-tonne coastguard ship 37111.
On Friday, Chinese foreign ministry spokesman Geng Shuang did not confirm a stand-off at Vanguard Bank, but he said China was determined to protect its interests in the South China Sea.
"We are also committed to managing our differences through negotiations with relevant countries," Geng said.
President Xi Jinping meanwhile told visiting Vietnamese National Assembly chairwoman Nguyen Thi Kim Ngan that the two countries should "safeguard maritime peace and stability with concrete actions".
Earlier on Friday, National People's Congress chief Li Zhanshu told Nguyen that both sides should work together on a code of conduct for the South China Sea.
Relations between China and Vietnam were at their lowest ebb in a decade in May 2014, when the China National Offshore Oil Corporation moved oil platform Hai Yang Shi You 981 into waters near the Paracels. Vietnam sent vessels to stop the rig fixing to the seabed and were met by Chinese escort ships.
Beijing and Hanoi accused each other of allowing ships to ram opposing vessels. Anti-China protests swept Vietnam, and in southeastern Binh Duong province 14 factories owned by Chinese businesses were attacked.
Tensions eased in July that year, when China said the rig had finished its work and was withdrawn from the disputed waters.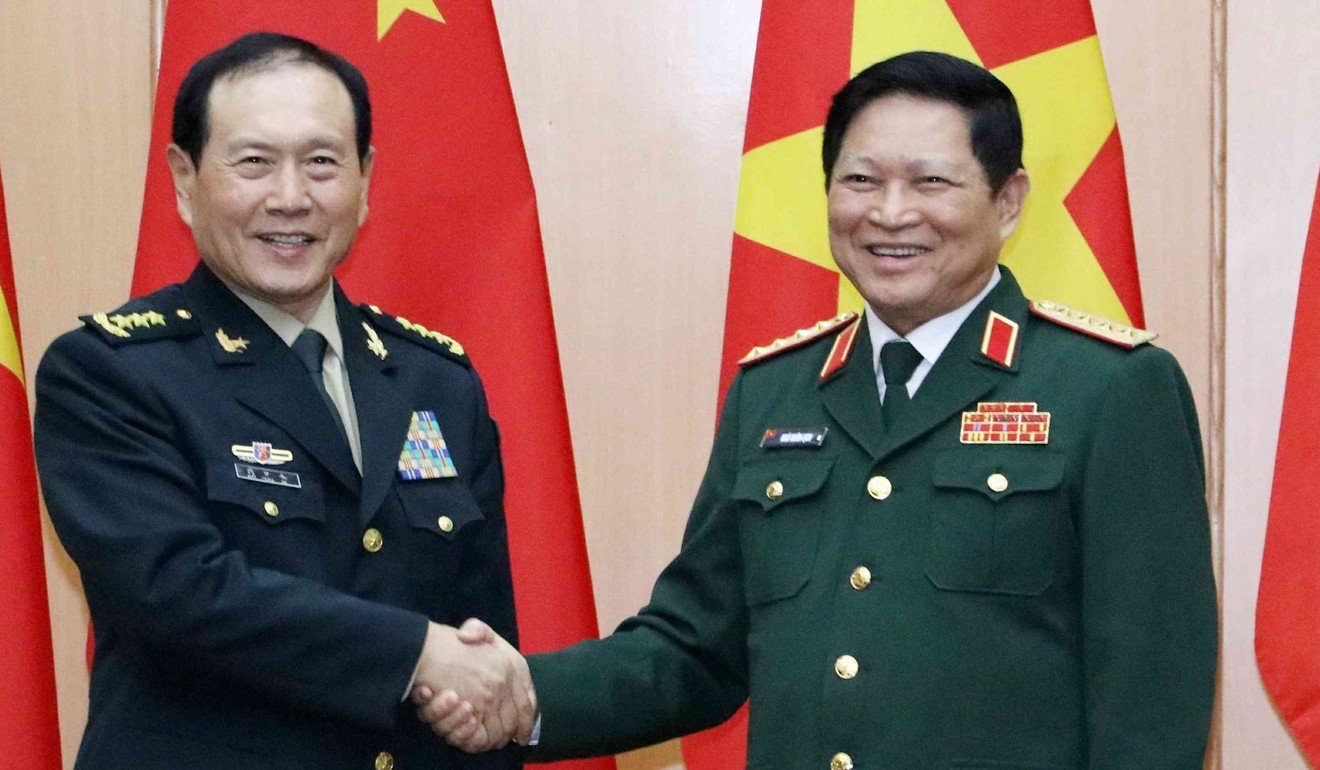 Since then, the two countries have made efforts to improve relations. In May, Chinese Minister of National Defence General Wei Fenghe visited Hanoi, pledging with his Vietnamese counterpart that both nations would maintain stability in the South China Sea.
Vanguard Bank is the westernmost reef of the Spratlys and sits within what Hanoi claims is 200 nautical miles of its exclusive economic zone. That claim is contested by Beijing and Taiwan.
The Vanguard Bank basin is known to have rich oil and gas reserves, and Vietnam has dozens of oil rigs operating in the area. In 1994, armed Vietnamese vessels forced Chinese survey ship Shiyan 2 (Experiment 2) from the area after a three-day stand-off.
China claims most of the South China Sea, but that is contested in places by Vietnam, the Philippines, Malaysia and Brunei.
In the past few years, Beijing has built and reclaimed seven islands on reefs under its control in the Spratlys and deployed troops and weapons to strengthen its claim over natural resources and trade routes in the area.
The latest stand-off came as China bolstered the role of its coastguard, which has been under military control since July last year and has been preparing for confrontations in disputed waters.
Collin Koh, a research fellow at the S Rajaratnam School of International Studies at Nanyang Technological University in Singapore, said China and Vietnam were likely to refrain from "untoward actions that may escalate the situation into a clash".
"Especially for China, an escalated situation may carry consequences such as a fallout in ties with Vietnam and potential difficulties that can be anticipated, especially when Hanoi takes on the chairmanship of the Association of Southeast Asian Nations (Asean) later this year," he said.
"That would go against the narrative that China's been trying to shape, which is that the South China Sea is peaceful and stable and can be managed properly without needing extra-regional intervention.
"So we might imagine an escalation at Vanguard will shatter that myth. Of course, this applies to Asean as well, although Beijing is more concerned about it because of its abhorrence towards external intervention in the South China Sea," Koh said.
Additional reporting by Catherine Wong
This article appeared in the South China Morning Post print edition as: Spratlys tensions risk starting new row with Hanoi