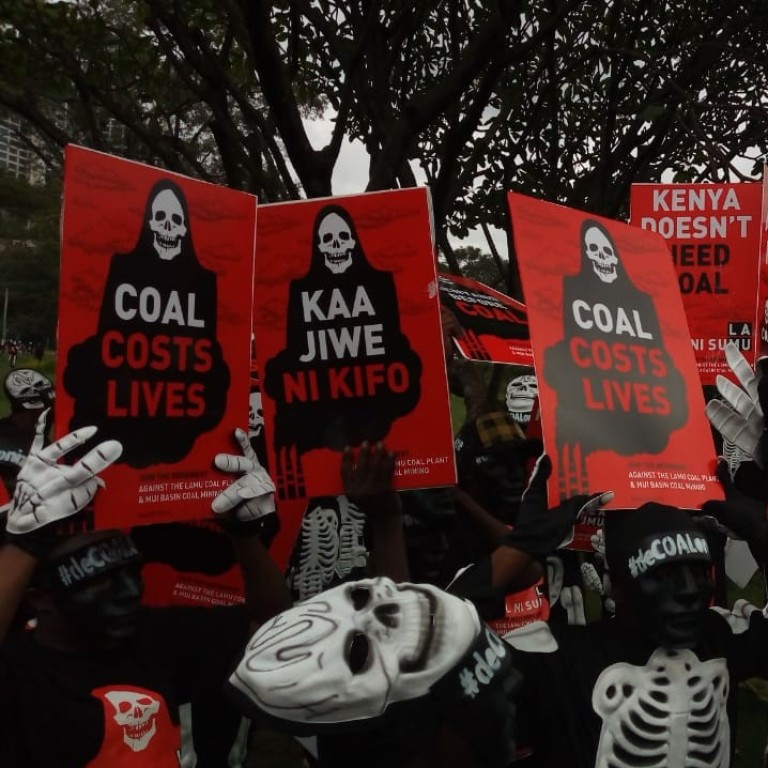 China meets resistance over Kenya coal plant, in test of its African ambitions
Court revokes licence for coal-fired power plant in Kenyan town whose Unesco World Heritage status is at stake
Beijing's efforts to cut emissions domestically coincide with coal-financing ventures overseas
This article is part of a series in which the South China Morning Post examines the local impact of Chinese investment and infrastructure projects in Africa.
There are a few places in the world that have held on to their traditions. One is the island of Lamu, close to Kenya's northern coast, which is an epicentre of Swahili culture in East Africa and home to its oldest and best-preserved history.
Nowhere combines the culture's architecture and heritage like Lamu Old Town, where there are two streets, few cars and dozens of mosques and churches. Donkeys and wooden carts are the main modes of transport.
The town is a Unesco World Heritage Site with multibillion-dollar tourism and fishing industries. But it risks losing its global allure after Unesco's World Heritage Committee warned that a US$2 billion coal-fired power plant planned in the area threatened its heritage site status.
Four Chinese companies are involved in the project. The United States also supported it, with its envoy to Kenya, Kyle McCarter, saying the country needed cheaper power and American energy firm GE promising to inject US$400 million for a 20 per cent stake in Amu Power, the operating company. The Kenyan government has said the plant would enable the country to have a diversified source of electricity.
However, the project's future is uncertain after a Kenyan court, the National Environment Tribunal, ordered on June 26 that a fresh environmental impact assessment be carried out. The tribunal, which oversees decisions made by the National Environment Management Authority, also revoked the licence issued by the authority to Amu Power.
A lack of public consultation to date, as well as the environmental risks, were cited by the court, whose ruling is binding on the government. Unesco has urged Amu Power to proceed with the impact assessment, which in turn could have an impact on perceptions of Beijing's signature transcontinental infrastructure strategy, the
Belt and Road Initiative
.
Two days after the court's verdict, Wu Peng, the Chinese ambassador to Kenya, met groups opposed to the building of the coal plant, days after they had been dispersed by police when they tried to protest at the embassy. Wu acknowledged the need to develop a different approach to hear the public's views.
Anti-coal campaigners have been demanding China back out. Of the plant's estimated US$2 billion cost, US$1.2 billion is coming from the Industrial Commercial Bank of China.
The three Chinese companies – Sichuan Electric Power Design and Consulting, China Huadian, and Sichuan No 3 Power Construction – teamed up with Kenya's Centum Investments and Gulf Energy in a venture to form Amu Power. Another Chinese firm, Power Construction (PowerChina), was contracted to build the plant, which is expected to generate 1,050 megawatts of electricity.
The Chinese embassy in Nairobi said it had asked the Chinese investors to wait for Kenya's decision on whether it should go ahead.
"Our position is that the Kenyan people are the final decision makers in this project and the Chinese government respects that," embassy spokeswoman Huang Xueqing said.
Despite committing to cutting China's reliance on coal, Beijing is still funding several coal-powered plants around the world. Both China and Kenya signed the
Paris Agreement
on climate change in 2016, promising to cut carbon emissions.
China may be providing a market for its coal by outsourcing its fossil fuel use to other countries, according to 350.org, which campaigns to prevent climate change and works to end use of fossil fuels.
Yossi Cadan, a senior campaigner for the organisation, said many people looked to China to be the new world leader in addressing climate change, given its government's ambitious initiative to reduce emissions domestically. US President Donald Trump, by contrast, made the controversial decision to
abandon the Paris pact
.
"While China seems determined to meet its Paris climate agreement targets at home, it undermines those efforts to reduce global emissions by simultaneously investing in coal projects across the world," Cadan said.
According to Cadan, cancellations and delays of coal projects in China left a desperate Chinese coal industry looking elsewhere, assisted by Chinese financial institutions.
He argued that if China was serious about being a global leader in reducing emissions and tackling the climate crisis, it must apply the same restrictions it was
introducing domestically
to coal financing outside China.
Analysts said that if the Lamu coal project were to be abandoned, other Chinese-funded coal power projects in Africa would come under the spotlight.
China is funding eight coal-powered projects in Africa, including Egypt's Hamrawein plant, which has an estimated cost of US$4.2 billion and is expected to generate six gigawatts of power.
Omar Elmawi, campaign coordinator at deCOALonize, was among the campaigners who met ambassador Wu two weeks ago.
"Other African countries could take a cue from [the Kenyan situation]," he said. "Already key financial institutions are coming up with policies that are either cutting back on or refusing to fund new coal plant projects. This will add to the pressure on China to abandon coal projects."
Lauri Myllyvirta, lead analyst at Greenpeace's air pollution unit, said the Lamu case could spur the Chinese government to adapt its criteria for supporting overseas energy projects. This could include requiring coal-fired power projects overseas to meet more stringent emissions standards.
"Currently, essentially all of the overseas coal-fired power projects with involvement from Chinese banks and firms plan to use much weaker emissions control technology than is allowed in China, leading to much worse air quality impacts and public health impacts – which was the case in Lamu," Myllyvirta said.
"It's hard to see how [a weaker emissions standard] fits with the Chinese leadership's objectives of greening the belt and road, and projecting a positive, technologically advanced image of China overseas."
This article appeared in the South China Morning Post print edition as: Resistance over Kenyan coal tests African ambitions