Taiwan
Get more with myNEWS
A personalised news feed of stories that matter to you
Learn more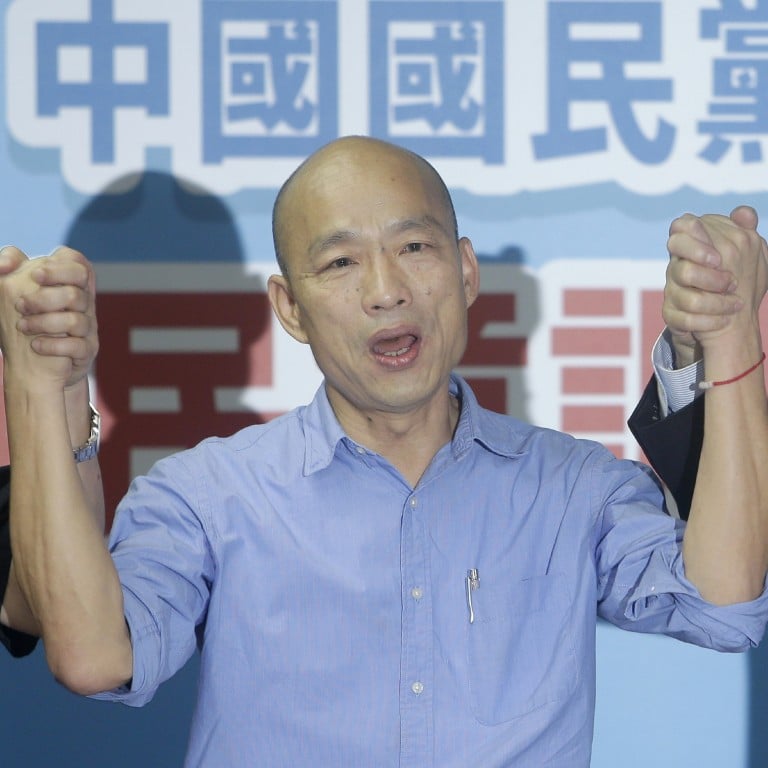 Kaohsiung mayor Han Kuo-yu wins KMT ticket to challenge Tsai Ing-wen for Taiwan presidency
Convincing win in Kuomintang primaries over Foxconn founder Terry Gou Tai-ming and three other candidates
But analysts say the political crisis in Hong Kong over the extradition bill may cloud Han's prospects in the January election
Kaohsiung mayor Han Kuo-yu has won the Kuomintang nomination to run for the Taiwan presidency after two months of bitterly contested primaries that have threatened to divide the main opposition party.
But his prospects in January's election have been clouded by the political crisis in Hong Kong over the now-suspended extradition bill, according to analysts. Known for his pro-Beijing stance, the populist mayor will need to convince voters he truly opposes the bill that has triggered a wave of mass protests in Hong Kong, and that he will not accept the "one country, two systems" model for reunification suggested by Beijing, they said.
Han
, who has been mayor for only seven months, defeated Foxconn's billionaire founder
Terry Gou Tai-ming
and three other contenders to emerge on Monday as the winner of the race, determined by public opinion surveys carried out in the past seven days.
He was backed by 44.8 per cent, ahead of Gou in second place with 27.7 per cent, KMT vice-chairman Tseng Yung-chuan announced.
Former New Taipei mayor Eric Chu Li-luan was third with 17.9 per cent, followed by former Taipei county magistrate Chou Hsi-wei on 6 per cent and the Kuomintang's (KMT's) Chang Ya-chung, president of the Sun Yat-sen School, on 3.5 per cent.
Tseng told a news conference in Taipei the result would be sent to the KMT central standing committee to confirm Han's nomination as its candidate.
Expressing his gratitude to supporters and KMT chairman Wu Den-yih – whom the mayor had previously accused of favouring Gou to run for president – Han said he would seek understanding from the people of Kaohsiung.
"I will do all I can to honour my promises to manage the city [of Kaohsiung] well," he said, adding he would also meet his four rivals in the KMT primaries, including Gou, to seek their support and try to bring unity to the party.
The five had engaged in fierce campaigning since May, with Gou seen as Han's closest challenger. In the latter part of the race, Gou hinted in an appearance on Taiwanese television that he might quit the party to run for president independently – which would threaten to divide the Beijing-friendly KMT and undermine its chances of success in the presidential poll.
Han will now represent the KMT to challenge incumbent Tsai Ing-wen, of the independence-leaning Democratic Progressive Party. He became mayor of Kaohsiung – a pro-independence stronghold in southern Taiwan – in last November's local government elections, when he helped the KMT regain control of 15 of the self-ruled island's 22 cities and counties.
Observers said it would be an uphill battle against Tsai, whose popularity – which fell to a low of 18 per cent after November's local polls – had been
rising steadily
. She has been regarded in recent months as the only leader in Taiwan prepared to counter Beijing, which views the island as a renegade province to be reunited with the mainland, by force if necessary.
Opinion polls have shown Tsai ahead of Han, in a reversal of previous surveys that had the mayor leading by a wide margin.
Tsai won back public support with her firm rejection of a proposal in January by mainland Chinese President Xi Jinping for Taipei and Beijing to discuss reunification, with "one country, two systems" – a version of which is used in Hong Kong and Macau – as the model.
But analysts said she had consolidated her position as front runner in the presidential race with her consistent support for the mass protests in Hong Kong over the extradition bill that would allow the transfer of criminal suspects to mainland China, where critics say there is no guarantee of a fair trial.
"Through this, Tsai has successfully built up her image as the leader who is willing to do all she can to safeguard Taiwan from becoming another Hong Kong – and that is something Han can never do," said Doong Sy-chi, director of foreign policy studies at Taiwan Thinktank.
In one statement on the protests last month, Tsai said the biggest takeaway from the turmoil in Hong Kong was that "one country, two systems" was not viable and "is absolutely unacceptable for a democratised Taiwan".
Han, meanwhile, initially steered clear of commenting on the issue but was later forced to echo Tsai's words, saying he did not support Beijing's model.
Fan Shih-ping, a political science professor at National Taiwan Normal University, said that given his pro-Beijing stance, Han would have a lot of work to do to convince voters he would protect Taiwan from being swallowed up by the mainland.
"With Han emerging as the KMT presidential candidate, January's election will basically be a fight between pro-China and pro-Taiwan," Fan said, adding that Han would especially need to convince young voters, who were sympathetic to the Hong Kong protesters, that he would not bow to the mainland.
But analysts said he would also have to mend fences with Gou so that he did not mount a rival bid for the presidency as an independent, which was certain to hit the KMT's votes. Han offered to meet Gou on Monday but the tycoon's aides said he was not available. Gou offered his congratulations to Han in a statement but did not mention whether he would run as an independent.
This article appeared in the South China Morning Post print edition as: Han wins KMT nomination for presidential fight