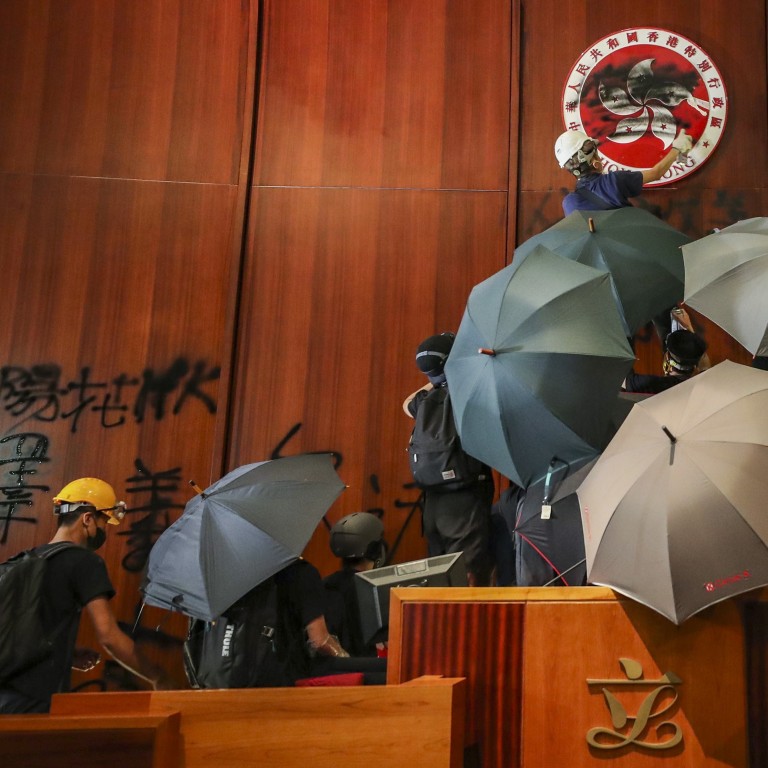 German politicians blasted on China visit over Hong Kong unrest as Guo Yezhou tells delegation their people's support 'incited' Legco invasion
Meetings cancelled, frosty reception for parliamentarians in Beijing after Hong Kong stopover
A senior Chinese official has accused Germany of inciting the storming of Hong Kong's Legislative Council, according to German magazine Der Spiegel.
The magazine reported that a delegation of parliamentarians from Germany's Free Democratic Party (FDP) was given a frosty reception by Guo Yezhou, vice-minister of the international department of the Chinese Communist Party's Central Committee, during a meeting last week in Beijing.
Guo told the delegation, headed by FDP leader Christian Lindner, that "public sympathy" in Germany for protests in Hong Kong, and the granting of asylum for Hong Kong dissidents, had "incited the violent entry" into Hong Kong's legislature. The delegation, and Berlin's ambassador to China, rejected the claim, according to the report.
The magazine also reported that meetings between the delegation and high-level officials in Beijing were summarily cancelled by the Chinese, hours before they were due to take place. This was later confirmed by members of the delegation who told German newspaper Handelsblatt that two full days of appointments were cancelled.
Lindner and his team were in Beijing as part of a 12-day tour of Asia, which included a visit to Hong Kong before they travelled to mainland China. While in the city they met several unspecified "opposition representatives", a move that had displeased their Chinese hosts, according to Der Spiegel.
Lindner responded to the article via Twitter on Monday, saying that the Hong Kong trip was a "labour of love".
"We pursued not just business interests, we also felt very strongly about liberal and democratic values. There were no restrictions on where we went or who we talked to," he added.
Tensions between the two countries have been rising over Germany's stance on China's human rights record and the unrest in Hong Kong, sparked by a now-suspended extradition bill.
Since protesters stormed Hong Kong's legislature on July 1 Beijing has warned other nations, including the United States and Germany, not to interfere in its internal affairs.
Last week the Chinese foreign ministry's commissioner in Hong Kong summoned the German consul general in the city to again object to the granting of asylum by Germany to two Hong Kong independence activists, Ray Wong and Alan Li.
Before Lindner's visit, Guo had met a separate delegation of German politicians, including Minister of State Niels Annen, who said talks with Chinese officials had focused on international trade and the human rights situation in Xinjiang, where an estimated one million or more Uygurs and other Muslim minorities are detained.
In a statement released during his visit, Annen said China was "a difficult partner, as well as a competitor", and also "an increasingly important interlocutor".
On Monday, China's embassy in Berlin blasted a German foreign ministry statement marking the 20th anniversary of Beijing's crackdown on Falun Gong, criticising the "brutal" campaign against the banned religious organisation and demanding greater access to China's prisons.
The Chinese embassy responded by saying Germany should "immediately stop interfering in China's internal affairs".
On Tuesday, the Chinese commissioner's office in Hong Kong accused the US of "intervening" in the city after the US State Department called on the Hong Kong government to respect freedom of speech and assembly.