Russia
Get more with myNEWS
A personalised news feed of stories that matter to you
Learn more
US backing for South Korea and Japan as China, Russia 'seek to rebalance military might in Asia-Pacific'
Joint air patrol tests US commitment to key regional allies Japan and South Korea
Pentagon supports Tokyo and Seoul in effort to maintain strength of alliance
The United States has given its backing to South Korea and Japan in response to airspace incursions by Chinese and Russian warplanes in the Asia-Pacific region this week, in the latest sign of a rebalancing of military influence in the area.
"The United States strongly supports our [South Korean] and Japanese allies and their responses to airspace incursions by Chinese and Russian aircraft," Pentagon spokesman Lieutenant Colonel Dave Eastburn said in response to a query from South Korean news outlet Yonhap.
The incursions came on Tuesday as China and Russia held their first-ever joint long-range air patrol, an exercise conducted over the East China Sea and the Sea of Japan – also known as the East Sea.
Observers said the exercise revealed Moscow and Beijing's ambition to further expand their scope of political influence, at a time when Washington's military commitment to the region is under question and relations between its key regional allies continue to sour.
Two Chinese H-6 bombers and two Russian Tu-95 strategic bombers entered South Korea and Japan's air defence identification zone (ADIZ) during the joint patrol while later, during the same exercise, a Russian early-warning A-50 plane entered South Korean airspace, according to South Korea's defence ministry.
South Korean jets fired 360 warning shots in response to the Russian A-50 over the Dokdo islets, called Takeshima by Japan, which also claims them. Japan has lodged protests to Seoul and Moscow.
The Pentagon's support for both South Korea and Japan – two of its key regional allies – on Tuesday was seen as an attempt to quash growing speculation of weakness in the security of the Asia-Pacific region. Concerns about the trilateral alliance have intensified with ongoing tensions between Seoul and Tokyo over trade and the legacy of World War II.
Cooperation between the two regional powers is facing an unprecedented challenge, with Tokyo calling Seoul "untrustworthy" and South Korea reconsidering renewal of its GSOMIA military information treaty with Japan. 
Beijing and Moscow consider the trilateral cooperation as a way for Washington to hinder their military expansion in the Asia-Pacific – just as Nato acts as a check on Russian power in Europe.
Observers said the joint exercise may have been a carefully coordinated move aimed at sending a strong political message to the US and its allies.
Artyom Lukin, deputy director of research from the school of regional and international studies at Russia's Far Eastern Federal University, said Beijing and Moscow hoped to fill the security vacuum created by the uncertainty over US military commitment to the region, as Washington seeks to cut down on military spending in the Asia-Pacific.
Beijing and Moscow, meanwhile, upgraded their relations in January to a "comprehensive strategic partnership of coordination for a new era", hinting at stronger military cooperation in the region.
"The coordinated action by Russian and Chinese military aircraft in the airspace close to Dokdo/Takeshima islets – one of the most politically sensitive areas in Northeast Asia – is very likely designed to send a political message," Lukin said.
"Beijing and Moscow are essentially telling Seoul and Tokyo that the military balance in the region is shifting and the US is no longer the top dog here – telling them to start thinking if you want to continue to rely on the US as your senior ally and protector.
"Such demonstrations of their combined military might would make [South Korea and Japan] more receptive to China's and Russia's interests in East Asia … We should expect more frequent and increasingly assertive joint military actions by Russia and China in the Asia-Pacific as their quasi-alliance is growing stronger."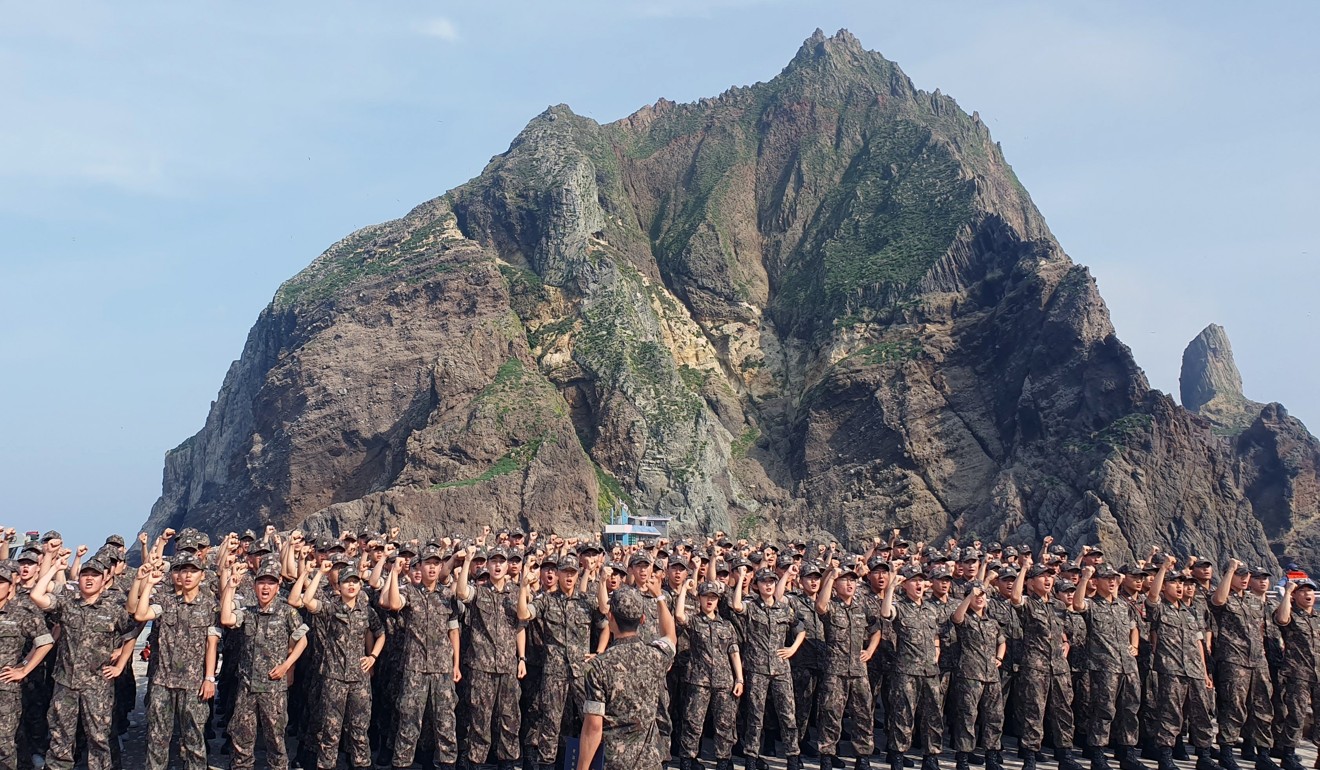 On Wednesday, Chinese defence ministry spokesman Wu Qian said the Chinese and Russian aircraft followed international law during the exercise, and did not violate the airspace of other nations.
"The joint patrol is aimed at deepening the comprehensive strategic partnership of China and Russia, and boosting the strategy coordination and joint combat ability of the two nations," Wu said. "This does not target at any third nation."
Beijing and Moscow's joint flight training also came as both countries strongly protested against possible military engagement in the Hormuz Strait by the US and its allies.
US national security adviser John Bolton was in South Korea on Wednesday, after visiting Japan, with a mission to persuade both allies to deploy their navies to the region.
In his meeting with South Korean Foreign Minister Kang Kyung-wha, Bolton said the main objective of his trip was to form a stronger alliance between their two countries.
"So there are many challenges out there, some in this part of the world, some in other parts of the world, but I am confident that the [South Korea] and the US will work very closely together to resolve them," Bolton said.
While the drill between Beijing and Moscow was their first air-training in the Asia-Pacific, military cooperation between them is not unprecedented.
Last year, the two flexed their muscles during the Vostok 2018 war games in Russia's Far East. In 2016, Chinese and Russian warships performed a similar coordinated move, sailing close to the disputed Senkaku islands – also known as Diaoyus – to the alarm of US allies in the region.
Chinese analysts said Tuesday's drill was aimed at monitoring the response of the US and its allies in the region, as the ADIZ entered by the warplanes was shared by China, Japan and South Korea.
Song Zhongping, a Hong Kong-based military commentator and former member of the PLA's Second Artillery Corps, said: "It is perfectly normal … to monitor one another in the air identification zone, as long as it is not harmful and does not endanger others' sovereignty and territorial security.
"External forces are constantly intervening in Northeast Asia. Therefore, as regional powers, China and Russia are strengthening their joint military capabilities, and thus conducting a joint patrol is a way to maintain regional peace and stability."
This article appeared in the South China Morning Post print edition as: US backs S Korea, Japan after airspace violation