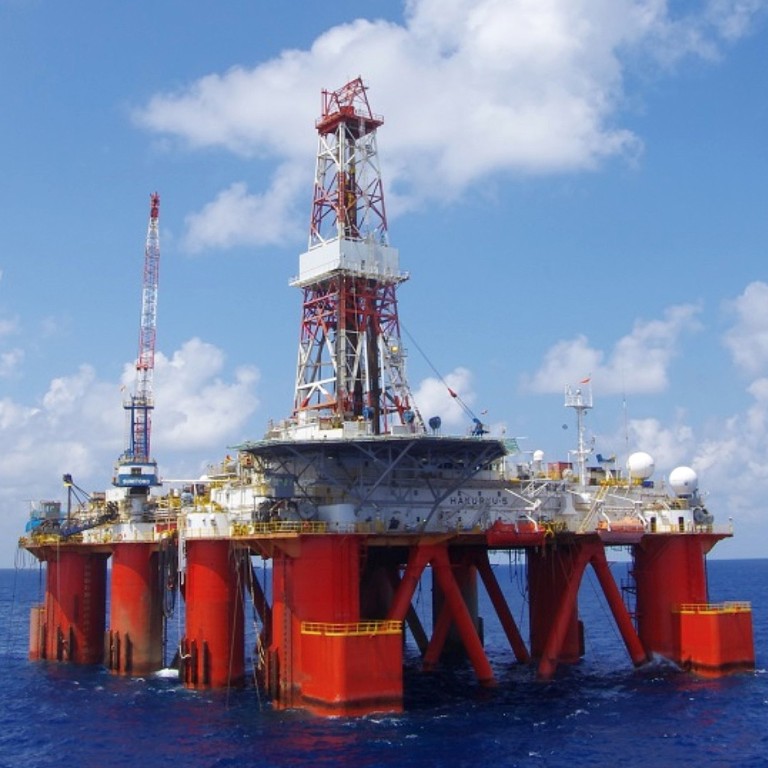 South China Sea: Vietnam extends operation of oil rig on Vanguard Bank as stand-off with Beijing continues
Hanoi says Hakuryu-5 joint operation with Russia will now run until September 15
Coastguard vessels from China and Vietnam continue vigil on disputed reef
Vietnam said it has extended the work schedule of an oil rig on Vanguard Bank, showing no sign of backing down from a confrontation with Beijing over drilling operations in the South China Sea.
The Vietnamese foreign ministry said it would protect its sovereign rights as the stand-off between Hanoi and Beijing entered its fourth week.
A notice issued on Thursday by the Southern Vietnam Maritime Safety Assurance Corporation said the Hakuryu-5 rig's operations – a joint venture with Russia – would be extended from July 30 until September 15, Vietnamese newspaper Tuoi Tre reported.
The notice also urged vessels to stay away from the rig as a matter of safety.
China's foreign ministry spokeswoman Hua Chunying said on Friday that Vietnam had been violating China's sovereign rights to Vanguard Bank since May.
"China has already expressed its stance and is keeping in touch with the Vietnamese side," she told a press conference. "We call on Vietnam to properly handle the incident."
Hakuryu-5, which belongs to the Tokyo-based Japan Drilling Company, was hired by Russian state-owned oil company Rosneft to look for oil and gas in Vanguard Bank, the westernmost reef in the resource-rich Spratly Islands. Its operations began on May 15.
China has sent vessels, including the survey ship Haiyang Dizhi 8, to Vanguard Bank in a move analysts said was designed to block Vietnam's work. The survey ship was accompanied by heavily armed coastguards vessels. Vietnam responded in kind, and crews have spent weeks eyeing each other in patrols around the reef.
The Chinese squadron includes the 12,000-tonne coastguard vessel Haijing 3901, complete with helicopter, and the 2,200-tonne Haijing 37111.
China has responded angrily when Vietnam and partner nations have looked for oil and gas in the South China Sea. In July 2017 and March 2018, it forced Vietnam and Repsol of Spain to halt drilling near Vanguard Bank.
Collin Koh, a research fellow at the S Rajaratnam School of International Studies at Nanyang Technological University in Singapore, said the Hakuryu-5's extended operations could be delayed by Chinese ships.
"But the most important signal Vietnam wants to send is definitely [that] it's not going to back down. Ever since the Repsol episode, Hanoi has resolved not to back down any more lest Beijing continues to hamper legitimate Vietnamese energy work in its own exclusive economic zone," he said.
"And the other factor, I believe, is in the mind of Vietnamese policy elites and it is that doing so not only shows resolve to the domestic audience, now that this stand-off has been publicly reported after a media ban was lifted, but it also helps to draw international attention and help".
Both nations initially remained silent over the confrontation, but said as the stand-off continued that they would protect their maritime interests. On Thursday, Vietnam called for the "immediate withdrawal" of Chinese ships.
"Vietnam has had several appropriate diplomatic exchanges … requesting immediate withdrawal from Vietnam's exclusive economic zone," foreign ministry spokeswoman Le Thi Thu Hang said.
"Vietnam resolutely and persistently protects our sovereign rights … by peaceful means on the basis of international laws".
The Washington-based Centre for Strategic and International Studies policy research organisation said last week that the Haiyang Dizhi 8 began work around Vanguard Bank on July 3.
Before the incident with the Vietnamese rig, China sent coastguard vessels to block Malaysian and Vietnamese oil and gas exploration in a "threatening manner", the centre said, citing ship tracking data.
It said Chinese coastguard vessel Haijing 35111 had patrolled around Luconia Breakers, a reef cluster at the southern end of the Spratlys, between May 10 and 27, including an oil and gas block licensed to Malaysia petroleum company Sarawak Shell.
The Haijing 35111 sailed within 80 metres of the Malaysian ships, the centre said.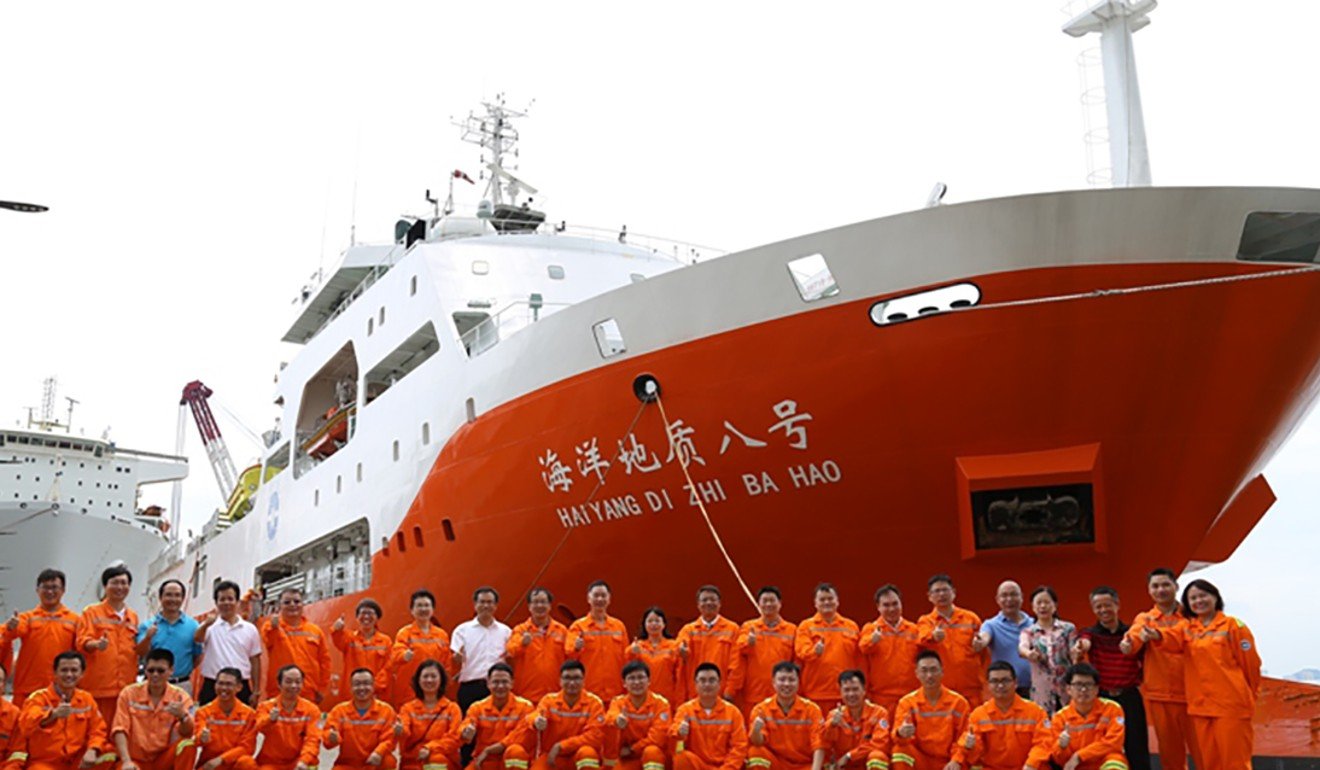 Beijing has invoked its so-called nine-dash line to justify what it says are its historic rights to the South China Sea, and has built artificial islands, reclaimed land and installed airstrips and military equipment there.
The line runs as far as 2,000km (1,200 miles) from the Chinese mainland to within a few hundred kilometres of the Philippines, Malaysia and Vietnam.
In 2014, Beijing moved an oil rig into waters claimed by Hanoi, sparking deadly, anti-China protests across Vietnam.
The latest stand-off prompted a swift rebuke from the United States over the weekend, calling for an end to China's "bullying behaviour".
"China's repeated provocative actions aimed at the offshore oil and gas development of other claimant states threaten regional energy security," the state department said on Saturday.
The US has long called for freedom of navigation in the South China Sea, and on Thursday said it sent a warship through the Taiwan Strait.
Additional reporting by Agence France-Presse