Brics
Get more with myNEWS
A personalised news feed of stories that matter to you
Learn more
Latin America trade grows as China and US tussle for influence
Chinese Foreign Minister Wang Yi wraps up tour of Brazil and Chile, as Colombian president heads for Beijing
Ecuador president tells US Secretary of State Mike Pompeo 'smaller countries pay when the big ones fight'
Latin American countries are caught in the middle of a geopolitical tug of war between Beijing and Washington as China boosts its ties in the region in a bid to counterbalance the effects of its trade war with the US.
Chinese Foreign Minister Wang Yi wraps up a tour of Latin America on Sunday which began last week in Brazil and ended with an official visit to Chile. He returns to Beijing on the same day Colombian President Ivan Duque Marquez arrives in China for a three-day state visit that will include a meeting with Chinese President Xi Jinping.
Wang was in Brazil for a meeting of foreign ministers from the BRICS countries – an association of emerging countries comprising Brazil, Russia, India, China and South Africa – as well as the third China-Brazil foreign ministers' comprehensive strategic dialogue with Brazilian Foreign Minister Ernesto Araujo.
China has overtaken the United States as Brazil's biggest trading partner, with Brazilian soybeans – one of the country's biggest exports – and other agricultural products replacing American imports since the start of the US-China trade war a year ago.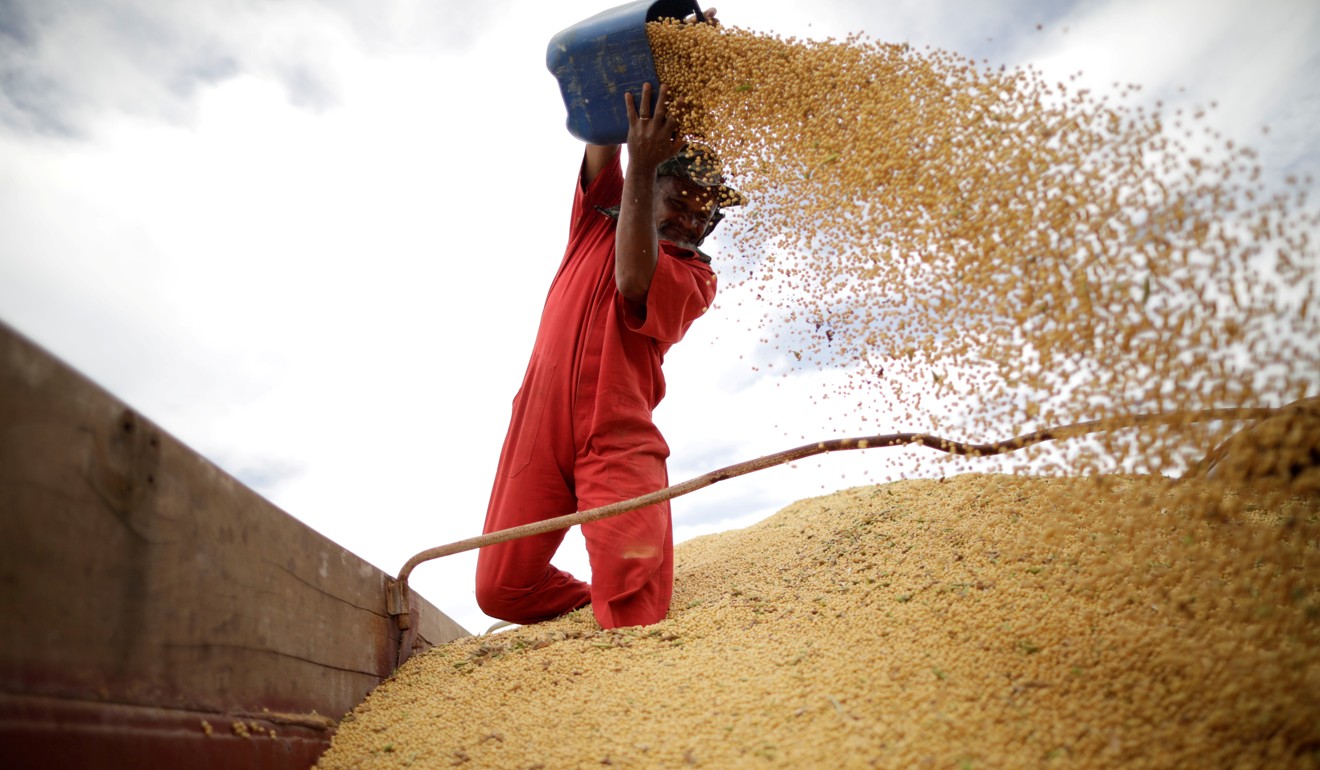 The growing importance of China to Brazil's economy has created a difficult position for President Jair Bolsonaro, who accused Beijing of trying to buy Brazil during his election campaign, but changed tack on assuming office in January.
In March, Bolsonaro called China his country's "main partner, politically as well as economically and commercially" and announced plans to travel to Beijing this year, a visit that was confirmed on Tuesday for late October.
China is now Latin America's second-biggest trading partner with bilateral trade at US$307.4 billion, growing 18.9 per cent over the previous year, according to China's Ministry of Commerce, in a relationship focused on commodity imports, including mining products like copper and energy, as well as soybeans and other agricultural goods.
While the US and China have tentatively agreed to resume talks in Shanghai next week, China and Latin American countries are likely to continue deepening their trade relations as production chains realign in the wake of the trade war, according to Gustavo Oliveira, assistant professor of global and international studies at the University of California, Irvine.
"This means Chinese imports of Latin American agricultural and mineral commodities, and Latin American imports of Chinese manufactured products and hi-tech, might contribute to China's ability to stand its ground against US pressure," he said.
Oliveira said domestic contradictions in most Latin American countries complicated relations with China, as few leaders had the capacity to press or leverage China for much. "Unfortunately, therefore, most in this crop of Latin American leaders are basically placing themselves as junior partners or pawns in the geopolitical tug of war between the US and China."
US Secretary of State Mike Pompeo put the pressure on Latin American countries over their relationship with China during his four-day tour of the region last weekend, taking in Argentina, Ecuador, Mexico, and El Salvador.
In a joint interview with Pompeo during the visit, Ecuador's new president, Lenin Moreno, defended the country's China ties, and urged Washington and Beijing to resolve their conflicts for the benefit of other nations in the region.
"We hope that the US and China, the greatest powers in the world now, will find agreement easily because, unfortunately, when the big ones are discussing or fighting and have conflicts, the ones that are paying for all of that are the smaller countries," he said.
"Now, when two elephants fight, the ones who lose are the insects who are of course being crushed by the elephants in the attempt to evade them."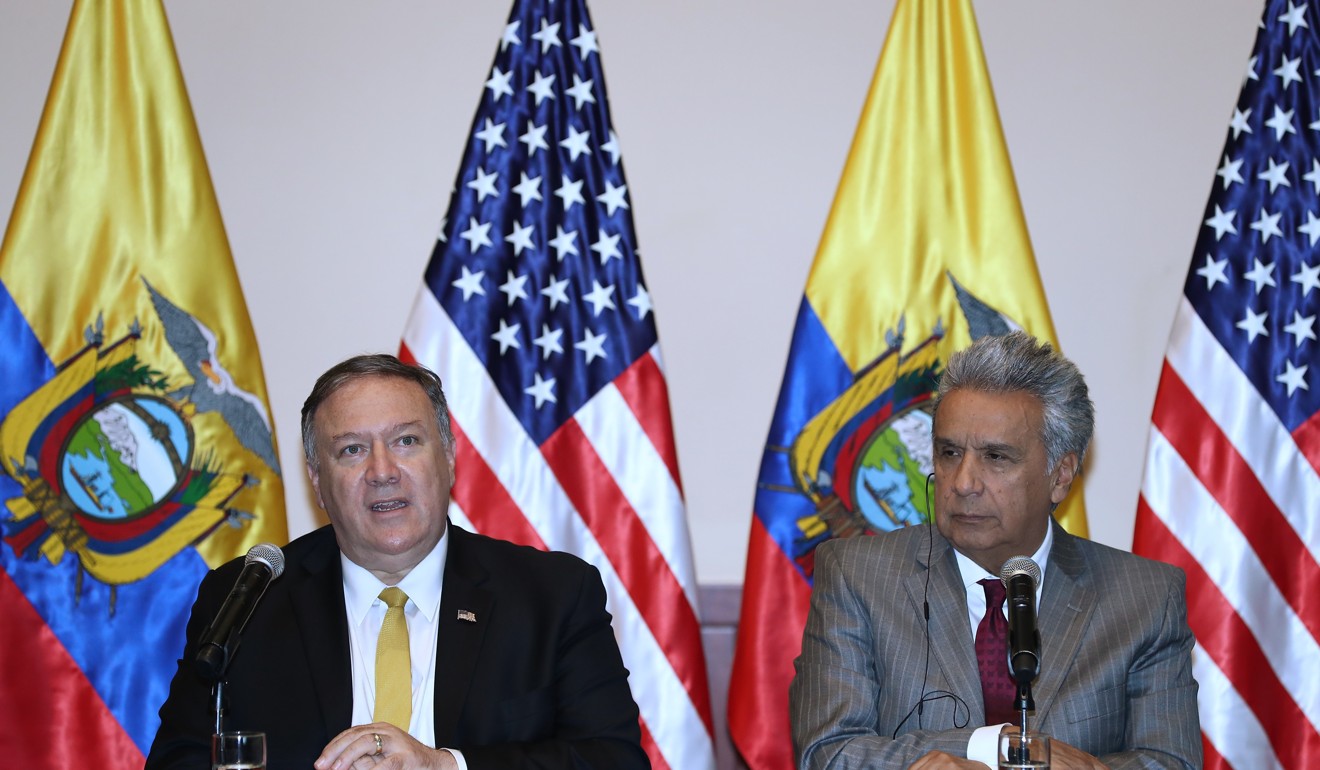 Pompeo blasted China's role in the region during a previous tour of South America in April, when he singled out Beijing's support for President Nicolas Maduro of Venezuela. Maduro is backed by Beijing, Russia and other allies, while the US and many European countries have supported opposition leader Juan Guaido as legitimate president since elections in January.
Speaking from Chile on that tour, Pompeo said Beijing's calls for non-intervention in Venezuela were "hypocritical" and aimed at protecting Beijing's investments in the country, as well as debts owed to China by Venezuela.
Pompeo also accused Beijing of "sowing discord" in the region through debt traps. "When China does business in places like Latin America, it often injects corrosive capital into the economic bloodstream, giving life to corruption and eroding good governance," he said.
Professor Cui Shoujun of Renmin University in Beijing said Washington's concerns about "debt-trap diplomacy" in Latin America reflected concerns that China's growing involvement in financing infrastructure and development projects would make the region more pro-China.
"China's interests in Latin America go beyond raw materials extraction," he said. "The biggest point of tension between the US and China in the region is perhaps that China presents an alternative model for development that is very different from the Western model."
While the US was drumming up tensions about China across the world, Beijing was not openly retaliating but responding with investment and trade for global partners, said Kevin Gallagher, researcher on China-Latin America ties, and professor at Boston University.
"The US points fingers and makes angry speeches in the region as China cuts investment deals and helps address infrastructure needs," he said.
"Latin American countries' governments are rightly keeping their heads down on the broader geopolitical winds, and are getting down to business with their largest trading partner."