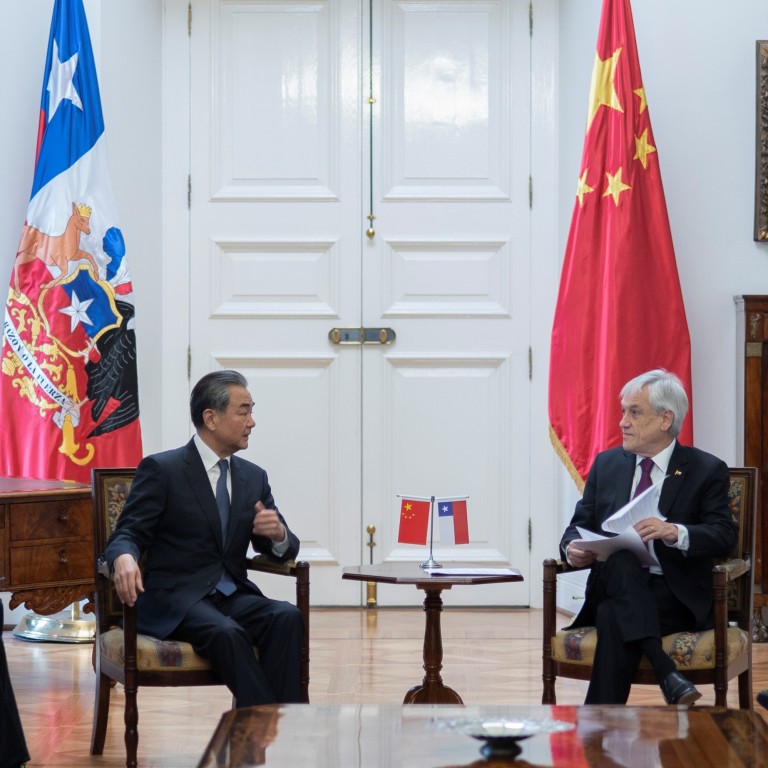 Chinese Foreign Minister Wang Yi says US pressure on China 'is untenable'
During official visit to Chile, Wang also rebuffs claims China is setting debt traps in Latin America, saying they are 'full of prejudice'
He praises Chile's 'fair and open telecommunications market' as well as Huawei and other Chinese tech firms for their work there
Chinese Foreign Minister Wang Yi has taken a cautious tone during an official visit to Chile ahead of
US-China trade talks
this week, but rebuffed US criticism of Beijing's expanding presence in Latin America.
Wang joined a growing number of high-level Chinese officials who have warned of "US pressure" and the protracted dispute between the two powers.
In an interview with Chilean newspaper El Mercurio on Sunday, Wang focused on China's continuing conflict with the United States over issues ranging from trade and technology to geopolitical disagreements including the crisis in Venezuela.
"[Washington's] no-holds-barred use of pressure on China is untenable," said Wang, adding that while Beijing was sincere about continuing the trade talks, discussions between the two countries must be "fair and equal". He also warned that "China must safeguard its own core interests on issues of China's sovereignty and dignity".
Wang praised Chile's openness to China's 5G technology – a globally sensitive issue that is also at the heart of the trade war with America.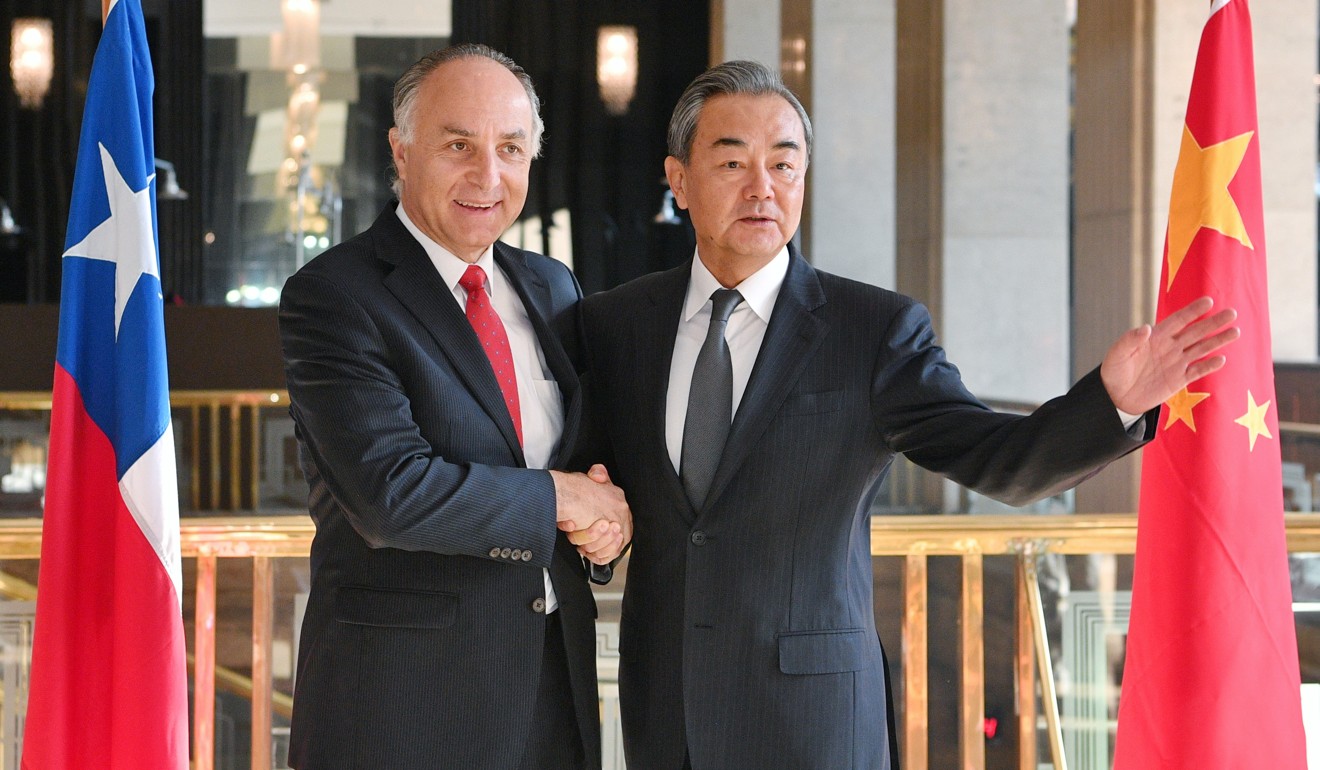 When US Secretary of State Mike Pompeo visited Chile in April, he criticised China for setting "debt traps" in Latin America, claiming China was "injecting corrosive capital into the economic bloodstream, giving life to corruption and eroding good governance".
In the interview, Wang said claims about debt traps were "full of prejudice" and an "irresponsible" depiction of China's cooperation with Latin America. When asked about US warnings to Latin American countries over using Chinese technologies, Wang gave high marks to Chile's "fair and open telecommunications market" and praised
Huawei
and other Chinese technology firms for their work there.
The US and China have also been at odds over the leadership crisis in Venezuela. China, Russia and others support President Nicolas Maduro, while the US and the EU have backed opposition leader Juan Guaido as the legitimate president since elections in January.
Chilean newspaper La Tercera reported that the crisis in Venezuela was the main topic of discussion during an hour-long meeting between Wang and Chile's President Sebastian Pinera and Foreign Minister Teodoro Ribera on Saturday.
Wang wrapped up his two-day trip to Chile on Sunday, after a three-day visit to Brazil for bilateral talks and a meeting of BRICS ministers from other emerging economies Brazil, Russia, India and South Africa.
Trade negotiators from the US and China
will meet in Shanghai
on Tuesday and Wednesday, the first meetings since talks broke down in May. But ahead of the talks, hostile rhetoric from both sides has continued.
On Friday, US President Donald Trump issued a memo to US Trade Representative Robert Lighthizer urging him to work on removing China's status as a developing nation at the World Trade Organisation. Chinese state news agency Xinhua on Monday called the move "obviously timed … [and a] bargaining chip", saying "the tactic of imposing pressure is nothing new to China and has never worked".
Leading foreign policy voices have taken a more cautious stance on the trade dispute since talks collapsed, hunkering down for what may be a long-term stand-off.
In addition, US-China ties are expected to continue on a downward trend after years of heightened tensions, according to an analysis of the last decade of bilateral relations published in China International Strategy Review this month.
The report authors – Peking University international relations professors Wang Jisi and Hu Ran – said rising mutual distrust was being driven by trade imbalances, technological competition and territorial disputes like the South China Sea, and it was not likely to ease, with "many bumps and stumbling blocks" in the future.