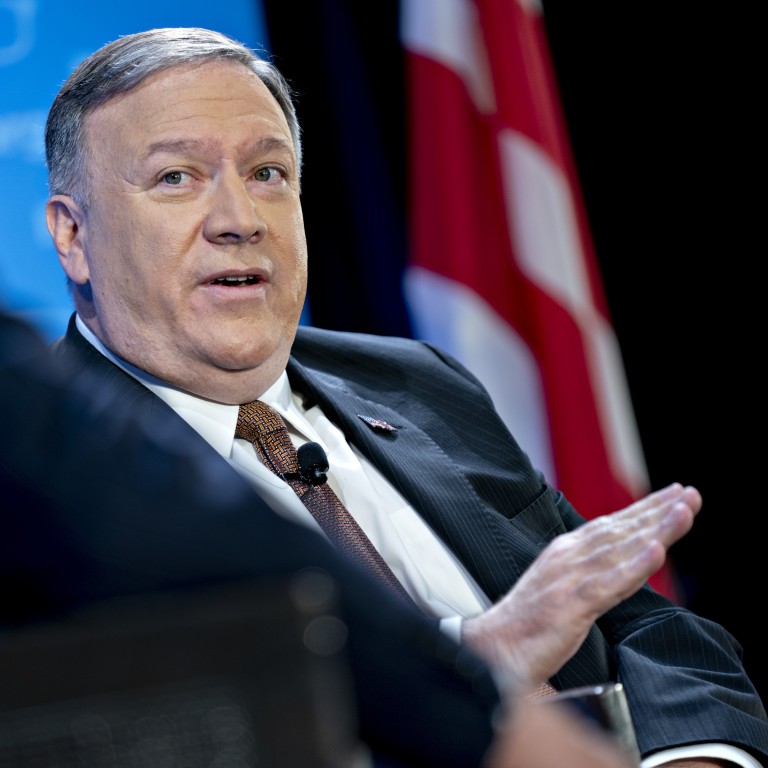 Mike Pompeo rebukes China's 'ludicrous' claim US is behind Hong Kong protests
Protests are coming solely from the people of Hong Kong, who are asking their government to listen, Pompeo says
Chinese foreign ministry spokeswoman Hua Chunying had claimed the US 'owes the world an explanation'
US Secretary of State Mike Pompeo has said it is "ludicrous" for China to claim the United States is behind the
escalating protests
in Hong Kong.
Pompeo rebuked Chinese foreign ministry spokeswoman Hua Chunying, who had claimed violent clashes in the city prompted by opposition to the Hong Kong government's controversial extradition bill were "the work of the US".
"I think the protests are solely the responsibility of the people of Hong Kong, and I think they are the ones that are demanding that their government listen to them and hear their voices," Pompeo said late on Tuesday.
"It's – I saw these remarks as well. It's ludicrous on its face."
Protests have occurred since June over the
now-suspended bill
, which would have allowed the
transfer of suspects
to jurisdictions with which Hong Kong has no extradition agreement, including mainland China.
Pompeo said he would meet Chinese Foreign Minister Wang Yi on the sidelines of an Association of Southeast Asian Nations (Asean) summit in Thailand on Wednesday to discuss "a whole host of issues", without mentioning whether they would discuss Hong Kong specifically.
"With respect to Hong Kong, these are the people of Hong Kong asking their government to listen to them. So it's always appropriate for every government to listen to their people," Pompeo said.
On Tuesday, Hua had pointed to US officials' recent meetings with members of Hong Kong's pro-democracy bloc, what she claimed were "many American faces" at protests and some demonstrators with US flags.
"Everyone wants to ask: exactly what role has the US played in the recent series of events in Hong Kong?" Hua said. "On this question, I think the US owes the world an explanation."
Tensions in Hong Kong remain high, and China has claimed "foreign forces" are behind violence in the city, including the US and the European Union.
Also on Wednesday, 44 people who took part in protests on Sunday were due to appear in court on
rioting charges
.
Wang arrived in Bangkok on Tuesday for meetings with foreign ministers from Asean countries, along with South Korea and Japan, according to the agenda released by China's foreign ministry, although meetings with the US were not mentioned. Wang will be in Bangkok until Saturday.
Pompeo's trip to Thailand precedes an eight-day tour of the Pacific, including stops in Sydney, and Pohnpei in the Federated States of Micronesia.