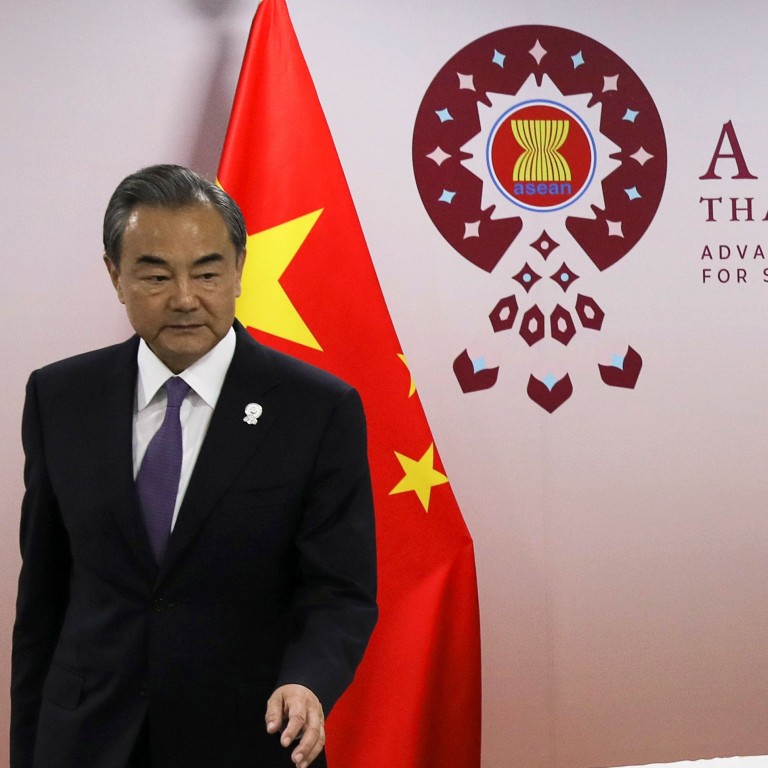 US has no desire to contain China, US Secretary of State Mike Pompeo tells Chinese Foreign Minister Wang Yi in Bangkok
United States encourages people-to-people exchanges and hopes for smooth progress in trade talks, US official quoted as saying on sidelines of Asean forum
Nations must keep lines of communication open and look for more areas of cooperation, Wang says
The United States has no desire to contain China but is keen to see "smooth progress" in their trade negotiations, US Secretary of State Mike Pompeo said on Thursday, according to Chinese Foreign Minister Wang Yi.
The officials met on the sidelines of the Association of Southeast Asian Nations (Asean) regional forum in Bangkok, a day after trade representatives from the two countries wrapped up their latest talks in
Shanghai
, with Beijing promising to buy more agricultural products from the US.
Wang told reporters in the Thai capital that Pompeo said the US had no intention of containing China and did not wish to restrict people-to-people exchanges.
"With regards to the recent problems and disturbance to people-to-people exchanges, Pompeo said very clearly that the US welcomes and supports the flow of people between the two countries," he said.
Pompeo also "made it very clear that neither [US President Donald] Trump nor the US administration has the intention to contain China's development", but did "hope to see smooth progress in the Sino-US trade talks", Wang said.
According to Xinhua, China's official news agency, Wang told Pompeo in the meeting that "any attempts to contain China's development are untenable".
"Wang Yi has also made clear China's positions on the South China Sea, Xinjiang and Hong Kong and urged the US side to choose its words to respect the core interests and major concerns of the Chinese side," Xinhua reported.
The Asean forum also gave the US a chance to promote its Indo-Pacific strategy and China to push its Belt and Road Initiative, which Washington says lacks transparency.
The meeting in Bangkok came amid a stand-off between China and Vietnam over oil exploration at Vanguard Bank in the South China Sea, a dispute that led the US to accuse Beijing of bullying its neighbour.
Despite those comments, the two diplomats sought to play down the tensions, with Pompeo saying Washington was not asking Southeast Asian nations to "choose sides" between the US and China.
"Our engagement in this region has not been and will not be a zero-sum exercise," he said. "Our interests simply naturally converge with yours to our mutual benefit."
Wang also said that despite the many problems the two sides faced, they needed to continue to engage with one another.
The meeting "helped to increase our mutual understanding … and contributed to minimising the risk of misunderstanding and miscalculation", he said.
Wang and Pompeo met after their nations' top trade officials held "frank, efficient and constructive" talks in Shanghai – the first of their kind since long-running negotiations stalled in May.
The next round of negotiations in pursuit of "an enforceable trade deal" would take place in Washington early next month, the White House said.
Wang also said on Thursday that it was vital for China and the US to keep communication channels open and to find areas where they could work together.
"There are many areas [outside trade] where China and the US may cooperate and cope with global challenges," he said, citing denuclearisation of the Korean peninsula as an example.
"China supports the talks between the US and North Korea … to accommodate each other's legitimate concerns."
Earlier on Thursday, Wang met his South Korean counterpart, Kang Kyung-wha, and told her that Beijing would continue to work with Seoul on the denuclearisation issue, according to a spokesman for the South Korean foreign ministry.
Additional reporting by Agence France-Presse