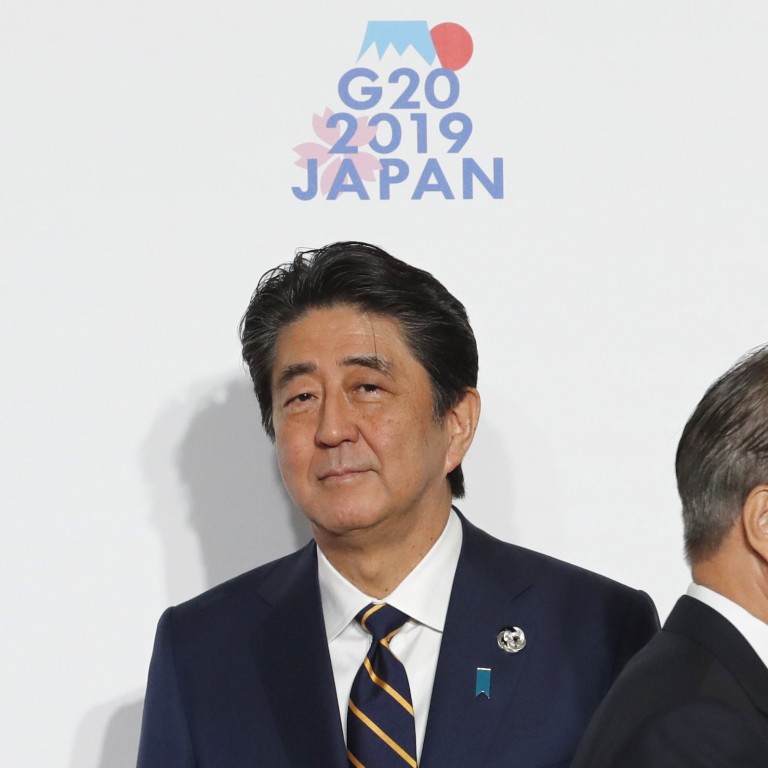 China, Japan and South Korea 'likely to hold summit in December', despite trade rift
Arrangements are being made to hold annual meeting in Beijing, Japanese news agency reports, citing diplomatic sources
It comes amid an escalating dispute between Tokyo and Seoul
Beijing, Tokyo and Seoul are likely to go ahead with their annual trilateral summit this year, despite a
deepening trade rift
between Japan and South Korea, Japanese media reported on Sunday.
Arrangements are being made to hold the summit in December in the Chinese capital, according to Kyodo news agency, citing unnamed diplomatic sources.
China – this year's chair for the trilateral grouping – proposed a date to hold the summit and South Korea had already agreed to adjust President Moon Jae-in's schedule so that he could attend, the sources said.
They added that Beijing had hoped to host the summit much earlier – after leaders from the Group of 20 leading economies met in Osaka in late June – but Tokyo had rejected the plan. It said Prime Minister Shinzo Abe's schedule would be tight because of other events, including a summit of the Group of Seven nations in France in late August.
The three countries' foreign ministers may meet on the outskirts of Beijing later this month to coordinate the schedule for the summit, to be chaired by Chinese Premier Li Keqiang, and major agenda items, according to the Kyodo report.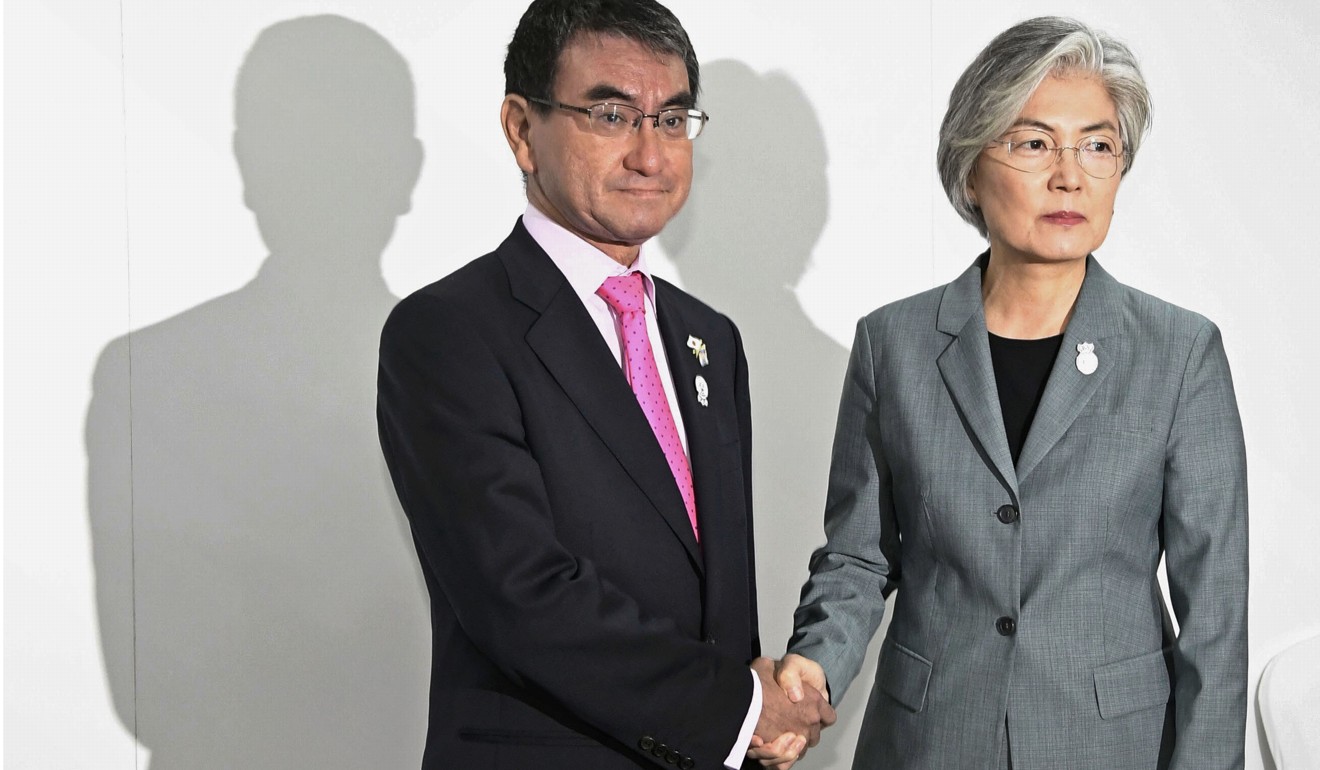 That would come just a few weeks after South Korean Foreign Minister Kang Kyung-wha and her Japanese counterpart Taro Kono traded barbs at the Association of Southeast Asian Nations forum in Bangkok on Friday, over Japan's decision to remove South Korea from its list of trusted trade partners.
Kang said Japan had made the decision in a "very unilateral and arbitrary manner". 
"Nonetheless, let us not be deterred in our collective efforts to expand free, fair and non-discriminatory trade in this region," she added.
Kono responded that he had not heard any complaints from other Asean members about Japan's export management.
"I don't know what's the source of complaints of Foreign Minister Kang," he said.
The trade row between the two neighbouring Asian nations has been fuelled by a dispute between Seoul and Tokyo over the legacy of Japan's colonial rule over the Korean peninsula prior to the end of World War II. Tokyo, which believes it settled all necessary compensation under a treaty signed in 1965, has been angered by a South Korean court's recent order that Japanese firms must compensate wartime victims of forced labour, while Seoul believes that a victim's individual right to file a claim has not expired.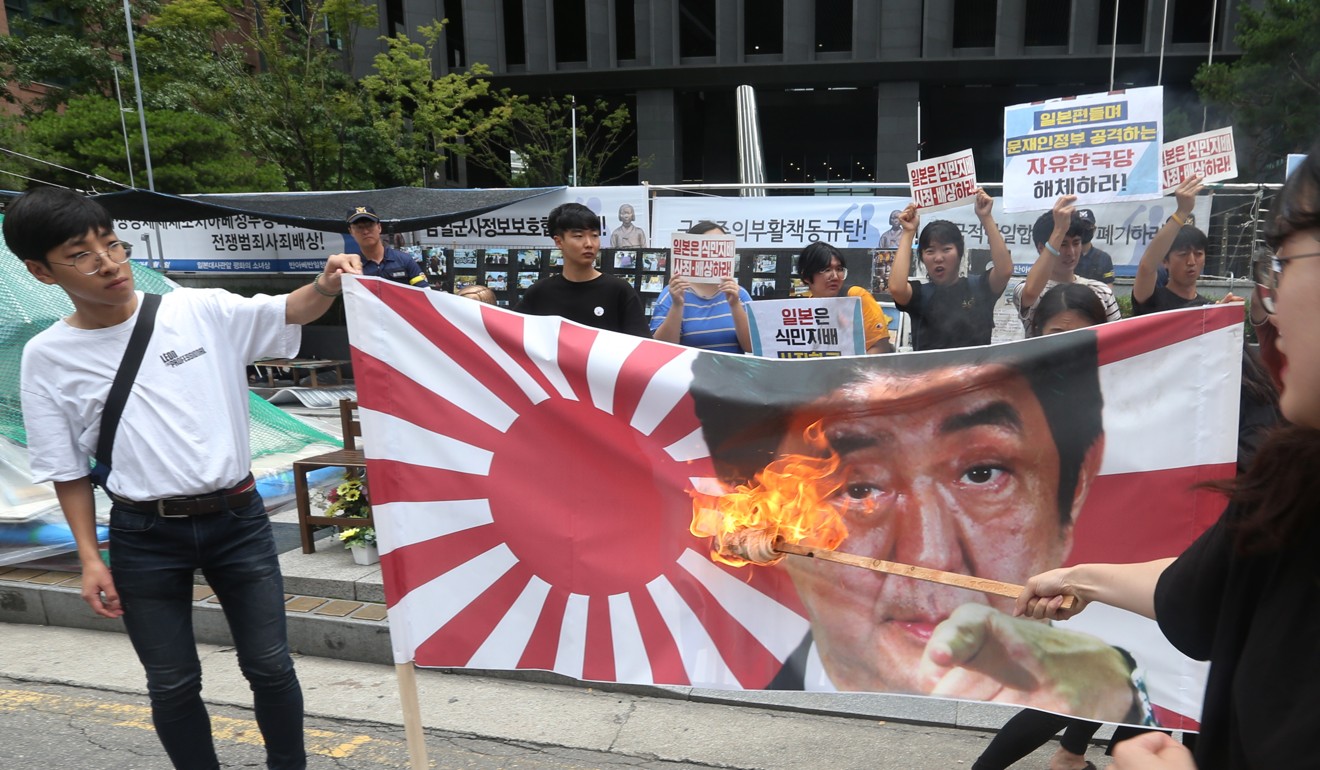 After Tokyo said it would remove South Korea from its "white list" of countries with preferential trade status on Friday, Seoul said
it would take Japan off its own list
of trusted trade partners and its parliament passed a resolution condemning Tokyo's action.
"We plan to strengthen our safety measures in areas such as tourism, food and waste [from Japan]," Seoul said in a government statement, adding that it may also scrap its military intelligence exchange pact with Tokyo.
As the tension escalates,
Beijing has also weighed in
, urging Tokyo and Seoul to ease their dispute through dialogue. Chinese Foreign Minister Wang Yi on Friday said the neighbouring countries should deal with one another "with sincerity and goodwill".
The last trilateral summit between the three countries was in Tokyo in May last year.
Abe is expected to hold separate talks with Li on the sidelines of the summit to discuss an official visit to Japan by Chinese President Xi Jinping, according to Kyodo. But it remains uncertain whether Abe and Moon will hold bilateral talks, or even if the summit takes place as planned.
Observers said if the trade row between Tokyo and Seoul continued, it would damage both economies. Tokyo's Nikkei index fell 2.1 per cent on Friday, while Seoul's Kospi dropped 0.95 per cent amid worries over the dispute. 
Ryo Hinata-Yamaguchi, a visiting professor at the College of Economics and International Trade at Pusan National University, said the main problem was that "neither government has a clear exit strategy or vision to repair and improve relations".
"Both are concerned about the political capital that it would cost to bring relations back to agreeable terms," Hinata-Yamaguchi said.
He added that more retaliatory measures could follow.
"In South Korea, there are growing boycotts against Japanese products, including travel, which is not only going to have an impact on the Japanese and South Korean economies. In response, Japan could apply extra leverage which would further embolden Seoul's stance against Tokyo," he said.
This article appeared in the South China Morning Post print edition as: Japan, China, S. Korea to hold summit despite trade rift