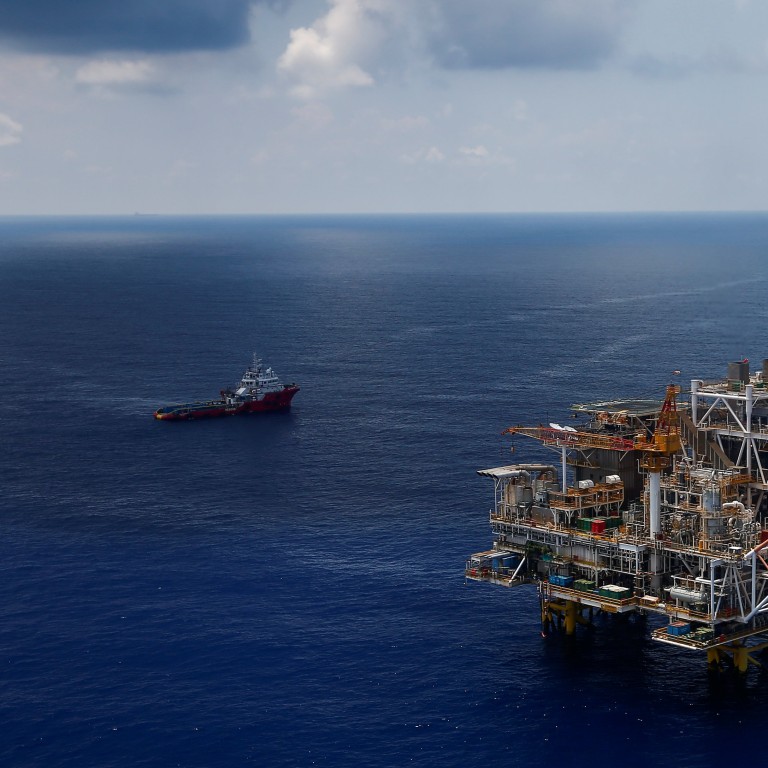 South China Sea: Chinese ship leaves Vietnamese zone, but is it only refuelling?
Tracking data suggests Haiyang Dizhi 8 left Vanguard Bank, where tensions flared over apparent harassment of Vietnam's gas and oil exploration
But it sailed only as far as a disputed reef controlled by China
A Chinese survey ship embroiled in a
long stand-off
with Vietnam has left a Vietnamese exclusive economic zone, but signs of possible tensions persist, according to a diplomatic observer.
Citing ship tracking data, Ryan Martinson, an assistant professor from the China Maritime Studies Institute at the Naval War College in the United States, said the Haiyang Dizhi 8 ship had left Vanguard Bank and was at Fiery Cross Reef in the South China Sea on Wednesday.
Vietnam's foreign ministry spokesman Le Thi Thu Hang said on Thursday that the country was keeping watch on the situation.
"In the afternoon of August 7, the Haiyang Dizhi 8 survey vessel stopped its survey activities and left Vietnam's exclusive economic zone and southeastern continental shelf," she said.
"Vietnam requests that countries respect the sovereignty and jurisdiction rights of other countries, and expresses its goodwill for negotiations to resolve disputes and boost friendship and cooperation."
The survey ship had been in Vanguard Bank since July 3 – a move seen as an
attempt by Beijing
to hamper Vietnam's gas and oil exploration work, which was being carried out with Russian petroleum company Rosneft. Tensions then erupted as both nations
deployed coastguard vessels
to the area and Vietnam demanded that the Chinese vessels leave.
Washington-based think tank the Centre for Advanced Defence Studies said ship tracking data from maritime analytics company Windward showed Haiyang Dizhi 8 had left Vietnam's exclusive economic zone (EEZ) for now, but at least two of its coastguard escorts remained in the area.
"Vietnamese ships pursued Haiyang Dizhi 8 as it returned to Fiery Cross Reef and now appear to be loitering just outside Vietnam's EEZ," the think tank's senior analyst Devin Thorne was quoted by Reuters as saying.
Fiery Cross Reef is an artificial island, controlled by China and built on a disputed South China Sea reef over which Vietnam and the Philippines have competing claims.
Vietnam has deployed an oil rig in Vanguard Bank and began operations with Rosneft on May 15. The Chinese survey ship was accompanied by heavily armed coastguard vessels, including the 12,000-tonne Haijing 3901, complete with helicopter, and the 2,200-tonne Haijing 37111. Vietnam responded in kind, and crews have spent weeks eyeing each other during patrols around the reef.
China had previously blocked Vietnam's oil exploration work. However, in a show of defiance, Vietnam said it
had extended
the work schedule of the oil rig from July 30 until September 15. Beijing called on Vietnam to properly handle the incident.
China just held a military training exercise near the Paracel Islands claimed by Vietnam. The Vietnamese foreign ministry said the military training violated its sovereignty.
A diplomatic observer said it was yet to be seen whether the situation would calm down because the survey ship was at Fiery Cross Reef, meaning it could be there for refuelling and return to Vanguard Bank, risking renewed tensions.
"If Beijing has intended to end the stand-off by pulling out the survey ship, why would the ship not return to its home port for good, and pass by Fiery Cross?" said Collin Koh, a research fellow with the Maritime Security Programme at the S Rajaratnam School of International Studies in Singapore, noting that coastguard vessels were still there.
"So a likely hypothesis is that the Fiery Cross stop is just for refuelling and this means the ship may return to Vanguard Bank."
Koh said China could be sending a signal that it was willing to reach a compromise, but the ship could be redeployed if Vietnam did not reciprocate.
"The survey ship's last reported location in Fiery Cross makes the Chinese intent rather ambiguous," he said.
This article appeared in the South China Morning Post print edition as: Tensions persist as survey ship exits Vietnam zone