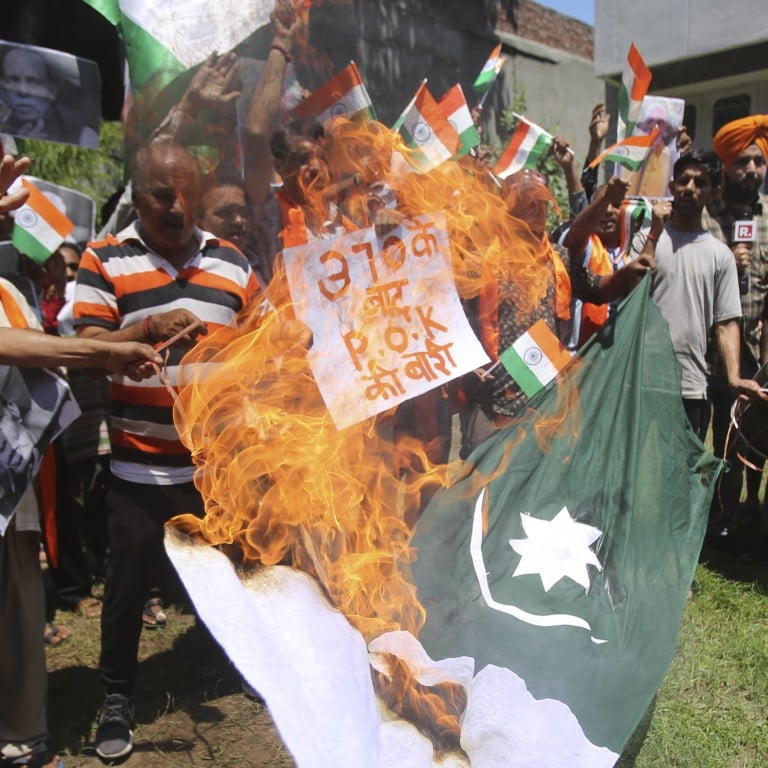 India and Pakistan to send envoys to China as hostilities flare over Kashmir
Both South Asian neighbours have consulted Beijing in a crisis before but observers say there may be little China can do to influence the situation
China is stepping in to ease tensions between Pakistan and India over Kashmir with both South Asian nations expected to send their top diplomats to Beijing.
Observers said China did not want the latest strains over the disputed territory to escalate and would urge the two countries to work for a resolution.
Pakistani Foreign Minister Shah Mehmood Qureshi told a parliamentary session on Wednesday that he might "dash off to Beijing", according to Pakistan's Express Tribune.
And his Indian counterpart, Subrahmanyam Jaishankar, is scheduled to meet Chinese Foreign Minister Wang Yi on Monday.
The shuttling comes after another diplomatic crisis erupted between the South Asian neighbours following India's decision on Monday to repeal the special autonomous status of Kashmir, which both claim. India also split Kashmir in two and established the new administrative district of Ladakh, which China says also covers part of its territory.
In response, Pakistan expelled an Indian envoy, scaled down relations with India and suspended operations of a key cross-border train service.
Du Youkang, director of Fudan University's Pakistan Study Centre, said Pakistan in particular was looking for international support in the conflict.
"India, as a big player in South Asia, sees this as a matter of its own internal affairs, and will not want third parties to get involved. Pakistan, on the other hand, is in a weaker position, with a smaller economy, population and territory, and will need to reach out to China and others in the international community for support," he said.
Du said that while the Kashmir crisis would probably not be on the official agenda for the foreign ministers' meeting, it was likely come up for discussion.
"The tensions threaten the stability of all of South Asia, and there are so many additional kinds of uncertainty following India's decision. It's not in China's interest for things to escalate," he said.
But China's ability to influence the situation was limited, Du said.
"China's role will be to try to convince both sides to resolve their problems peacefully. China will likely only be able to make statements of principle on the matter, and try to bring back peaceful development to the region," he said.
India and Pakistan have consulted China before when tensions flared in the region.
In February, after the deadly Pulwama terror attack that killed more than 40 Indian security personnel, India's then foreign minister, Sushma Swaraj, raised the issue with Wang Yi during high-level talks in Wuhan.
Qureshi also travelled to Beijing in March for a three-day visit, where he and Wang discussed the attacks, and China urged the two sides to maintain dialogue.
On Thursday, the European Union's chief of foreign affairs, Federica Mogherini, spoke to foreign ministers from India and Pakistan, saying both countries should avoid escalation and maintain dialogue through diplomatic channels.
India's decision on Monday has also strained its ties with China, which called the changes to the disputed area "unacceptable".
New Delhi responded by saying: "India does not comment on the internal affairs of other countries and similarly expects other countries to do likewise."
Analysts said the row over Kashmir would not derail the bilateral relationship, with Jaishankar's trip to Beijing expected to prepare the way for an informal summit between Chinese President Xi Jinping and Indian Prime Minister Narendra Modi in Varanasi on October 12.
"These informal summits are planned initially without a fixed agenda so that the leaders could understand each other's concerns better," Srikanth Kondapalli, a professor in Chinese studies at Jawaharlal Nehru University in New Delhi, said.
"As two 'simultaneously' rising countries ... China and India need to find solutions to their bilateral problems and global and regional issues.
"Hence, these summits may not result in any explicit or immediate impact on bilateral relations but are expected to provide stability in bilateral relations. This will also provide some breathing space for the two countries to address other issues in the short to medium term."
Additional reporting by Associated Press
This article appeared in the South China Morning Post print edition as: China seeks to ease tensions between India and Pakistan