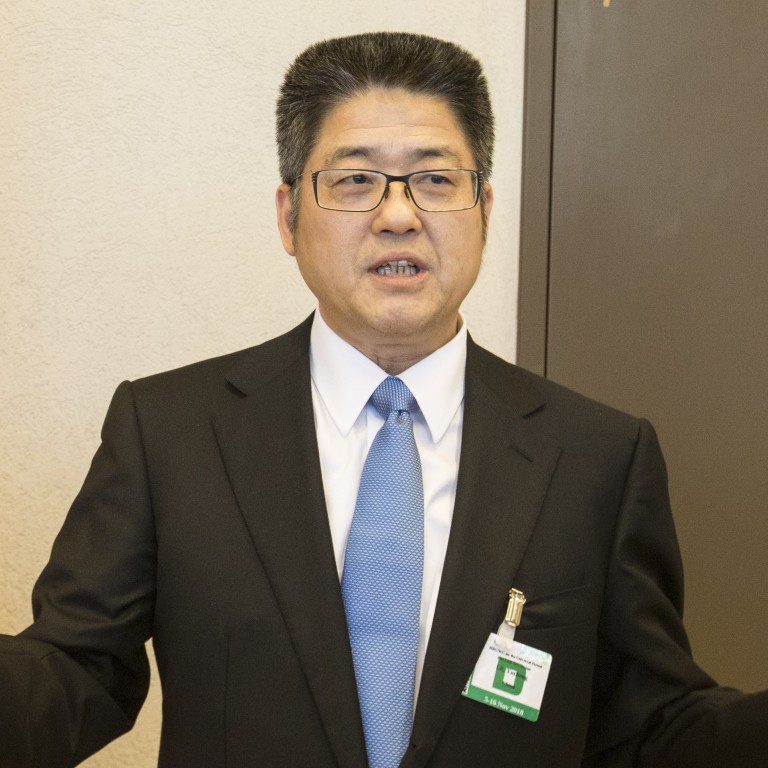 China and Japan vow to build ties for 'new era' as strategic talks resume
After seven-year hiatus, dialogue between Le Yucheng, China's foreign vice-minister, and Japanese counterpart Takeo Akiba is held in Nagano prefecture
Foreign ministry says they had candid exchanges about bilateral and regional issues and would push forward consensus reached between leaders in June
China and Japan said they would work to build a relationship that met the requirements of a "new era", as the two sides resumed strategic talks after a seven-year hiatus.
The strategic dialogue between Le Yucheng, China's foreign vice-minister, and his Japanese counterpart Takeo Akiba was held on Saturday in Nagano prefecture, Japan.
China's foreign ministry issued a brief statement afterwards saying they had candid exchanges about bilateral and regional issues and would push forward the consensus reached between Chinese President Xi Jinping and Japanese Prime Minister Shinzo Abe before the
Group of 20 summit
in Osaka in June.
Xi and Abe confirmed the Chinese president's visit to Japan next spring and agreed to take bilateral talks to the next level during the Osaka meeting.
The resumption of the long-suspended dialogue was widely seen by analysts as part of preparations for a spring summit between the two leaders.
Le arrived in Tokyo on Thursday for talks with Japanese officials ahead of Saturday's dialogue. He told Japanese media on Friday that despite the many "ups and downs" since the normalisation of relations more than 40 years ago, the two countries should work together to "inject more stability and positive energy into the turbulent world".
Le met Japanese Foreign Minister Taro Kono in Tokyo on Friday, telling him he hoped the two sides could create "a new atmosphere" for bilateral relations, according to a statement from China's foreign ministry.
Kono said China and Japan "should work shoulder to shoulder to respond to global challenges".
Tensions in East Asia have been high, with a deepening rift between South Korea and Japan, and a string of missile tests from North Korea threatening stability in the region.
South Korean military officials reported on Saturday that the North had fired two "unidentified projectiles". The missiles were fired from North Korea's east coast and landed in the Sea of Japan.
And a trade dispute between South Korea and Japan shows no sign of abating, following a South Korean court ruling in July that Japanese firms must compensate wartime victims of forced labour.
Meanwhile, US and South Korean military drills are set to begin on Sunday, which has angered the North. In June, US President Donald Trump said he would cancel the next scheduled round of military drills, called Ulchi Freedom Guardian. The drills were called off, but have been replaced with an unnamed, computer-based exercise, the US Joint Chiefs of Staff said on Saturday.