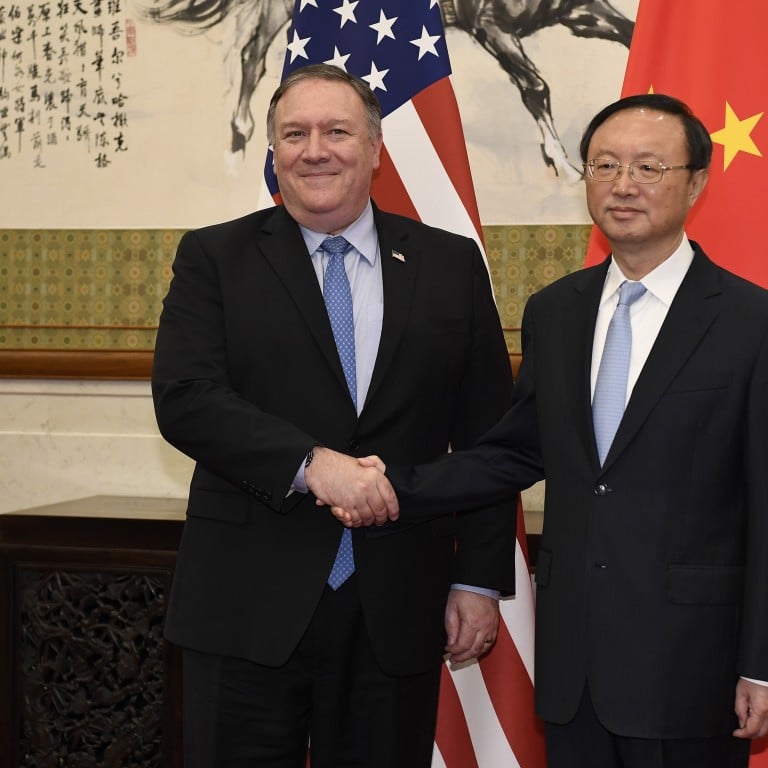 China-US talks held by top diplomats Yang Jiechi and Mike Pompeo amid Hong Kong spat
The pair meet in New York on Tuesday for exchange of views that observers predict will include anti-government protests in Hong Kong
Meeting shows willingness to manage the countries' many differences – but neither side indicates any positive outcome
China's top diplomat Yang Jiechi has made an unexpected trip to New York for talks with his US counterpart Mike Pompeo, in an apparent attempt to close the growing distance between the two nations, including over
protests in Hong Kong
.
A brief statement released by state-run Xinhua news agency said Yang, a Politburo member and head of the Communist Party Office of Foreign Affairs, had exchanged views with Pompeo on the relationship between China and the US, without elaborating. The US State Department also released a brief statement without giving details about the meeting.
Shen Dingli, a professor of US studies at Fudan University, said the meeting was an indication that both sides were seeking to prevent their confrontations spiralling out of control.
"Though the two countries seem to be enlarging their scope of differences, they still understand the need to control and narrow such differences whenever possible," Shen said.
Shen said the situation in Hong Kong would have been a key item on the agenda, as well as the countries' year-long trade war.
"On Hong Kong, China would ask the US not to intervene, while the US would ask China to show restraint," he said.
Wu Xinbo, director of Fudan University's Centre for American Studies, said trade was unlikely to be central to the discussion because it was not the direct responsibility of either Yang or Pompeo, but the meeting represented a show of goodwill after disagreements over Hong Kong, Xinjiang and Taiwan further caused the China-US relationship to deteriorate.
"This meeting will not be very useful, but shows that both sides can still manage to talk," Wu said. "Even though [US President] Donald Trump has said China can handle the situation in Hong Kong and he is not interested in the city, other politicians are seeking to intervene in it. Trump cannot control them and will not stop them."
Beijing is concerned about growing international concern about the crisis in Hong Kong, which has been plagued by 10 weeks of
ongoing protests
that have turned violent and this week included
disruption of operations
at the city's airport.
Trump said on Tuesday that the situation in Hong Kong was tricky but he hoped it would work out for everybody, including China. He also tweeted that the Chinese government
was moving troops
to its border with Hong Kong, citing US intelligence.
US national security adviser John Bolton
discussed the situation
in Hong Kong on Tuesday with Britain's Prime Minister Boris Johnson "as part of a general discussion about China". He rejected "ridiculous" allegations from Beijing that a US diplomat was a "black hand" in the protests.
On Tuesday, US officials said that port calls in Hong Kong on Saturday and next month by USS Green Bay, an amphibious dock landing ship, and guided missile cruiser USS Lake Erie had been rejected by China.
"The Chinese government denied requests for port visits to Hong Kong [by the two vessels]," US Pacific Fleet Commander Nate Christensen said.
Clayton Dube, director of the University of Southern California US-China Institute, said the Yang-Pompeo talks would be focused on Hong Kong, North Korea and Iran.
"The fact that the exchange of views was not characterised by either side as useful or constructive suggests each simply made sure the other understood their point of view," Dube said.
"Presumably both stressed how important the relationship is to their respective countries and how they wanted it to be a healthy relationship."