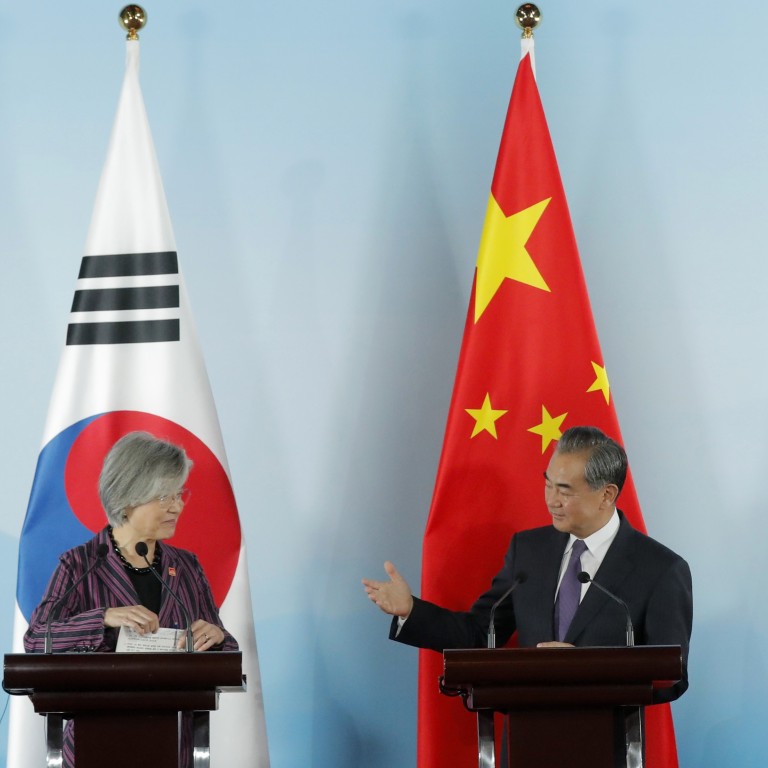 Chinese Foreign Minister Wang Yi offers to help Japan and South Korea to settle trade dispute
Beijing uses three-way summit to present itself as well-placed to resolve conflict between its East Asian neighbours
Tokyo is planning to remove its former colony's preferential trade status in a row prompted by a court ruling over compensation for forced labour victims
China promised on Wednesday to accelerate free-trade negotiations with South Korea and Japan after offering to help mediate the bitter trade conflict between Tokyo and Seoul.
The offer was made at the annual trilateral meeting between the countries, with China's Foreign Minister Wang Yi urging Tokyo and Seoul to resolve their confrontation through dialogue.
Wang met his South Korean and Japanese counterparts Kang Kyung-wha and Taro Kono at Gubei Water Town near the Great Wall in Beijing at the start of three-day summit the previous day.
Beijing is using the platform to position itself as well-placed to help settle the dispute in line with its emphasis on upholding multilateralism in contrast with the increasingly protectionist stance taken by the US under Donald Trump.
Beijing has also suggested that the three countries could work together on investment or development projects in third countries.
There has so far been no word on whether the Japanese or South Koreans will take up China's offer of mediation.
The escalating confrontation prompted by a dispute about Japan's colonial legacy, also comes at a time when the possible deployment of US intermediate-range missiles in South Korea and Japan further complicates relations.
"Conflicts among the three countries should be resolved in a constructive manner … via dialogue and cooperation," Wang said during the opening speech at the trilateral meeting.
"China will expand its cooperation with South Korea and Japan, and defend its principles of multilateralism and free trade … Relations among the three countries must be based on trust and cooperation, and the three should have honest dialogues to deepen that trust," Wang said.
Kono said Japan and South Korea face various difficulties, but that should not stop the three nations from cooperating, while Kang said the three sides prospered based on free, fair and norm-based multilateral trade.
The three countries vowed to further develop their regional cooperation and work together to boost common prosperity – but whilst Wang and Kang said facing up to the past would be the foundation of that cooperation, Kono put emphasis on the future.
"For the next generations, future-oriented practical cooperation should be progressed step by step," he said.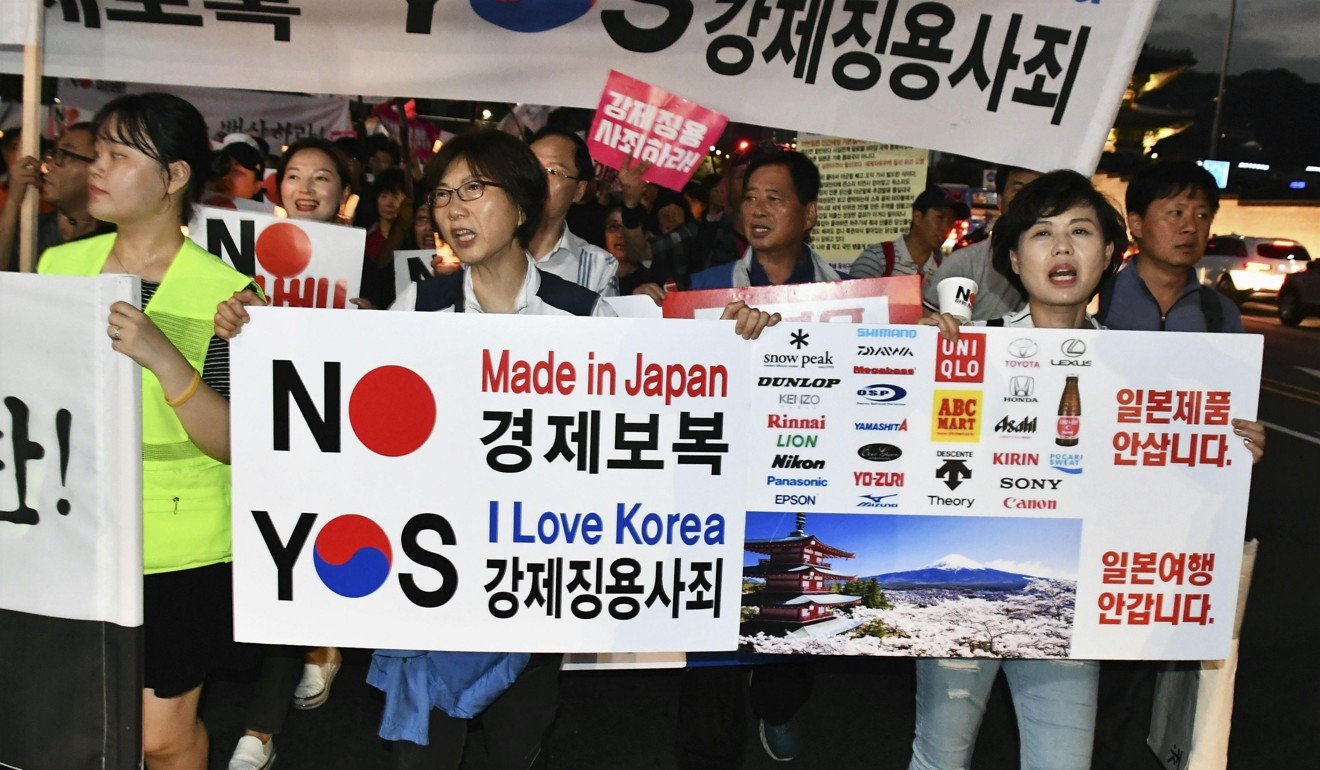 Earlier this month, Japan said it would remove South Korea from its "white list" of countries with preferential trade status. The measure becomes effective next week.
The seeds of the trade row lie in a dispute between Seoul and Tokyo over the legacy of Japan's colonial rule over the Korean peninsula.
Tokyo, which believes it settled all necessary compensation under a treaty signed in 1965, has been angered by a South Korean court's recent order that Japanese firms must compensate wartime victims of forced labour, whilst Seoul believes that a victim's right to file an individual claim has not expired.
Kono on Wednesday avoided mentioning free trade – but instead vowed to work together with the Asian neighbours under the trilateral platform.
He said this cooperation should not stop despite any bilateral problems.
"Next-generation exchange projects in three countries are also in mind. We hope to discuss future-oriented partnerships and regional affairs, including North Korea."
Kono's comments came as its trade dispute with Seoul spills over the security realm.
In response to Tokyo's economic measures, Seoul has also warned that it may reconsider whether to renew a three-way intelligence-sharing pact with the US, which provides a crucial framework for coping with North Korea's nuclear and missile threats.
In a meeting with Kang on Tuesday, Wang said China was paying close attention to the conflict between Seoul and Tokyo, and was willing to play a role "if there is anything they can do", a South Korean official told reporters.
A Chinese Foreign Ministry statement said Wang had called for the three countries to jointly safeguard multilateralism and free trade.
Trilateral trade between the three countries has increased from US$130 billion to US$720 billion over the past two decades.
According to the World Bank the three Asian countries' Gross Domestic Product accounted for almost a quarter of global economic production last year.
This article appeared in the South China Morning Post print edition as: Beijing offers to mediate in Tokyo-Seoul trade row