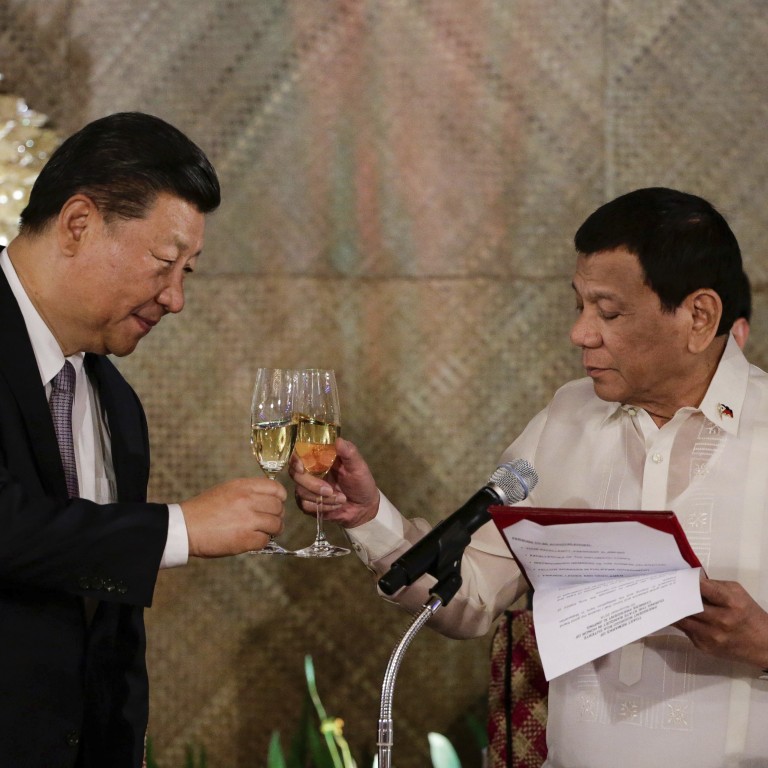 Philippine President Rodrigo Duterte to head to Beijing under pressure to take tough line on South China Sea
China should take steps to ease domestic demands on Duterte after sinking of Filipino fishing boat in contested waters, analyst says
Philippine President Rodrigo Duterte will visit China next week, Beijing announced on Friday, after Duterte threatened to cancel talks with Chinese President Xi Jinping if he could not discuss South China Sea disputes.
In a brief statement, the Chinese foreign ministry said Duterte would visit China for five days from August 28 at the invitation of Xi.
The ministry did not say what the two leaders would discuss, but observers said joint oil and gas exploration and infrastructure would be on the agenda to ease domestic pressure on Duterte to take tougher action against Beijing over the South China Sea.
Ministry spokesman Geng Shuang said Duterte would join Xi at the opening ceremonies of the FIBA Basketball World Cup in Beijing on August 30, and then go to Guangzhou to watch a basketball game with Vice-President Wang Qishan on August 31.
He said the two nations would discuss infrastructure projects, but added that China's stance on the arbitration ruling on South China Sea remained unchanged.
Duterte had also planned to visit Fujian province to inaugurate a school building in honour of his mother. But Philippine foreign affairs assistant secretary Meynardo Montealegre said the plan was called off because "it's not appropriate at this time", the Philippine Daily Inquirer reported.
Beijing's announcement came two days after Duterte hinted that he would raise a 2016 ruling by an international tribunal that found in favour of Manila and rejected China's claims to the contested waters.
"[China] said it won't be talked about. I said no. If I'm not allowed as a president of a sovereign nation to talk [about] whatever I want to talk about, then let us not rather talk altogether," he said.
Xu Liping, director of the Chinese Academy of Social Sciences Centre for Southeast Asian Studies, said Duterte faced mounting pressure to take a tougher line on Beijing after a Philippine fishing boat sank following a collision with a Chinese vessel in the South China Sea.
"[They will probably discuss the] Belt and Road Initiative, and more agreements on infrastructure projects to support Duterte's 'Build, Build, Build' efforts," Xu said.
"The Philippines may also convey to China concerns about Southeast Asian nations, such as the negotiations on the code of conduct for the South China Sea," he said, adding that the Philippines will chair the Association of Southeast Asian Nations next year.
"Steps should be taken to ease the pressure facing Duterte at home."
Tensions between the two countries have risen since June when a Chinese trawler was accused of ramming a Philippine fishing boat, forcing 22 Filipino fishermen overboard. The fishermen were later rescued by a passing Vietnamese boat.
Beijing played down the incident, saying the Chinese vessel had tried to rescue the fishermen. But tensions erupted again in July as the Philippine defence ministry said several Chinese warships sailed unannounced through the Sibutu Strait in the southwest tip of the Philippine archipelago. Philippine Defence Secretary Delfin Lorenzana then accused China of "bullying" action over the South China Sea.
Collin Koh, a research fellow with the S. Rajaratnam School of International Studies at Nanyang Technological University in Singapore, said Duterte would raise the international tribunal's ruling but Xi was expected to stick to China's position of not recognising it.
"For Duterte, facing the domestic pressure over what happened recently in the South China Sea, this trip is designed also for domestic consumption – to demonstrate that he's safeguarding Philippine sovereignty in the South China Sea, so as to placate critics," he said.
"In sum, [there will] probably be a consensus to agree to disagree."
This article appeared in the South China Morning Post print edition as: duterte for beijing trip after threat to cancel talks with xi