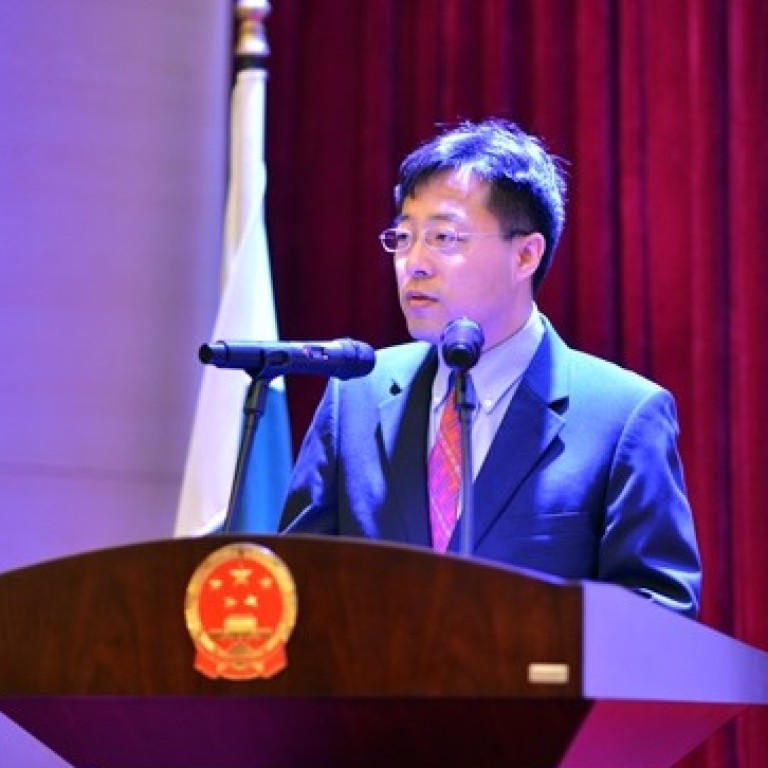 Chinese diplomat Zhao Lijian, known for his Twitter outbursts, is given senior foreign ministry post
Zhao, who recently left his position as deputy chief of mission in Pakistan, is now deputy director general of the foreign ministry's information department
He became known for heated online confrontations with China's critics, once being branded a 'racist disgrace' by a former Obama administration official
China's former No 2 diplomat in Pakistan, known for taking to Twitter to defend his government in bellicose terms, has been handed a senior role in Beijing's foreign ministry.
Recently updated records on the foreign ministry's website indicate that Zhao Lijian, who left his position as deputy chief of mission in Islamabad earlier this month, now serves as deputy director general of the ministry's information department.
In his new role, Zhao serves directly beneath the department's newly appointed director general, Hua Chunying, and alongside fellow deputies Geng Shuang and Yu Dunhai.
Both Hua and Geng regularly host ministry press conferences for domestic and international reporters, suggesting that Zhao may be in line to take on public-facing duties.
One of the first Chinese diplomats to open an official account on Twitter, Zhao has used the platform prolifically during his four-year tenure at the Chinese embassy in Pakistan, tweeting over 51,000 times to his more than 200,000 followers.
He also became known for his heated rhetoric – in a manner that some have compared to that of US President Donald Trump – and was once branded a "racist disgrace" by a former Obama administration official
He has been joined on Twitter in recent weeks by other official Chinese government accounts, including that of the Chinese ambassador to the United States, Cui Tiankai.
But while others have generally used the platform as merely an additional channel through which to share official remarks in diplomatic terms, Zhao made a name for himself for using Twitter to directly confront critics of the Chinese government.
After a BBC video documenting limits on public expressions of faith in China's Xinjiang Uygur autonomous region in June, Zhao told the broadcaster: "Don't [poke] your nose everywhere. Xinjiang is none of your business. Take care of your Brexit first!"
Meanwhile, a group of 22 Western countries that had issued a letter condemning the Chinese government's mass internment of largely Muslim ethnic minorities in Xinjiang were united by "white supremacy", Zhao charged.
Zhao has also taken to Twitter to criticise the US administration's treatment of Huawei and deem the British government "shameless" for its calls for restraint from Hong Kong authorities, arguing that many British citizens were "descendants of war criminals".
But arguably his most infamous moment came in July after he argued that Washington did not have the right to criticise China's policies in Xinjiang because racism existed in the US.
"If you're in Washington DC, you know the white never go to the SW area, because it's an area for the black & Latin. There's a saying 'black in & white out', which means that as long as a black family enters, white people will quit, & price of the apartment will fall sharply," he wrote in a since-deleted tweet.
Susan Rice, who served as president Barack Obama's national security adviser, responded via Twitter that Zhao was "a racist disgrace [and] shockingly ignorant too," and suggested that he should be declared persona non grata.
Several weeks later, on August 8, Zhao announced on Twitter that his four-year tour had come to an end and that he was leaving Pakistan with a "heavy heart, because Pakistan has stolen my heart."
Suggesting that he intended to use Twitter in his new role in Beijing, Zhao said he would be returning to the platform "after I settle down".
This article appeared in the South China Morning Post print edition as: Outspoken envoy Zhao gets new job at ministry