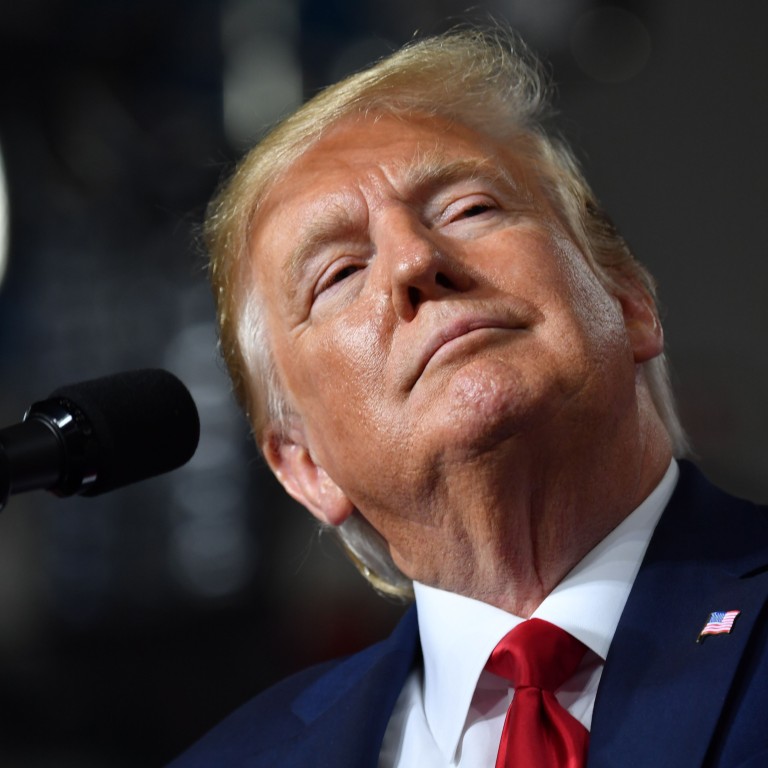 China pledges to fight trade war 'to the end' and hits back at Donald Trump's 'barbaric' tariffs
US president reacts to Beijing's latest move by stepping up tariffs and lashing out at 'enemy' Xi Jinping in flurry of tweets
Communist Party mouthpiece says country has the strength to continue and warns the will to defend its core interests is 'indestructible'
China on Saturday said it would continue fighting the trade war with the US "until the end" after the two sides slapped further tariffs on each other's goods.
The commerce ministry issued a statement calling on Washington not to "misjudge the situation and underestimate the determination of Chinese people" after US President Donald Trump announced new tariffs on Chinese imports. "The US should immediately stop its wrong action, or it will have to bear all consequences," the statement said.
A sharply worded commentary by official mouthpiece People's Daily meanwhile said China had the strength to continue the dispute and accused Washington of sacrificing the interests of its own people.
Published under the pseudonym "Wuyuehe", the piece described the latest tariff measures by the US as "barbaric".
It said China's own tariffs
on US$75 billion worth of American products
, announced late on Friday, were a response to America's unilateral escalation of the trade conflict, adding that China was determined to fight back "until the end".
The tariffs of up to 10 per cent cover energy and car components, in addition to soybeans, and the Communist Party newspaper said the measures would affect the US economy and financial system.
"China's will to defend the core interests of the country and the fundamental interests of the people is indestructible, and will not fear any challenge," the commentary said.
"History will prove that the side on the path of fairness and justice will have the last laugh."
Soon after China's tariff announcement, Trump said he would increase duties on Chinese imports, the latest escalation on a day that saw him characterise Chinese President Xi Jinping as an "enemy" and call on American companies to stop doing business with China.
Trump's move raises the 25 per cent rate on US$250 billion worth of goods to 30 per cent, effective from October 1, and pushes the 10 per cent tariff on US$300 billion worth of goods to 15 per cent starting September 1.
The intensifying trade war between the two nations could steal some of the spotlight at the Group of Seven summit in Biarritz, France, with analysts saying Trump may pressure other Western leaders to toughen their stance against Beijing. But French President Emmanuel Macron was expected to draw attention to Brazil's handling of the Amazon rainforest fires and climate change during the gathering from Saturday to Monday.
The escalation of the tariff war came just a day after White House economic adviser Larry Kudlow said deputy-level negotiators from the two sides held a "very constructive" teleconference on Wednesday, and that the US was preparing for meetings in Washington in September.
According to China's Customs Tariff Commission, a total of 5,078 US products would be subject to additional tariffs of 10 per cent or 5 per cent. The new duties would be implemented in two batches – the first from September 1 and the second from December 15.
The duties – announced and then suspended earlier this year – are a response to Washington's plan to slap a 10 per cent tariff on US$300 billion worth of Chinese imports. The added duties will apply to goods including include soybeans, beef, pork and crude oil.
China would also resume imposing additional tariffs of 25 per cent or 5 per cent on American-made vehicles and auto parts starting from December 15.
An earlier commentary from Taoran Notes, a social media account affiliated with official newspaper Economic Daily, said China's countermeasures were akin to a "precision instrument", targeting industries such as US soybeans, crude oil and cars.
Brian Dodge, chief operating officer of the Retail Industry Leaders Association, said Trump's continued escalation of tariffs had already rattled the US market.
"Mr President, we implore you to end this trade war before the damage is irreversible," he said. "If uncertainty spreads from Wall Street to Main Street, the record expansion we're enjoying will undoubtedly come to an end and it will be the American consumer, not China, who will suffer."
However, a de-escalation in the trade hostilities was unlikely because neither side saw any political upside to offering concessions, said Bill Reinsch, a senior adviser in international business at the Washington-based think tank Centre for Strategic and International Studies.
Trump "wants to keep bullying China and China wants to keep telling the rest of the world that they are the good guy here", Reinsch said.
Ian Bremmer, president of New York-based political consultancy Eurasia Group, agreed.
"Trump really doesn't want the economy to tank," Bremmer said in a Twitter post soon before news of the US leader's latest move.
"But if he's headed for confrontation with China anyway (and he is), he'd rather take the hit way before elections. Implies escalation from US soon."
Trump's comments earlier in the day, which also included an "order" to Amazon, Federal Express, UPS and other logistics companies to search for the opioid fentanyl in shipments from China,
sent stocks reeling
and prompted calls from the US Chamber of Commerce and other industry associations for a cessation of the trade hostilities.
Trump's second barrage of tweets on Friday, which announced the higher tariffs on Chinese goods, did not explain how or when US companies would be expected to comply with his order earlier in the day to find "an alternative to China".
"Our great American companies are hereby ordered to immediately start looking for an alternative to China, including bringing your companies HOME and making your products in the USA," he said.
In the meantime, US industry associations were left trying to defend their supply chains with China.
"For two and a half years we have been promised a new and innovative approach, yet what we've been given is a 1930s trade strategy that will be a disaster for American consumers, American businesses and the American economy," Rick Helfenbein, president of the American Apparel and Footwear Association, said soon after Trump announced his latest tariff moves.
"Meanwhile, the president has said he wants American businesses to stop working in China, yet he doesn't seem to understand that moving a supply chain is incredibly complicated and expensive," Helfenbein said.
"It takes years to build relationships that meet compliance standards and deliver quality products, yet we have been given weeks and in this case days."
This article appeared in the South China Morning Post print edition as: China pledges fight 'to the end' as US tariff war escalates