Iran
Get more with myNEWS
A personalised news feed of stories that matter to you
Learn more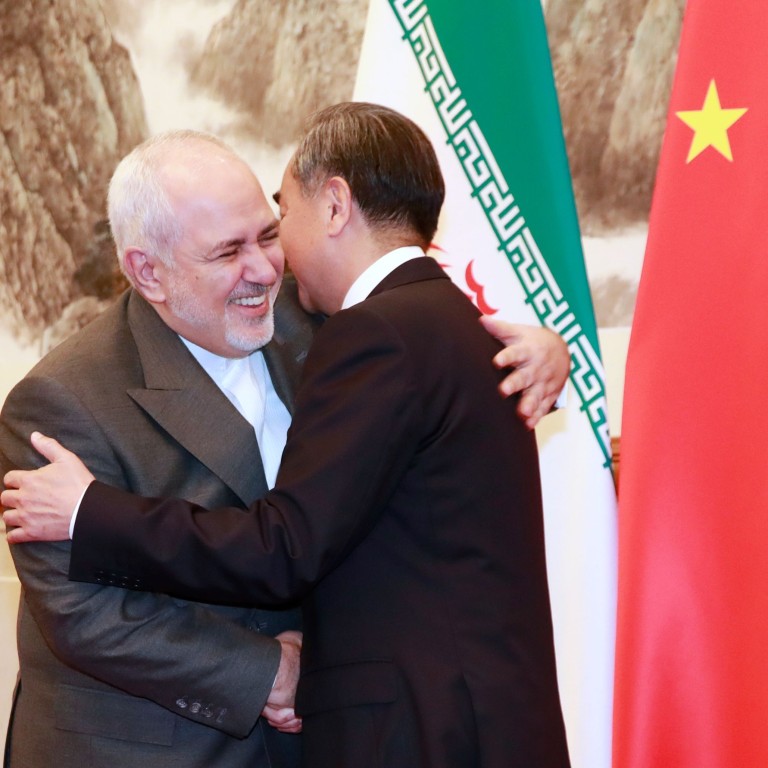 Iranian foreign minister holds talks in Beijing after surprise visit to G7 summit
Mohammad Javad Zarif meets his counterpart Wang Yi after tweeting he planned to present a 25-year road map on countries' strategic partnership
Iranian Foreign Minister Mohammad Javad Zarif visited Beijing on Monday after a
surprise appearance
at the Group of Seven summit in France over the weekend – a move highlighting China's close relationship with Iran, which is in a stand-off with the US over its nuclear programme.
Zarif tweeted in the afternoon that he had arrived in Beijing after a stopover in Tehran. He said that he planned to present his Chinese hosts with a 25-year road map on the China-Iran comprehensive strategic partnership, which was signed in 2016, and that Tehran would actively contribute to Beijing's
Belt and Road Initiative
.
Zarif later posted a photo on Twitter of him shaking hands with Chinese Foreign Minister Wang Yi at the Diaoyutai State Guesthouse and another picture of a meeting between the Chinese and Iranian delegations.
The Chinese foreign ministry also confirmed Wang's meeting with Zarif.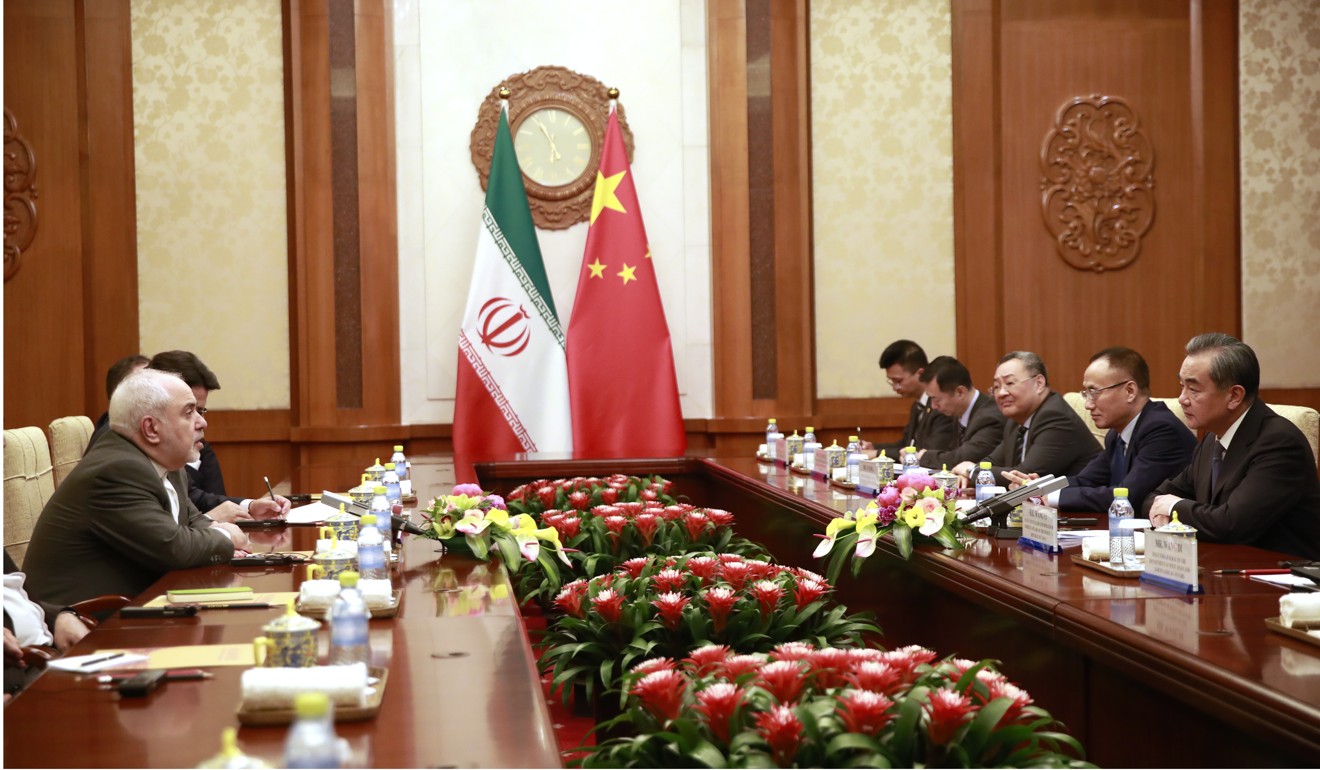 Zarif's visit to Beijing came as countries around the world are divided over their policies on Iran. Last year, the United States withdrew from the 2015 Joint Comprehensive Plan of Action that puts limits on Iran's nuclear programme. It followed that in April with threats of sanctions on countries that continued to buy oil from Iran. Washington also sanctioned Iran's supreme leader Ayatollah Ali Khamenei and Zarif.
China's foreign minister also spoke to Emmanuel Bonne, diplomatic adviser to French President Emmanuel Macron, by telephone on Monday. Bonne said France wanted to coordinate and cooperate with China to ease tensions over Iran and to maintain the 2015 nuclear deal, according to a report by official Chinese news agency Xinhua.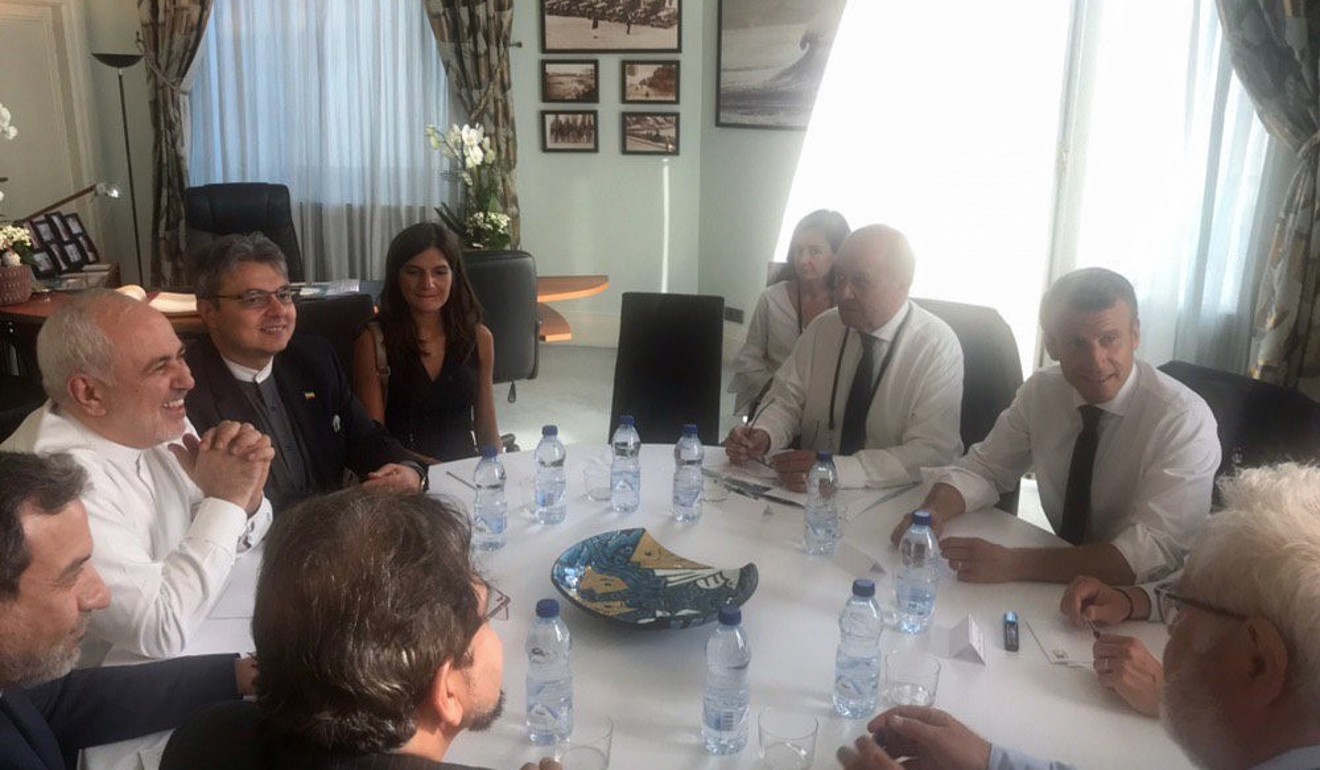 Before he arrived in Beijing on Monday, Zarif tweeted that he had met Macron on the sidelines of the G7 summit in Biarritz after extensive talks with French Minister of Europe and Foreign Affairs Jean-Yves Le Drian. The meeting with Macron was followed by a joint briefing with Britain and Germany.
"Iran's active diplomacy in pursuit of constructive engagement continues," Zarif said in the tweet. "Road ahead is difficult. But worth trying."
Iran's GDP shrank by 3.9 per cent in 2018 and its economy is expected to shrink by 6 per cent this year, according to the International Monetary Fund.
In July, Vali Teymouri, Iran's deputy director for tourism affairs, said the Iranian government's new visa waiver programme for Chinese visitors – first announced in June – was extended to 21 days, from 15, as it seeks to attract up to 1 million Chinese tourists to shore up its weakening economy.
This article appeared in the South China Morning Post print edition as: Iran foreign minister in Beijing after G7