Brazil
Get more with myNEWS
A personalised news feed of stories that matter to you
Learn more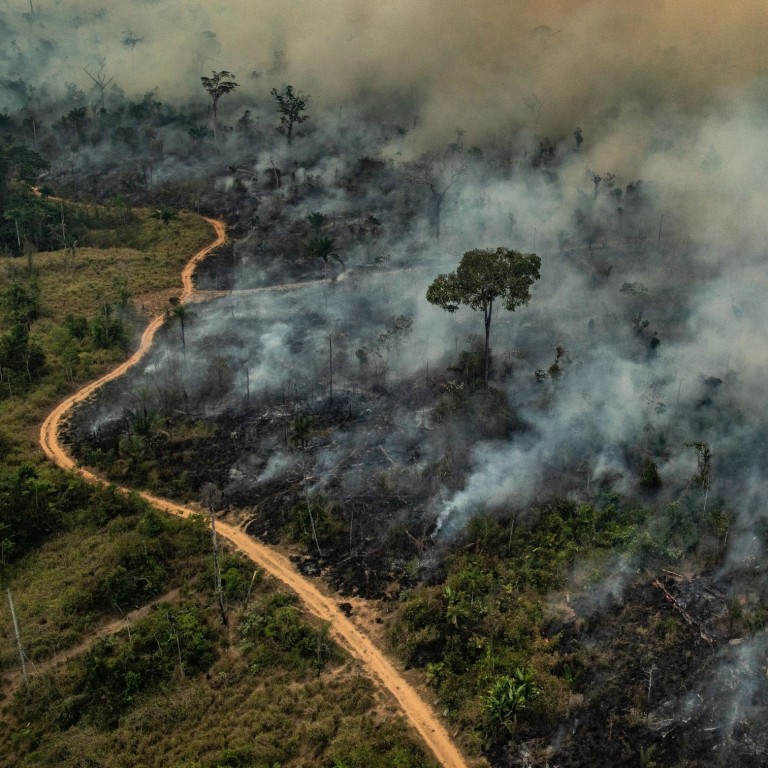 Fires in Amazon rainforest are being fuelled by US-China trade war, experts say
Economic opportunities provided by tariff dispute are pushing Brazilian beef and soybean farmers to turn their backs on decades of good practice in region, researchers say
Meanwhile, President Jair Bolsonaro is undermining Brazil's 'amazing' policies on land protection by lowering fines for environmental crimes, ecologist says
The overhaul of global supply chains precipitated by the
US-China trade war
and China's growing appetite for Brazilian beef are helping fuel the fires raging through Brazil's Amazon rainforest and other parts of the country, according to researchers and environmentalists.
Brazilian farmers and their backers are looking to take advantage of the greater market access brought about by Chinese tariffs on US soybeans and the Asian country's rising meat consumption, and are using fire as a tool to clear land for growing crops and grazing cattle, experts say.
As of Thursday, the South American country had seen 84,000 fires since the start of the year, or 75 per cent more than in the same period of 2018, according to figures from the National Institute for Space Research. The blazes in the Amazon, which account for about half of the total, have become the focus of international attention and were a major subject for discussion at the Group of 7 summit in Biarritz last weekend.
The group, which comprises Britain, Canada, France, Germany, Italy, Japan, the United States and the European Union, agreed to offer US$22 million to help fight the fires, but the aid package was rejected by
Brazilian President Jair Bolsonaro
over a dispute with his French counterpart, Emmanuel Macron.
According to Enrique Ortiz, a tropical ecologist and programme director at the Andes Amazon Fund in Washington, a combination of the loosening of domestic environmental protections and factors linked to the trade war had opened a "Pandora's box" of issues for Brazil's environment.
"What you see today in terms of fires and deforestation that are on the rise, all this is a direct and indirect response to a number of political decisions which are softening the restrictions to transform land into economic operations, be it for soy or beef," he said.
"There is a very excited private sector who see China as a potential buyer, and the tariffs are basically forcing China to buy from Brazil, so when you have a president like Brazil's Jair Bolsonaro, who is very pro-business and pro-production of soy and beef, you can imagine that many private companies are looking ahead and pressing him to open up more to China," he said, adding that both products were pillars of Brazil's economy.
Brazilian farmers have been picking up the slack since China imposed a 25 per cent tariff on imports of US soybeans in July last year at the start of the trade war, effectively boycotting its largest supplier of the product, which is used for livestock feed and cooking oil.
US beef imports to China are also subject to a 25 per cent tariff, and the situation for American farmers – who were blocked from selling to China for 14 years following an outbreak of mad cow disease in 2003 – is set to worsen when tariffs are set to rise again on Sunday as part of an escalation of the trade conflict announced by US President Donald Trump earlier in the month.
"When you have such a severe disruption in the trade flows, it has drastic consequences for the land," said Richard Fuchs, a senior research fellow at the Institute of Meteorology and Climate Research at the Karlsruhe Institute of Technology in Germany.
"If the [US-China trade] negotiations continue to fall apart, Brazil will have to ramp up production and we will see further increases in deforestation," as farmers and investors looked to capture a greater market share, he said, referring specifically to soybean production, the focus of his research.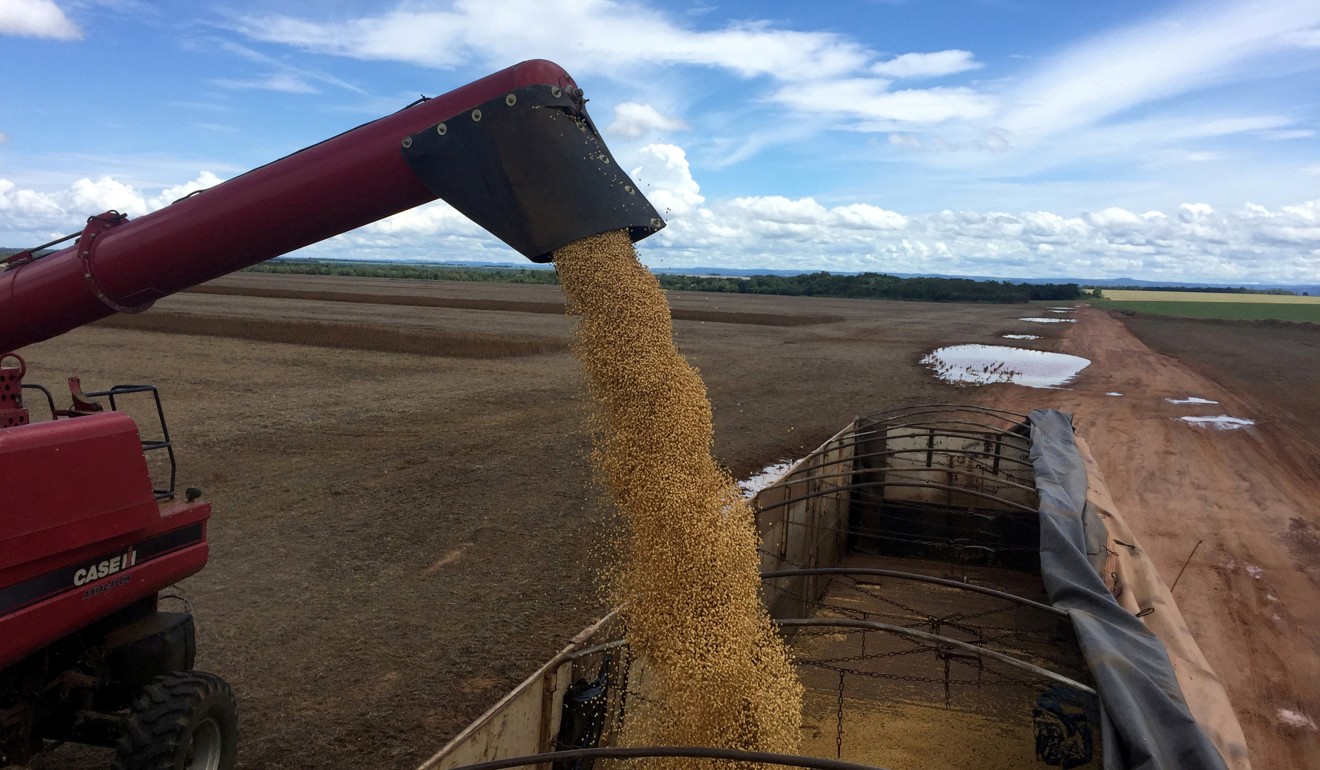 China is the world's largest importer of soybeans and has traditionally relied on the US and Brazil, the world's two largest producers, to meet its demand. From October 2017 to March 2018, Beijing imported more than 24 million tonnes of the crop from the US and over 14 million tonnes from Brazil, according to Chinese customs figures.
But after the introduction of the tariffs, US exports nosedived and Brazil's surged. Between October 2018 and March of this year, Brazil exported nearly 26 million tonnes of the crop to China, while US sales fell to 2.7 million tonnes.
Fuchs and his research partners forecast "a surge of tropical deforestation" as a result of Brazil ramping up soybean production to fill the gap left by the US. In the next few years the amount of land given over to growing the crop could rise by 39 per cent, according to their analysis published in the March issue of Nature.
While land currently lying fallow would account for some of that increase, the "large proportion" would come from forests or the savannah-like Cerrado to the south of the Amazon, Fuchs said, adding that increased deforestation was already being documented in the Amazon.
"Even if the trade fluxes reverse, the damage to the environment is there and we have to deal with it," he said. "If the negotiations continue to fall apart, Brazil will have to ramp up production and we will see further increases in deforestation."
Soybeans are typically grown in the Cerrado, after a 2006 moratorium signed by major producers drastically reduced any new clearing of protected Amazonian land for cultivating the crop.
But as more space in the Cerrado was given over to soybean production, cattle farmers were pushed northwards into the Amazon, which fuelled deforestation and fires, Fuchs said.
China's demand for Brazilian beef has skyrocketed over the past decade. In 2018, the country – excluding Hong Kong – accounted for nearly 20 per cent of Brazil's exports of the meat by volume, with a value of about US$1.48 billion, according to figures from the Brazilian Beef Exporters Association.
Ortiz said that while the "incentives are there" for Brazil's farmers to produce more beef and soybeans to meet the Chinese demand, it was important not to understate the domestic situation that had enabled them to expand into the Amazon rainforest.
"Brazil has quite an amazing set of policies in terms of land protection and forest protection, but one of the policies that President Bolsonaro is extolling is weakening fines and regulations for environmental crimes," he said.
According to figures from Imazon, a Brazilian research institute that works to protect the rainforest, the area of land subjected to deforestation between August 2018 and July 2019 increased by 15 per cent from the equivalent period 12 months earlier, while in July alone, the figure rose by 66 per cent to 1,287 square kilometres (497 square miles) – an area larger than Hong Kong.
While controlled burns are commonly used for clearing land, the link between deforestation and forest fires is widely accepted by the environmental community.
"Every year there are fires in already cleared areas of the Amazon just to get rid of last year's vegetation," said Thomas Lovejoy, a senior fellow in biodiversity and environmental science at the United Nations Foundation, who has been involved in Amazon research for more than 50 years.
"But what we are seeing now, in a year that is not very dry, is a big pop in fires from illegal deforestation."
Lovejoy attributed this to "domestic rhetoric", saying that weaker enforcement of environmental protection measures threatened to undermine decades of effort by Brazilian farmers to develop sustainable practices.
That in turn could have a different kind of impact on Brazil's international trade, he said.
"They [the farmers] are really worried that some markets will be closed to Brazilian agriculture products because of the behaviour of those who are just looking for a quick opportunity."
This article appeared in the South China Morning Post print edition as: Trade war 'fuelling Amazon fires'