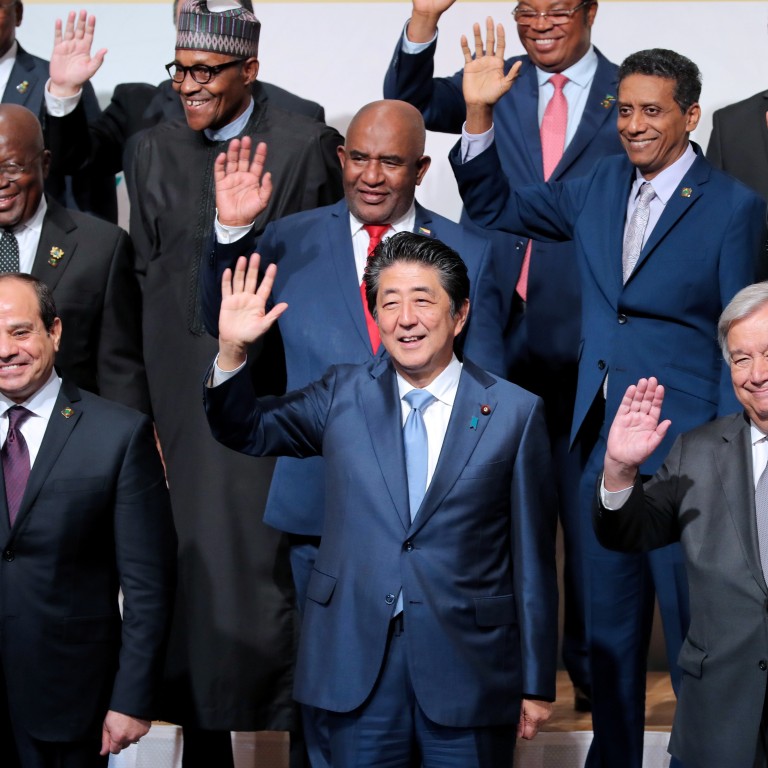 Japan keen to do business in Africa as China extends reach on continent
Japanese prime minister says his administration will do all it can to encourage private investment in African countries
Abe warns about excessive debt and stresses need for 'quality' infrastructure
Japanese Prime Minister Shinzo Abe has renewed a pledge to push for private Japanese investment in Africa, promising billions more in funding as Chinese businesses rapidly expand their presence in the continent.
Opening the three-day Tokyo International Conference on African Development in Yokohama on Wednesday, Abe said Japanese businesses had already made major inroads into African markets and more investment was to come.
He also stressed the need for civil society, security and military cooperation, underlining Japan's shift away from aid as it chases China for influence on the continent.
"Over the past three years, Japanese private investment into Africa reached US$20 billion," Abe said.
"I make this pledge to you: the government of Japan will put forth every possible effort so that the power of Japanese private investment … in the years to come, be surpassed anew from one day to the next."
When the conference was last held three years ago – in the Kenyan capital Nairobi – Abe pledged US$30 billion in public-private development assistance to Africa over three years. Last year, China offered to double that amount at the Forum on China-Africa Cooperation in Beijing. 
China is Africa's biggest trading partner, with US$204 billion in trade last year, 20 per cent more than 2018, according to the Chinese Ministry of Commerce. The figures dwarf trade between Japan and Africa – Japan's exports to the continent totalled US$7.8 billion in 2017, while imports stood at US$8.7 billion, according to data compiled by MIT.
Under Abe, Japan is changing its strategy in Africa, where it has traditionally focused on providing development aid. It now wants the help of the private sector to grow its investments in the continent where it lags other countries, particularly China.
Beijing has encouraged public and private companies to go out and get business and now more than 10,000 Chinese enterprises have a presence in Africa, controlling big-ticket projects such as railways in Kenya and Ethiopia. Chinese firms are also major players in dam, road and airport construction, as well as telecommunications.
The investment is streamlined by financial backing from China's Exim Bank or other state lenders.
By the end of 2017, Chinese investment in Africa amounted to US$43 billion – about five times Japan's total, according to the United Nations Conference on Trade and Development.
In Yokohama, African countries called for more public-private partnership (PPP) projects between their governments and Japanese entities.
African Union Commission chairman Moussa Faki said the PPP model was the ideal approach to achieving sustainable development on the continent.
"It is urgent to promote these strategies and Africa to take advantage of the situation … and to make sure that we give great attention to improve the business climate within member states," Faki said.
But Abe also raised concerns about excessive debt in Africa, a veiled reference to Beijing's lending through the Belt and Road Initiative, which is providing billions of dollars for infrastructure projects.
"If partner countries are deeply in debt, it interferes with everyone's efforts to enter the market," he said at the conference on Thursday, stressing that Tokyo promoted "quality" infrastructure investments and valued risk management.
China has been accused of irresponsible lending in Africa by offering loans to countries that cannot afford to repay. China dismisses the accusations saying it is helping Africa grow while other countries abandon the continent. In the past two years, Beijing has also written off millions of dollars in debt for nearly a dozen African countries as they struggled to repay.
In addition to investment and trade, Abe unveiled what he called a New Approach for Peace and Stability in Africa, or Napsa, to "foster Africa's prosperity".
"Napsa will work in cooperation with the African Union and regional economic communities to support conflict prevention and mediation efforts," Abe said.
"Napsa will also assist in making judicial, governmental administration, and legislative systems stable and secure, so that nation building does not move backward as a result of conflict."
Abe's pledges come as China steps up security and military cooperation with African countries. In 2015, China pledged US$100 million in military assistance to the African Union over five years.
Abe told the conference that Tokyo, too, was prepared to get more involved in fostering peace in African countries. He said that in South Sudan, Japan had removed more than 20,000 landmines and unexploded ordnance since 2011.
"When peace comes, it is better roads that become necessary. To that end in Africa, a net total of 149 members of the Japan Self-Defence Forces have given instruction on the operation of bulldozers and other earth movers to 246 members of the engineering corps from eight countries taking part in United Nations peacekeeping operations," Abe said.
Japan also maintains a military base in Djibouti, where Abe said, the country's forces were engaged in anti-piracy operations in the Indian Ocean.
This article appeared in the South China Morning Post print edition as: Japan to ramp up investment in Africa