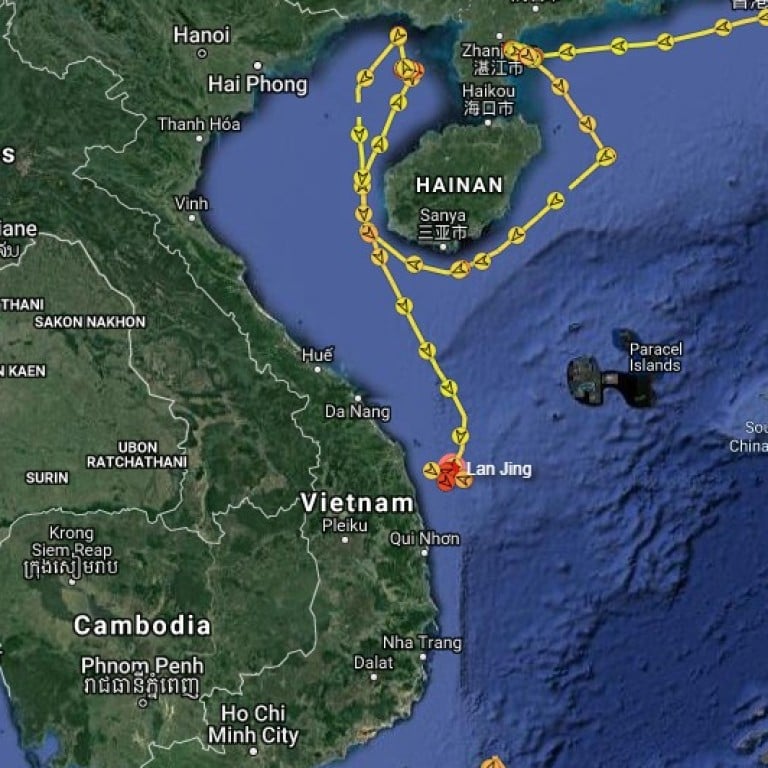 Giant China crane ship turns up near Vietnamese coast
Beijing stretches Hanoi's maritime capacity after weeks of tension in South China Sea
A Chinese giant crane vessel has been tracked to 90km (56 miles) from the Vietnamese coastline – in an area claimed by Hanoi as its exclusive economic zone – fuelling the risk of further maritime confrontation between the two countries.
The Lan Jing, believed to be one of the largest crane ships in the world, left the coastal city of Zhanjiang in southern China's Guangdong province earlier last month. It arrived offshore of Quang Ngai, a province in Vietnam's south central coast late on Tuesday night, according to Marine Traffic, a website which tracks vessel movements.
Regional observers said the presence of the ship so close to the Vietnamese coastline indicated Beijing may be upping the ante in its weeks-long stand-off with Vietnam in the disputed South China Sea, by stretching Hanoi's maritime capacity to its limit.
Vessels from both countries have been facing off since a Chinese survey ship, the Haiyang Dizhi 8, arrived near the Vietnamese-controlled Vanguard Reef in the Spratly Islands in July. At the climax of the stand-off, up to 20 armed vessels from both sides were at the scene.
The presence of the Haiyang Dizhi 8 has been seen as an attempt by Beijing to hamper Vietnam's oil and gas exploration which is being carried out in partnership with Russian petroleum company Rosneft.
Collin Koh, a research fellow at the S. Rajaratnam School of International Studies, based at Nanyang Technological University in Singapore, said the arrival of the Lan Jing not only had a "political signalling utility", but also an operational one.
"Imagine Vietnam has to stretch its limited maritime forces capacity, not only in Vanguard Bank but also over Lan Jing – this could complicate the situation for Vietnam which already faces a yawning asymmetry with China in terms of maritime forces capacity," Koh said.
"What China is doing could provoke a stronger domestic backlash within Vietnam, compelling the Vietnamese political elites to act, which may include allowing nationalistic sentiments to come into the picture as a counteraction to this new Chinese act."
The Lan Jing belongs to state-owned China National Offshore Oil Corporation (Cnooc) and sails under the Hong Kong flag. The ship is equipped with a 7,500-tonne capacity crane, an additional 4,000-tonne crane and an auxiliary 1,600-tonne hook. It has been deployed in several projects installing large oil rigs and other offshore structures in the South China Sea.
Cnooc did not immediately respond to inquiries about its purpose off the Vietnamese coast.
The resource-rich South China Sea is one of the region's most dangerous flashpoints. China claims most of its waters but this is contested by neighbouring countries, with Vietnam, the Philippines, Malaysia and Brunei all having their own overlapping claims.
On Monday, the US and 10 Southeast Asian nations kicked off their first-ever joint maritime naval exercises – which will take in the disputed South China Sea – five days after the guided missile destroyer USS Wayne E Meyer sailed within 12 nautical miles of Fiery Cross and Mischief reefs, China's two biggest artificial islands in the disputed Spratlys.
This article appeared in the South China Morning Post print edition as: Giant crane ship stretches Hanoi's maritime capacity