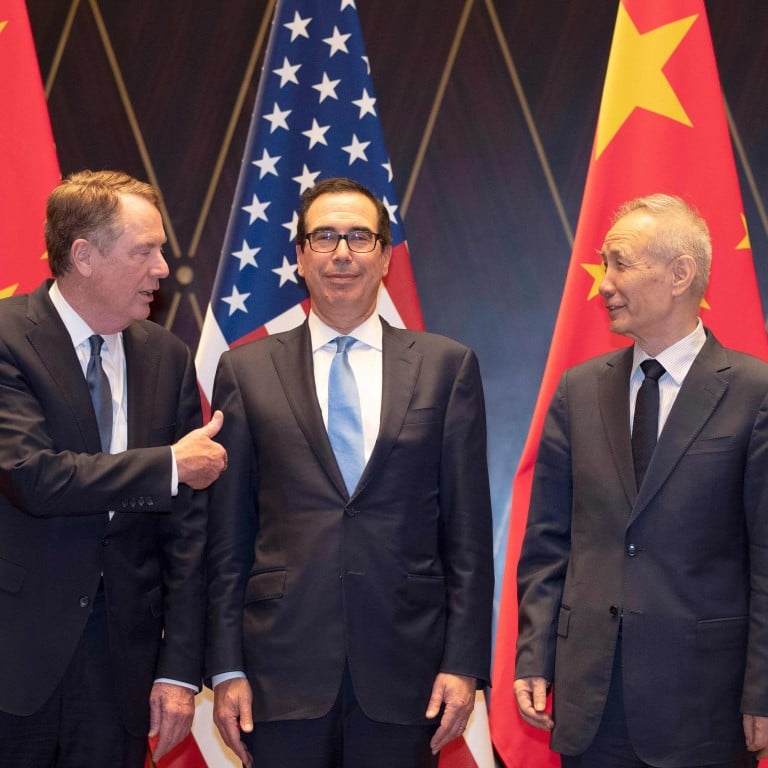 China-US trade war talks to resume in early October as global growth outlook dims
The two sides hold first top-level phone call since August 13
Economists cut Chinese 2020 growth forecasts below 6 per cent on increasing impact of trade war and insufficient Beijing stimulus to stabilise growth
China said it would strive to make substantial progress to resolve the
trade war
with the United States when the countries' negotiators resume face-to-face talks in Washington in early October, with the year-long conflict prompting private sector economists to cut their 2020 growth forecasts.
The Ministry of Commerce made the pledge after Chinese Vice-Premier Liu He and the US' Trade Representative Robert Lighthizer and Treasury Secretary Steven Mnuchin spoke on the phone on Thursday, their first conversation since August 13.
The ministry said both sides agreed to make concrete efforts to create positive conditions for continued dialogue.
"On the basis of full preparation by the working groups of both sides, efforts striving for substantive progress will be made in the 13th round of China-US high-level economic and trade consultations in early October," ministry spokesman Gao Feng said.
Other Chinese officials, including Commerce Minister Zhong Shan, central bank governor Yi Gang and Ning Jizhe, deputy head of the National Development and Reform Commission, also joined the phone call.
A separate announcement by the Office of the US Trade Representative said a deputy-level meeting would be held in mid-September to "lay the groundwork for meaningful progress".
After their August 13 phone call, the two sides indicated
they would meet
in September but both countries have since raised tariffs on imports of each other's products, and China has said it would not bow to US pressure.
The talks are being planned as fears rise that the trade war and other factors such as Britain's exit from the European Union could push the global economy into recession.
China is expected to remain one of the world's fastest growing economies but its growth is forecast to slow to less than 6 per cent next year, below Beijing's 6-6.5 per cent growth target range for 2019 and despite Beijing efforts to offset the effects of the higher tariffs.
Swiss investment bank UBS cut its 2020 growth estimate for China to just 5.5 per cent from the previous forecast of 5.8 per cent, with economists at Bank of America Merrill Lynch and Oxford Economics' head of Asia economics Louis Kuijs both trimming their estimates to 5.7 per cent. French bank BNP Paribas cut its forecast to 5.6 per cent.
"We still expect growth to stabilise, but later than envisaged before and at a lower rates," Kuijs said. "The key downside risk to this forecast is policymakers not stepping up the policy easing sufficiently."
Jason Lui, BNP's head of equity derivatives strategy for Asia-Pacific, said China's growth was slowing and no one should expect a "quick shot in the arm stimulus".
"Here in Asia, we're so used to China coming to the rescue when things are bad … China may not have the same kind of firepower to immediately provide a boost to risk sentiment for the rest of the region," Lui said.
UBS economists said the economic stimulus measures announced by the State Council on Wednesday, including increasing bond issuance to fund more infrastructure projects, as well as cuts in market interest rates and banks' reserve requirement, would not affect the downward revision in their China growth forecast.
Growth below 6 per cent means China could fall short of its long-term goal of doubling per capita real gross domestic product (GDP) by the end of 2020 from a decade earlier.
Aidan Yao, senior emerging Asia economist at AXA Investment Managers, said that either Beijing defended the doubling of the GDP goal or "they let go of it". "[If they do let it go] it's pointless to keep it above 6 per cent in a scenario of no ceasefire in the trade war," Yao said.
The US business community, which has seen profit margins shaved and supply chains rocked by the ongoing onslaught of tariffs, welcomed the news of high-level talks in October.
"We urge the [US] administration to end this trade war and come to an agreement that results in a complete rollback of the existing tariffs," said Matthew Shay, president and CEO of the National Retail Federation, a US trade association whose members include IBM, Macy's and Intel.
Optimistic that upcoming talks would yield "significant progress", Shay said on Thursday that the trade war had "gone on far too long, and the harmful consequences for American business and consumers continues to grow."
The trade war escalated sharply last month, with both sides adding tariffs that will take effect over the next few months. When the new US tariffs are fully implemented in mid-December, almost all of China's exports to the US – around US$520 billion – will face penalty tariffs averaging more than 22 per cent, while about 70 per cent of China's imports from the US will be subject to additional tariffs of 20 per cent on average, according to calculations from UBS.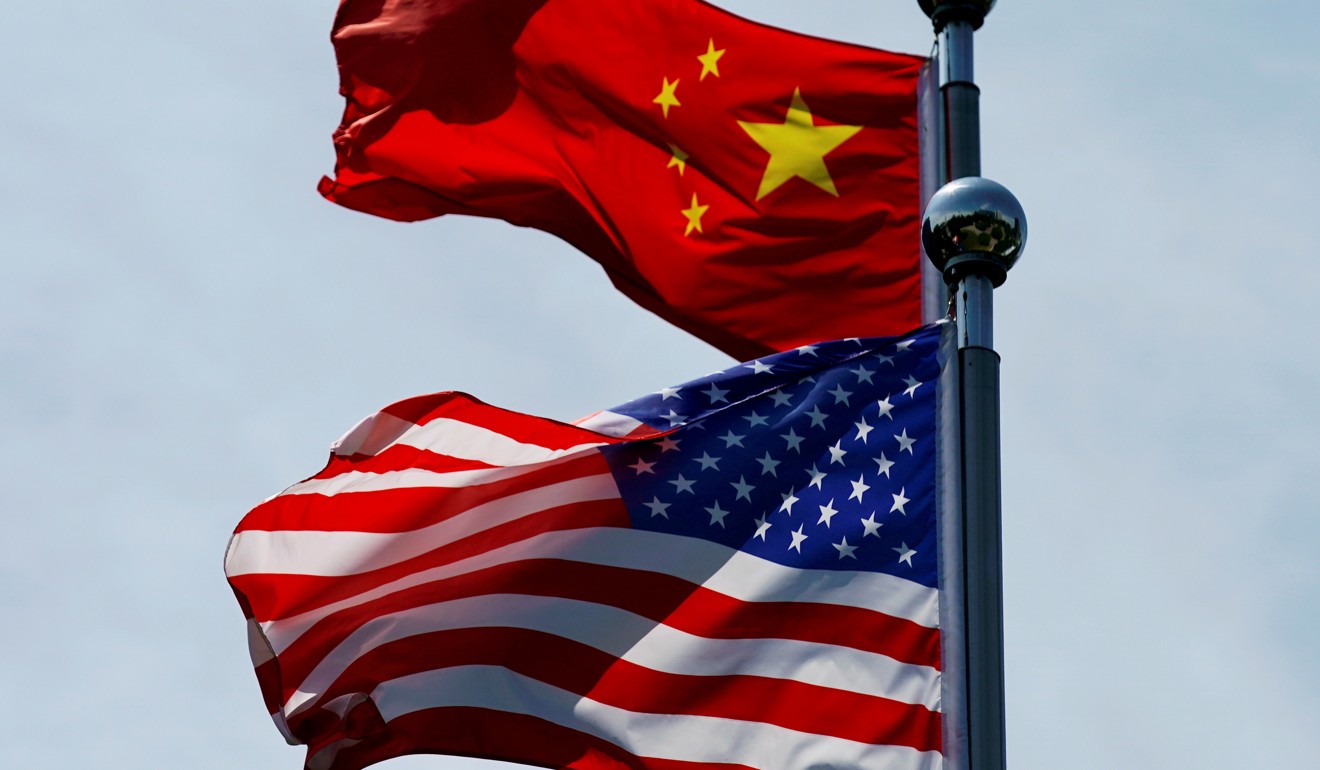 The effects are being felt far afield, with the Institute for Supply Management's purchasing managers index showing US factory activity contracting in August for the first time since 2016 as it joined Britain, Germany, Japan, and South Korea in posting a weak manufacturing performance.
While consumer spending, which accounts for roughly 70 per cent of the US economy, has held up so far, the new tariffs on Chinese imports will hit consumer goods prices for the first time, raising risks for US growth.
The European Central Bank is widely expected to enact monetary stimulus measures at its meeting next week to support the European economy after the US Federal Reserve cut interest rates in late July for the first time since the global financial crisis in 2008.
Meanwhile, Taoran Notes, a social media account affiliated with the state-run newspaper Economic Daily, said in a commentary that officials from both countries might address each other's core concerns in the coming days.
China has insisted that a trade deal should be equal and balanced, including removing tariffs and agreeing on reasonable quantities of Chinese purchases of US agricultural and other products.
"The upcoming trend, whether it will develop in a positive direction or repeat [previous tensions], will probably be decided by [the Americans' actions]," it said.
Researchers were playing down hopes for a significant breakthrough in the short term. Lu Xiang, a research fellow on US issues with the Chinese Academy of Social Sciences, expected the trade teams to reach an agenda for the October talks, but said it was unclear to what degree the US trade team could speak for the intentions of US President Donald Trump.
"Trump … is getting more unpredictable now that he is into 'garbage time' [as US president]," Lu said. "We can only try to find sensible clues in his nonsense. We would be better not to play up expectations for the outcome."
Wang Yong, a professor of international relations at Peking University, said a slowdown in the US economy along with the president's unpredictable nature could affect Washington's demands.
"Trump's habit of sending tweets totally at his personal will add another level of danger," Wang said.
Wang said a wide range of issues would be discussed at the October meeting, including market access for foreign companies in China, US visa restrictions for Chinese applicants and the quantities of American products to be bought by China.
This article appeared in the South China Morning Post print edition as: China and US will resume trade talks