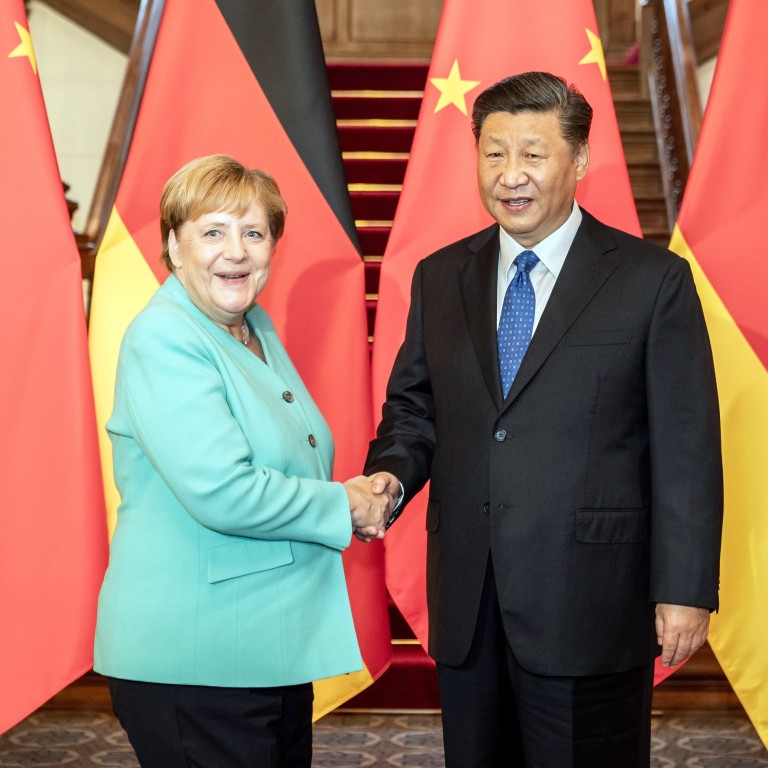 Xi Jinping promises to keep opening up China's economy as he welcomes Germany's Angela Merkel to Beijing
Chinese leader says two countries must work together as he courts European support amid trade war with US
Merkel's visit is the first by a major Western leader since Hong Kong protests escalated over the summer
Chinese President Xi Jinping told visiting German Chancellor Angela Merkel on Friday that China would keep its promise to open up its economy as he courted European support in the trade war with the US.
Xi said that China and Germany needed to intensify their strategic cooperation "more than ever" to ensure everyone could enjoy a larger slice of the cake.
He argued that the Chinese market would develop further, adding: "Thus openness is extending from the manufacturing sector to the financial and services sectors. This will bring more new chances for Germany and all other countries in the world."
Merkel, who was making her 12th official visit to China since taking office in 2005, said that the prolonged dispute between the world's two biggest economies "affects everyone in the world", adding that a solution needed to be found.
China and the United States are due to hold talks later this month to prepare the way for their most senior negotiators to meet early in October, but hopes for a swift resolution remain distant.
Germany, the European Union's main economic powerhouse, risks being caught in the crossfire as the threat of a recession grows.
European countries and companies oppose the US decision to target China with tariffs even if they share many of its concerns about Beijing's slow pace of economic reform, its use of hefty state subsidies to support industry and its poor protections for intellectual property.
Thus, they have pushed Beijing to further open up China's economy as a means of paving the way to a resolution.
Xi said China and Germany should together explore technological areas such as new energy vehicles, smart manufacturing, artificial intelligence, digitalisation and 5G communications networks.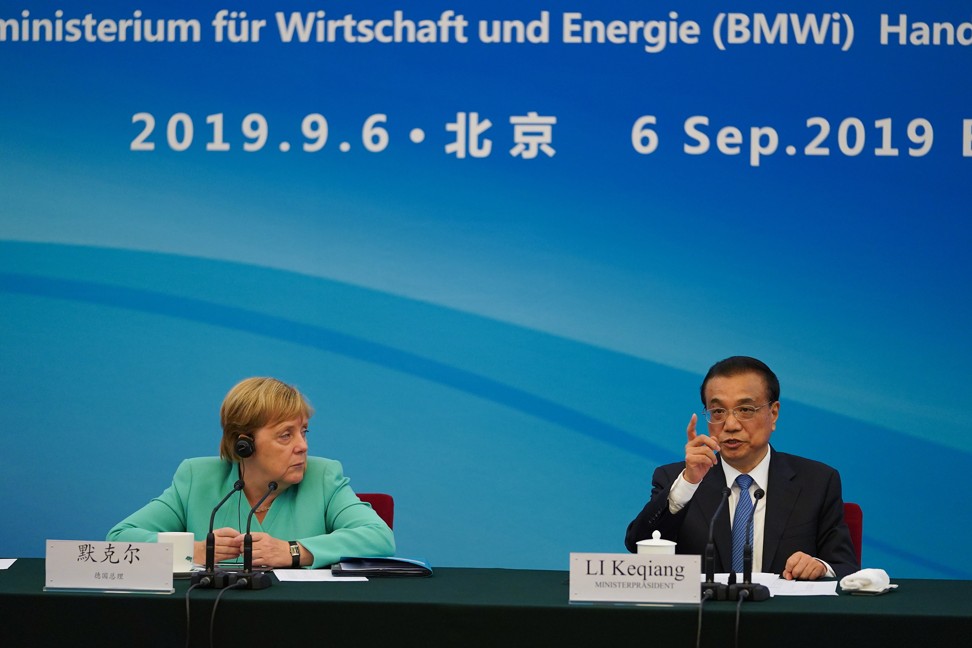 He also welcomed German companies' participation in the Yangtze River Economic Belt Development Plan, one of Xi's pet projects to develop a more sustainable path in one of China's economic powerhouses.
He also said the two countries should jointly bear responsibility to "maintain fairness and justice, to defend free trade and multilateralism".
Merkel, who was accompanied by a business delegation, also met Premier Li Keqiang in Beijing on Friday and was expected to visit Wuhan, the capital of the central province of Hubei, on Saturday.
She told Li that Germany was open to Chinese investment but wanted to maintain scrutiny over strategic sectors and critical infrastructure.
Li also promised to open up the country's economy further and said he hoped the Germans would loosen their export rules.
But the economic significance of Merkel's visit was outweighed by her remarks on the political unrest in Hong Kong.
Merkel's visit was the first paid by a leader of a major Western country since the anti-government protests in Hong Kong escalated to the worst political unrest since the city's return to China in 1997.
The German chancellor told Li that a peaceful solution had to be found and called for the city's rights and freedoms to be protected.
China has been Germany's biggest trading partner for the past three years, with trade between the two reaching US$183.9 billion last year.
For the first seven months of this year, trade rose by 2.4 per cent compared with the same period last year, reaching US$107 billion.
Investment inflow from Germany to China rose by 62.7 per cent to US$1.17 billion while China's investment inflow to Germany rose 28 per cent to US$1 billion, according to China's Ministry of Commerce.
This article appeared in the South China Morning Post print edition as: China will keep promises to open its economy up, Xi tells German leader