Pakistan
Get more with myNEWS
A personalised news feed of stories that matter to you
Learn more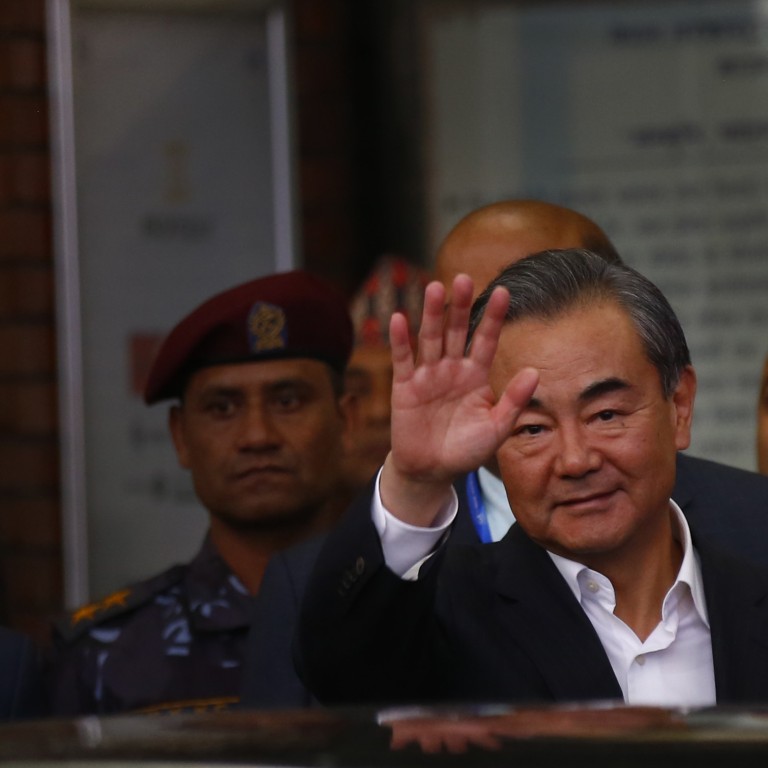 Beijing gives Pakistan its backing amid rising Kashmir tensions
The two countries are 'all-weather' partners with a rock-solid relationship, Chinese Minister of Foreign Affairs Wang Yi says
Balancing India's influence and promoting the Beijing-funded China-Pakistan Economic Corridor are among their common interests
China's Foreign Minister Wang Yi has pledged support to Pakistan and described the two countries as "all-weather" partners as Beijing moves to protect its regional interests amid tensions with India.
Wang met Pakistani army chief General Qamar Javed Bajwa in the Pakistan capital Islamabad, where they had an "in-depth exchange of views on bilateral, regional and international issues of mutual interest", Chinese state news agency Xinhua said on Monday.
"No matter how the situation in the region changes, China will firmly support the Pakistani side in safeguarding sovereignty, dignity and territorial integrity," Wang, who began a four-day trip to Pakistan and Nepal on Saturday, was quoted as saying.
"[China] firmly supports the Pakistani government in achieving national stability and development and prosperity, and firmly supports Pakistan to play a more constructive role in regional and international affairs," Wang said, referring to the two countries as "all-weather strategic partners" with "rock-solid" relations.
Wang's comments come amid fresh tensions between Islamabad and New Delhi over Kashmir. India
decided last month
to strip the Jammu and Kashmir autonomous state of its special status and break it into two federally controlled territories, which China said infringed its territorial integrity.
Both India and Pakistan claim the whole of Kashmir, which was partitioned between the two after the end of British rule in 1948, and have fought wars over the territory.
China has formally
backed Pakistan's request
for the United Nations Security Council to hold "closed consultations" on the revoking of the state's autonomy.
India is also involved in the Indo-Pacific strategy led by the United States, which Beijing views as a containment strategy to hinder China's military expansion.
Wang stressed that China and Pakistan should cooperate to secure their common economic interests.
"The China-Pakistan Economic Corridor [CPEC] is a long-term development plan for Pakistan," Wang said. "The Pakistani military has made unremitting efforts in corridor construction, especially security."
The corridor, a US$62 billion China-funded infrastructure project, is facing scrutiny in Pakistan over suggestions that it has left the country in a debt trap and is designed to serve China's political agenda.
There have also been security concerns surrounding CPEC projects. In May, gunmen attacked a luxury hotel in the Pakistani port city Gwadar, the hub of a multibillion-dollar Chinese infrastructure project. A regional separatist group, the Baluch Liberation Army, claimed responsibility for the attack.
Elsewhere, the China Construction Third Engineering Bureau –a state-owned company that works on the Peshawar-Karachi motorway, a key CPEC project – has previously told Chinese media that around 3,500 security personnel were employed to protect about 1,000 Chinese workers and 19,000 Pakistani employees.
"The current regional and international situation is undergoing a complex evolution," Bajwa said. "I am grateful to China for its strong support to Pakistan during this crucial period.
"I believe that with the help of China, the Pakistani side will be able to overcome difficulties, overcome challenges and achieve greater development. The Pakistani side regards the construction of the economic corridor in Pakistan and China as an important opportunity for national development and will work with China to promote cooperation."
Wang met Pakistani President Arif Alvi at the presidential palace in Islamabad, with the pair pledging to work together on anti-terrorism measures and economic cooperation. He also held talks with Pakistani Prime Minister Imran Khan and Foreign Minister Shah Mahmood Qureshi.
Wang had been due to visit New Delhi on September 9-10 for talks with Indian National Security Adviser Ajit Doval, but Beijing cancelled the meeting, according to Indian media.
Beijing and Islamabad provide strategic advantages for one another, according to Zhang Baohui, director of the Centre for Asian Pacific Studies at Lingnan University in Hong Kong.
"For China, Pakistan is a natural balancer to check India," Zhang said, adding that Beijing considers Islamabad a buffer in checking New Delhi's influence. "This is the origin of Pakistan's strategic value to China.
"As long as China and India are embroiled in border disputes and strategic rivalry, Pakistan remains a significant strategic asset for Beijing. In return, China's support is also vital for the security of Pakistan, which is dwarfed by a rising India in terms of comprehensive national capabilities."