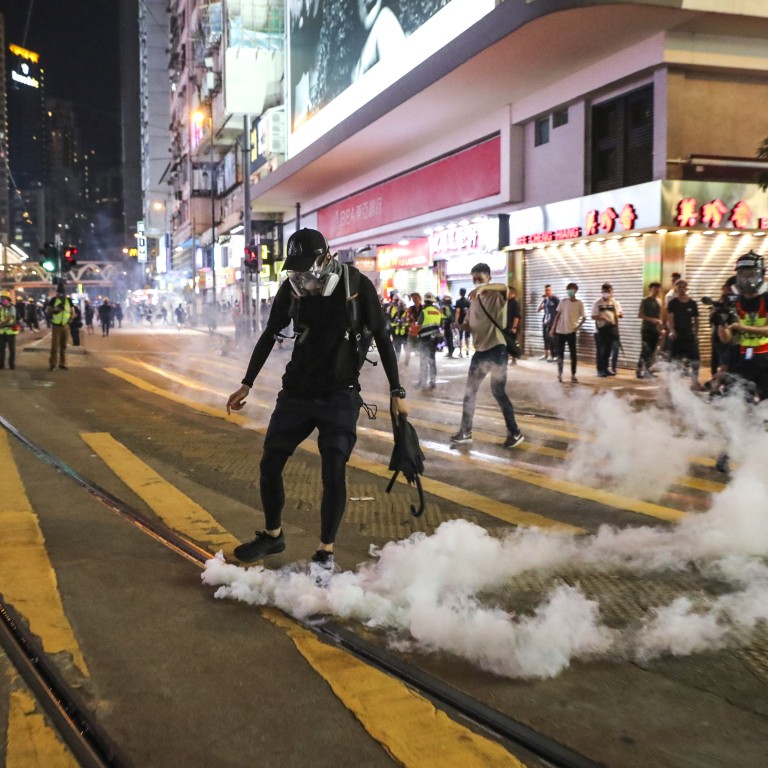 Why China went on a global media blitz over the Hong Kong protests – and why it probably won't work
Chinese envoys around the world embarked on an unusually broad propaganda push to promote Beijing's line on the extradition bill demonstrations
But foreign audiences are unlikely to be receptive to the message, analysts say
The campaign gained momentum in June, as Hongkongers turned out on an unprecedented scale to protest against a
now-withdrawn extradition bill
, but really took off in August.
From the United States to Mongolia and Nigeria to Costa Rica, Chinese envoys to more than 70 countries, regions and international organisations wrote opinion pieces for local news outlets, granted interviews, held media briefings and made speeches in a flurry of public relations activity.
The burst of communications was unusual. While Chinese diplomats have spoken publicly before on big issues such as the China-US trade war and the Belt and Road Initiative, it had not been on such a scale.
Observers said the effort was an attempt to shape international opinion about the unrest in Hong Kong, but no matter how united the approach, the campaign was unlikely to be effective.
Yao Jing, China's ambassador to Pakistan, typified the tone in a commentary for Pakistan's Diplomatic News Agency on August 16.
Yao said some people in Hong Kong had been deliberately misinformed about the bill, which would have allowed the extradition of criminal suspects to other jurisdictions, including mainland China.
"Some people and media with ulterior motives took the opportunity to spread rumours or create social panic in order to thwart the [extradition bill]," he said.
"It is worth noting that external forces have played a very disgraceful role in the evolving of the situation in Hong Kong."
On Tuesday, Liu Xiaoming, the Chinese ambassador to Britain, said in a press conference that some British politicians "still have a colonial mindset" and that it would be wrong for them to make "irresponsible remarks to show support" for what he described as "demonstrators and rioters" in Hong Kong.
"If the riots become uncontrollable for the Hong Kong SAR [Special Administrative Region] government, China cannot sit on its hands and watch," Liu said. "Hong Kong is part of China. We can't watch this violence go on and on."
Liu had previously used an opinion piece in the South China Morning Post to blame the West for escalating the clashes.
"Behind these acts are traces of foreign instigators who spread rumours and create panic in society. These instigators, including
certain Western politician
s and media, applaud radical behaviour and call for sympathy and tolerance for the radicals. They blame the unrest on Hong Kong police who were simply performing their duty to safeguard the rule of law," Liu wrote.
In Doha, ambassador Zhou Jian said the protests in Hong Kong were part of a bigger effort by the West to contain China's rise and development under the disguise of advocating democracy and freedom.
"However, at a time when globalisation is deepening and the interests of all countries are deeply cohered, their schemes will not succeed, but likely shoot themselves in the foot," Zhou wrote in the Qatar Tribune .
The media blitz also stressed the importance of "one country, two systems", the constitutional principle that allows Hong Kong to retain its own autonomous government, legal, economic and financial systems.
"The excuse of opposition to the amendments … is to disrupt Hong Kong and undermine 'one country, two systems' and contain China's development," wrote Pan Weifang, the Chinese ambassador to Jordan, in the Jordan Times on August 29.
The united approach was a contrast to the start of the year when Chinese President Xi Jinping made a landmark speech on Taiwan, insisting that any efforts by the island to assert full independence would be met by armed force. Back then only four Chinese ambassadors wrote opinion pieces throughout January to underscore Xi's point.
Keith Richburg, director of the Journalism and Media Studies Centre at the University of Hong Kong, said the unusually high level of activity showed the nervousness of Beijing, which wanted to change the narrative of the Hong Kong protests.
"They want to stop the idea from taking root that the protests are about people defending their freedoms and fighting for democracy, and they want to push the idea that the protesters are all violent rioters, and the unrest is all some kind of Western plot to foment a 'colour revolution'," Richburg said.
"They want the outside world to see the violence, and not the anger of hundreds of thousands of ordinary Chinese who object to the mainlandisation of Hong Kong."
Jonathan Hassid, an assistant political science professor who researches Chinese media at Iowa State University, agreed that it was uncommon for so many envoys to take a public stand.
"It is unusual to see this many Chinese diplomats across the world try to implement a coordinated message on a single news event, which speaks to the serious nature of the Hong Kong protests and to Beijing's apparent worry about how things will turn out in Hong Kong and in China more broadly," Hassid said.
Irrespective of the scale of the propaganda push, the strong and unified statements by Chinese authorities were bound to appear heavy-handed and tone-deaf, especially to liberal democratic sensibilities, according to Florian Schneider, a senior lecturer specialising in Chinese economic developments and foreign policy at Leiden University in the Netherlands.
"Overall, I doubt that the message will sway foreign audiences, particularly in liberal societies where many people are sceptical of authoritarian politics more generally," Schneider said.
"If this message has any appeal at all, it might be with conservative audiences who privilege law and order, or among those who are receptive to the idea that public discontent might interrupt business and trade."
Hassid said that for foreign audiences, Beijing's actions would speak louder than its words.
"The world, on the whole, is unlikely to accept these messages. Western public neither trust nor are, in general, persuaded by Beijing's foreign messaging," he said.
"And given a foreign environment where populations and leadership in many countries around the world have decreasing affection toward China, people are going to be looking more at China's actions than its rhetoric."
This article appeared in the South China Morning Post print edition as: Beijing envoys try to get official line over on protests