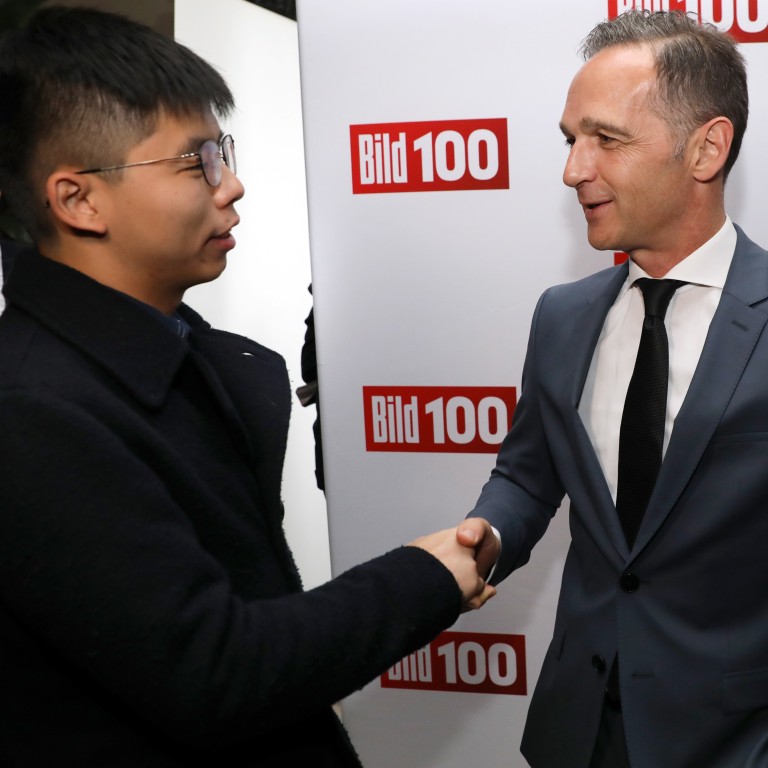 China blasts Germany after foreign minister meets Hong Kong activist Joshua Wong at human rights event
Beijing accuses Heiko Maas of 'extremely erroneous action' after he and Wong are introduced at newspaper's event in Berlin
Wong says Hong Kong is comparable to East Berlin during the cold war
China has protested to Germany after the German foreign minister met Hong Kong pro-democracy activist Joshua Wong Chi-fung
at an event
in Berlin.
Chinese foreign ministry spokeswoman Hua Chunying said China had lodged "stern representations" with Germany after Wong and German Foreign Minister Heiko Maas were introduced while both attending an event hosted by a newspaper at the German parliament on Monday.
On Tuesday, Hua said Beijing was "strongly dissatisfied" over Maas meeting Wong, the 22-year-old secretary general of pro-democracy Hong Kong political party Demosisto. Wong had travelled to Berlin for the event, hosted by the German newspaper Bild to celebrate human rights activists around the world.
"There are certain German media and politicians who seek attention and stage political shows by taking advantage of anti-Chinese separatists," Hua said. "This is extremely erroneous action which has shown disrespect of China's sovereignty and interference in China's internal affairs.
"German Chancellor Angela Merkel has clearly stated her support for 'one country, two systems' and her opposition to violence during her visit to China last week. We couldn't help but wonder, what is the intention of the German side to allow Joshua Wong to visit Germany and to meet Foreign Minister Maas at this point in time?"
One country, two systems is the principle under which Hong Kong was returned from British to Chinese rule in 1997 but retained a high degree of autonomy.
Hua said the incident would send the wrong signal to "radical separatist forces" in Hong Kong and called for Maas not to engage in actions that would hurt China-Germany relations.
On Monday, Wong compared the anti-government protests in Hong Kong to the situation in East Berlin during the cold war.
"If we are in a new cold war, Hong Kong is the new Berlin," he said at a reception space close to the Berlin Wall at the Reichstag building, which formerly occupied the no-man's land between communist East Berlin and the city's capitalist western half.
Ongoing mass protests in Hong Kong were triggered in early June by opposition to a
now-abandoned extradition bill
that would have allowed the transfer of criminal suspects to mainland China.
On Wednesday, China's ambassador to Germany Wu Ken told reporters that Beijing had summoned the German ambassador to China to discuss the matter.
Wong's arrival in Berlin came after Merkel met Chinese Premier Li Keqiang in Beijing last week, when the situation in Hong Kong was discussed.
Li said
the Chinese people had the capacity to manage their own affairs – remarks seen as a message to foreign governments not to interfere – and Merkel called for the crisis to be resolved through peaceful dialogue and the "utmost" efforts to avoid violence.
Despite the announcement last week by Hong Kong Chief Executive Carrie Lam Cheng Yuet-ngor that the bill would be formally withdrawn, Wong said protesters would not be lulled into complacency.
"We urge the free world to stand together with us in resisting the Chinese autocratic regime," he said on Monday, describing Chinese President Xi Jinping as "not a president but an emperor".
Wong
had been arrested
at Hong Kong International Airport on Sunday morning for breaching bail conditions imposed after he was charged over a protest on June 21.
But a court heard on Monday that the arrest had been prompted by
inaccurate documentation
of Wong's bail terms, despite them having been read out correctly at the bail hearing.
A magistrate had previously agreed to temporarily lift a travel ban imposed on Wong so that he could visit Germany and the United States on prearranged trips this month.
Additional reporting by Reuters and Agence France-Presse