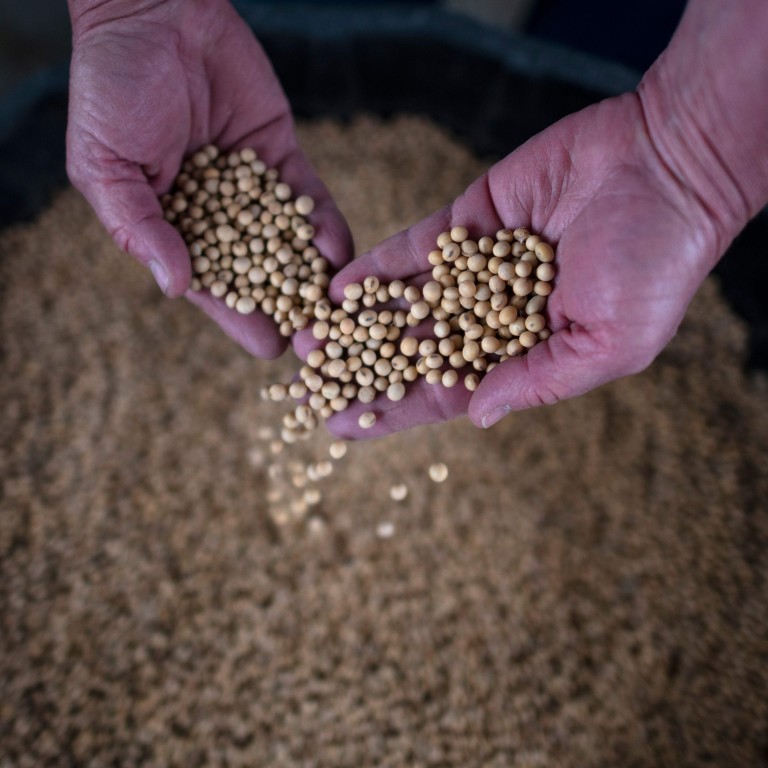 In countdown to trade war talks, China ready to sweeten deal by buying American goods, source says
Top negotiators to meet in Washington early next month but even a simple purchase agreement is no certainty, observers say
China has offered to buy American products in exchange for a delay in a series of US tariffs and easing of a supply ban against telecoms giant Huawei
China is expected to agree to buy more American agricultural products in hopes of a better trade deal with the United States as the two nations prepare for a meeting between their
top negotiators next month
.
A source familiar with the situation said working-level officials were discussing the text of a deal, which would be reviewed when Chinese Vice-Premier Liu He meets US Trade Representative Robert Lighthizer and Treasury Secretary Steven Mnuchin in Washington in October.
The text is based on a draft the two sides negotiated in April, the source said on condition of anonymity.
As part of the discussions, China has offered to buy American products in exchange for a delay in a series of US tariffs and easing of a supply ban against Chinese telecommunications giant Huawei Technologies.
The source said China could also offer more market access, better protection for intellectual property and to cut excess industrial capacity, but would be more reluctant to compromise on subsidies, industrial policy and reform of state-owned enterprises.
With the talks just weeks away, Chinese leaders are trying to enlist support from the business community.
Chinese Premier Li Keqiang told a gathering of US business representatives on Tuesday that China wanted a mutually accepted solution to the trade dispute. Li also said Beijing welcomed investment by US companies in China, and that the country's opening and reform would continue.
In a separate meeting with Citigroup CEO Michael Corbat, Liu said China firmly opposed the trade war and hoped the US business community would help foster stable and cooperative bilateral trade and economic relations.
Trade talks collapsed in early May despite agreement on nearly 90 per cent of a text for a trade deal, including a currency agreement, sources said.
In the aftermath, the US accused China of backtracking on previously agreed promises, while Beijing said the text raised unacceptable demands and hurt its sovereignty.
The talks resumed in July but failed to bring any meaningful results in a shorter-than-expected meeting in Shanghai. Observers said the US wanted to resume talks based on an earlier text but China insisted that any deal must first include the removal of tariffs.
Then US President Donald Trump announced new tariffs on Chinese products in August, and Beijing responded with retaliatory duties and by suspending agricultural purchases from the US.
The tensions worsened when Trump accused China of manipulating its currency by deliberately depreciating the yuan to support its exports.
In Beijing, monetary policymakers gave up defending the yuan rate at 7 to the US dollar and allowed the currency to depreciate below the key psychological line.
Observers said that with the turmoil even a simple agreement on Chinese purchases was far from guaranteed.
"Everyone knows that there is little trust on either side and deals over soybeans won't change that," said Scott Kennedy, senior adviser with the Washington-based Centre for Strategic and International Studies.
"It makes more sense to limit such displays and instead return as soon as possible to negotiations over structural issues that were suspended in early May when China backtracked on its offer."
James Zimmerman, a former chairman of the American Chamber of Commerce in China and a partner with a law firm Perkins Coie, said a negotiated purchase agreement risked violating market rules and could be challenged by other countries.
"The October meeting is to get peacefully past China's 70th anniversary. The talks will stall to 2020 when Trump becomes desperate for an election-year deal, any deal," Zimmerman said.
"Trump could have been better off if he could just complete [talks for the] bilateral investment treaty and Trans-Pacific Partnership. The tactic he is using is a huge mistake by abandoning the BIT and TPP, which is a huge loss of opportunities, strategic leverage against China, and its long-term reputation."
In Beijing, the leadership is putting the focus on the longer term, suggesting that a trade deal with the US would be just a trade war truce.
In a speech last Tuesday, Chinese President Xi Jinping urged the Communist Party to embrace a long-term struggle against a range of risks.
Nevertheless, China has announced further steps to liberalise the domestic financial market and attract foreign capital. On Tuesday, the State Administration of Foreign Exchange announced that it would remove the quota caps for qualified foreign institutional investor programmes which enable licensed international investors to invest in mainland China's securities market.
This article appeared in the South China Morning Post print edition as: China set to buy more US farm products to seal deal