Taiwan
Get more with myNEWS
A personalised news feed of stories that matter to you
Learn more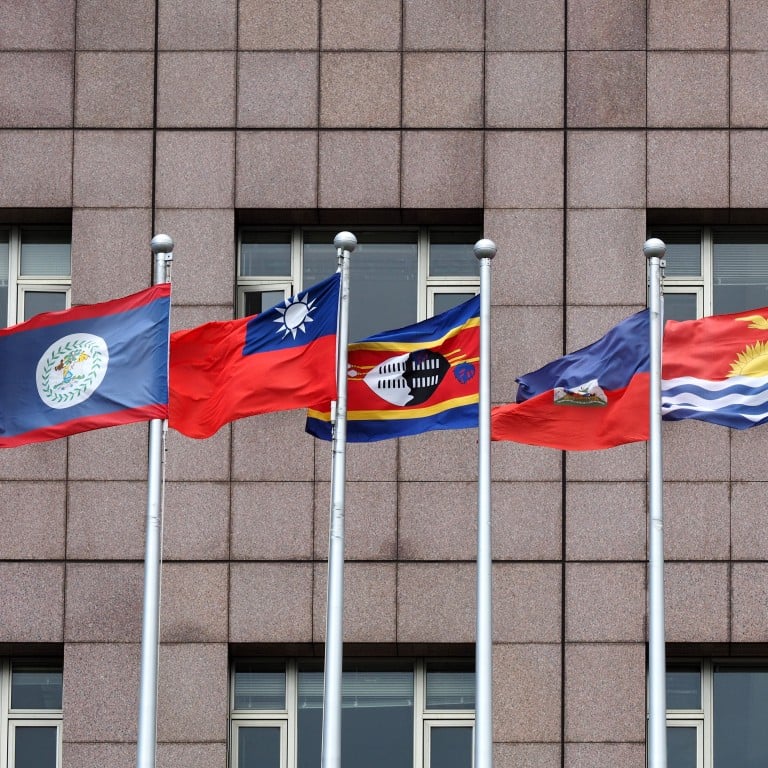 Taipei down to 15 allies as Kiribati announces switch of diplomatic ties to Beijing
Taipei recalls staff from embassy and joint projects in the Pacific nation
Taiwanese foreign minister says Kiribati president has highly unrealistic expectations about Beijing
Taiwan has lost another ally in the Pacific after the island nation of Kiribati decided to switch diplomatic recognition to Beijing.
The decision, coming four days after Taipei severed diplomatic ties with the
Solomon Islands
for the same reason, left Taiwan with just 15 allies around the world.
Taiwanese Foreign Minister Joseph Wu said in Taipei on Friday that Taiwan's embassy in Kiribati would be closed.
"The government of the Republic of Kiribati officially notified our government on [Friday] that it is terminating diplomatic relations with the Republic of China [ROC]," Wu said, referring to Taiwan by its official name.
"The ROC government deeply regrets and strongly condemns the Kiribati government's decision, which disregards the multifaceted assistance and sincere friendship extended by Taiwan to Kiribati over the years.
"The ROC government hereby declares that it is terminating diplomatic relations with Kiribati effective immediately, ending all bilateral cooperative projects, and recalling all staff from its embassy and technical and medical missions in Kiribati."
Wu said Taipei also demanded that Kiribati immediately recall its government personnel from Taiwan.
He blamed Kiribati President Taneti Mamau and some members of the ruling party for entertaining "highly unrealistic expectations regarding China", saying that since Mamau took office in 2016, he and those members had frequent exchanges with Beijing.
Wu said Beijing had taken advantage of fisheries and other commercial investments to establish a presence and extend its influence in Kiribati.
"Mamau has also requested massive financial assistance from Taiwan to buy commercial planes," he said, adding that Kiribati rejected Taiwan's suggestion that the contribution be in the form of commercial loans.
Seven diplomatic allies, including Kiribati, have switched allegiance to Beijing since Tsai Ing-wen of the independence-leaning Democratic Progressive Party became Taiwan's president three years ago.
Asked if the latest switches would have a domino effect, leaving Taiwan with no allies, Wu was reluctant to comment, saying "no foreign minister would answer a question like this".
But he warned that Beijing's influence in the strategically important Solomon Islands would have a "serious impact" on the US' Indo-Pacific strategy.
The American Institute in Taipei, the de facto US embassy in Taiwan, said the US was deeply disappointed in Kiribati's decision.
"Countries that establish closer ties to China primarily out of the hope or expectation that such a step will stimulate economic growth and infrastructure development often find themselves worse off in the long run," the institute said, adding that the US would continue to support Taiwan.
"We also continue our commitment to the US one-China policy, based on the Three Joint Communiques and the Taiwan Relations Act."
Tsai said Kiribati's switch was part of Beijing's attempts to manipulate public opinion in Taiwan ahead of the presidential and legislative elections in January.
"Through various actions to suppress Taiwan, China has attempted to tell people in Taiwan that we cannot buy fighter jets [from the US], nor can we support Hong Kong's [anti-government movement]. It hopes we can only choose a president who will bow to China," Tsai said, referring to rival presidential candidate Han Kuo-yu from the mainland-friendly Kuomintang.
In Beijing, foreign ministry spokesman Geng Shuang welcomed Kiribati to the "family of cooperation between China and other Pacific Island nations, opening a new page of new relations between the two sides".
Beijing views Taiwan as a renegade province that must one day be united with mainland China, by force if necessary. Since Tsai was elected president in 2016, Beijing has increased its pressure on Taipei, stepping up military drills and
lobbying its diplomatic allies
to switch allegiance.
The split with Kiribati came four days after Beijing warned Taipei it would lose all of its diplomatic allies if Tsai were re-elected as president next year.
"As long as the DPP is in power, sooner or later Taiwan will have zero diplomatic allies left," Communist Party mouthpiece
People's Daily
said on Monday
. "Only by first improving cross-strait mutual trust can Taiwan open up its 'international space'. If the Tsai administration still refuses to come to its senses, then there will only be more 'diplomatic crises' to come."
On Wednesday, a meeting between US Vice-President Mike Pence and Solomon Islands Prime Minister Manasseh Sogavare
was cancelled
after Washington said it was "disappointed" by the Solomons' decision to change diplomatic recognition to Beijing.
Taiwan's Central News Agency reported that the switch of the two Pacific island nations was part of Beijing's efforts to suppress Taiwan ahead of the 70th anniversary of the founding of the People's Republic of China on October 1.
This article appeared in the South China Morning Post print edition as: Taiwan loses another ally in Kiribati Switch