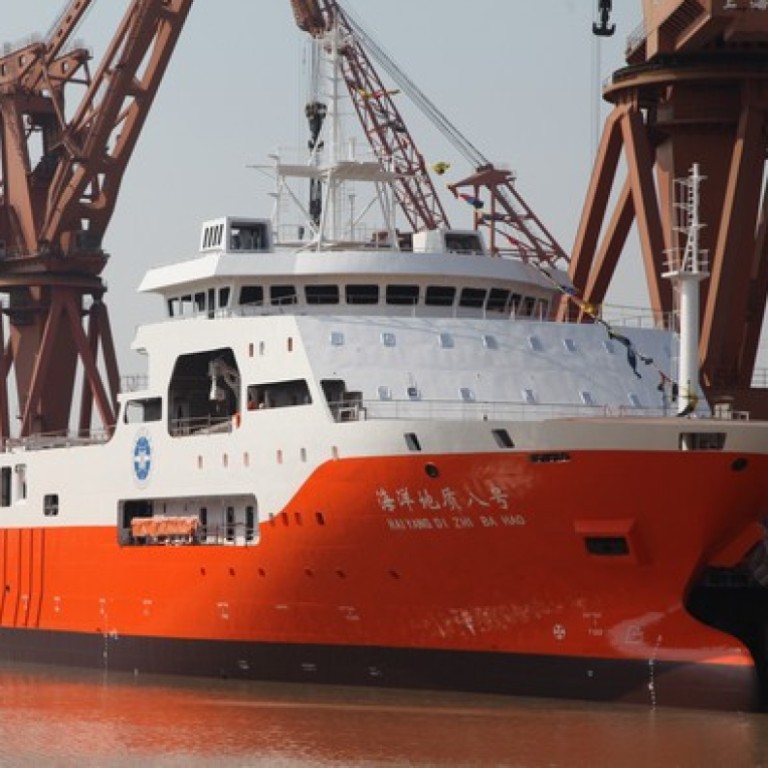 Chinese survey ship leaves Vanguard Bank in South China Sea and heads to artificial island outpost
Beijing did not say why Haiyang Dizhi 8 left the area, but last month it also travelled to Fiery Cross Reef and spent time refuelling there before returning
Vessel first entered waters near the resource-rich reef controlled by Vietnam in early July, sparking the worst stand-off between the countries for five years
A Chinese-owned survey ship that has been at the centre of a stand-off with Vietnamese vessels in the South China Sea on Monday left the area and headed for a Beijing-controlled reef.
The Haiyang Dizhi 8, or Marine Geology 8, departed from Vanguard Bank – claimed by both Vietnam and China – and sailed towards Fiery Cross Reef, according to data from MarineTraffic, which tracks vessel movements.
Beijing did not say why the survey ship had left the area, but last month it also travelled from Vanguard Bank to Fiery Cross Reef – one of China's artificial island outposts in the disputed Spratly Islands – where it spent several days refuelling and replenishing supplies
before returning
.
The survey ship, escorted by coastguard vessels, first entered waters near Vanguard Bank in early July, apparently to send a message over Hanoi's drilling in the area as part of a joint venture with Russian oil and gas company Rosneft.
Vanguard Bank, the westernmost reef in the resource-rich Spratlys, sits within Vietnam's exclusive economic zone and continental shelf, but Beijing says it falls within the "nine-dash line" it uses to claim sovereignty over more than 80 per cent of the South China Sea. That
vast territorial claim
is contested by Vietnam as well as the Philippines, Taiwan, Malaysia and Brunei.
Tensions between Beijing and Hanoi have been rising since the Haiyang Dizhi 8 entered the disputed waters, sparking their worst stand-off – involving at least four Chinese coastguard vessels and two Vietnamese ships – since a clash in May 2014 off the
Paracel Islands
. Relations between the two countries deteriorated five years ago when a Chinese oil rig arrived and Vietnam sent vessels to stop the rig fixing to the seabed, which were met by Chinese escort ships. There were accusations from both sides about ships ramming each other and anti-China protests swept Vietnam, with Chinese-owned businesses attacked. The situation eased two months later, when China removed the controversial oil rig.
While there is no immediate sign that Beijing and Hanoi will escalate the situation at Vanguard Bank, neither side is likely to back down. Last week, Chinese foreign ministry spokesman Geng Shuang rejected Hanoi's demand for the Haiyang Dizhi 8 leave Vanguard Bank, saying China had sovereignty over the area and describing its survey operations there as "legal, reasonable, and beyond reproach".
The resource-rich South China Sea is one of the region's most dangerous flashpoints and Beijing – wary of freedom of navigation operations in the waterway by the US and its allies – has insisted that territorial disputes should be resolved between claimants.
Earlier this month, Chinese Foreign Minister Wang Yi and his Malaysian counterpart Saifuddin Abdullah agreed to
establish a bilateral consultation mechanism
to "properly handle" disputes in the South China Sea during Abdullah's visit to Beijing, while Philippine President Rodrigo Duterte said earlier that Beijing had offered a joint oil and gas exploration deal with Manila in the disputed waters.
This article appeared in the South China Morning Post print edition as: Mainland survey ship leaves site of stand-off