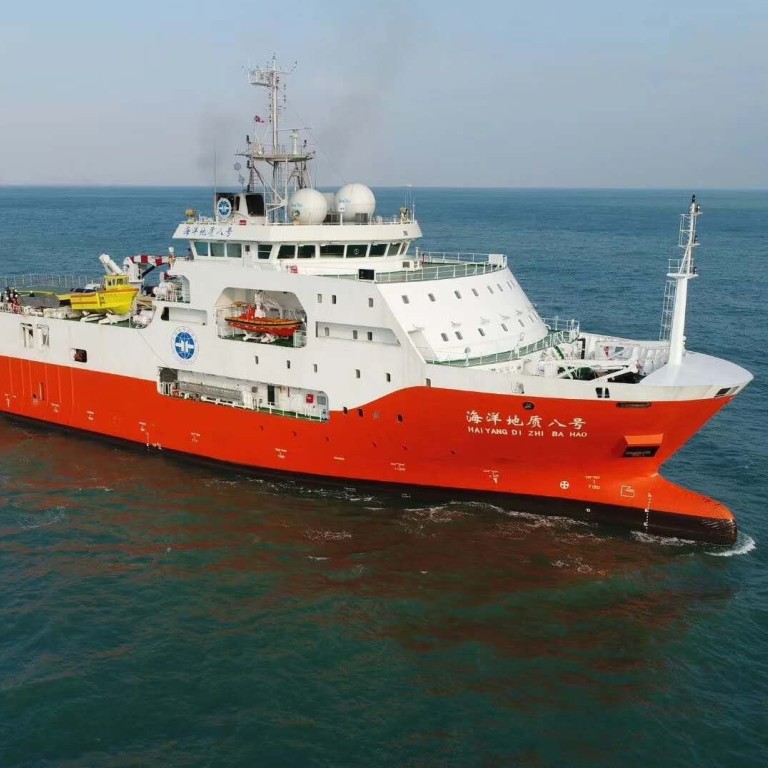 Vietnam again accuses China of violating its fishing rights in its exclusive economic zone
Three Chinese vessels chased away a local fishing boat from area in South China Sea, according to Vietnamese media
Hanoi has been the main critic among Southeast Asian nations of Beijing's assertiveness in maritime disputes
Hanoi has again accused Beijing of violating its rights after three Chinese vessels stopped a local crew from fishing in the country's exclusive economic zone in the
disputed South China Sea
on Saturday, Vietnamese media reported.
The local fishing boat had been operating in an area 112 nautical miles off the coast of central Khanh Hoa province when it was chased away by the Chinese vessels, according to a report on Vietnamese news website VnExpress on Sunday.
The boat captain contacted Vietnam's maritime authorities for help, the report said, without elaborating.
It did not provide further details of the incident or the Chinese vessels. But the report quoted Tran Cong Truc, former head of Vietnam's Government Border Committee, as claiming that the incident was a violation of the country's sovereignty and jurisdiction over its exclusive economic zone.
Relations between the communist neighbours have been marred in recent years by their rival claims in the South China Sea, with Hanoi emerging as the main critic of Beijing's assertiveness in long-standing maritime disputes among Southeast Asia nations.
Since July, Vietnam has alleged that the Chinese survey ship Haiyang Dizhi 8, or Marine Geology 8, conducted illegal exploration operations in its territorial waters, with Hanoi's foreign minister taking a
veiled swipe at China
at the United Nations last week.
"Vietnam has on many occasions voiced its concerns over the recent complicated developments in the South China Sea, including serious incidents that infringed upon Vietnam's sovereignty," Pham Binh Minh said during the UN General Assembly session in New York.
"Relevant states should exercise restraint and refrain from conducting unilateral acts, which might complicate or escalate tensions at sea, and settle disputes by peaceful means," he said without directly naming China.
Xu Liping, an expert at the Institute of Asia-Pacific Studies at the Chinese Academy of Social Sciences, challenged Hanoi's version of what happened on Saturday, which he described as the latest in a series of incidents.
"Chinese ships are trying to safeguard our rights in accordance with relevant international laws," he said. "It could be part of Vietnam's plan to use fishing boats to claim its sovereignty and jurisdiction."
Xu also noted the repeated incidents underscored the importance of and urgency for a code of conduct in the disputed waters. Beijing and its Southeast Asian neighbours have been discussing the document for years but are yet to agree upon a text, which Beijing hopes to finalise by 2021.
But Carl Thayer, emeritus professor at the University of New South Wales, Canberra, said despite pledges by leaders from both countries to set aside their differences and improve relations, China's increasingly hardline approach had pushed Vietnam further away.
Unlike the Philippines – with which Beijing has agreed to conduct
joint oil and gas exploration
– "Hanoi is unlikely to rush into any new agreement with China on joint development" given Beijing's track record and the toxic anti-China atmosphere in Vietnam, he said.
China and Vietnam have been locked in a dispute at Vanguard Bank since early July, when the Haiyang Dizhi 8 – escorted by several heavily armed coastguard vessels – entered waters near the Vietnamese-controlled reef to conduct a seismic survey.
The stand-off was the first since 2014, when anti-China riots broke out in Vietnam over a Chinese offshore drilling rig working off the Vietnamese coast.
Minor incidents occur frequently in the contested waterway. Last week, a Chinese speedboat deliberately thwarted efforts by Vietnamese fishermen to recover their vessel after it sank in the disputed Paracel Islands, according to VnExpress.
Zhang Mingliang, a Southeast Asian expert from Jinan University, said Hanoi appeared to have taken a more proactive approach by disseminating information about the maritime dispute in a bid to claim the moral high ground.
"Vietnam usually tries to release their side of the story ahead of the Chinese side, which makes Beijing look like a bully in the South China Sea," he said. "But based on media reports coming exclusively from one side, there is simply not enough information to ascertain what actually happened or decide which side we should trust."
Zhang also noted that China may not be able to come up with an effective strategy to deal with the widening trust gap between Beijing and its Southeast Asian neighbours.
Additional reporting by Kristin Huang
This article appeared in the South China Morning Post print edition as: China boats chased off our trawler, Hanoi says