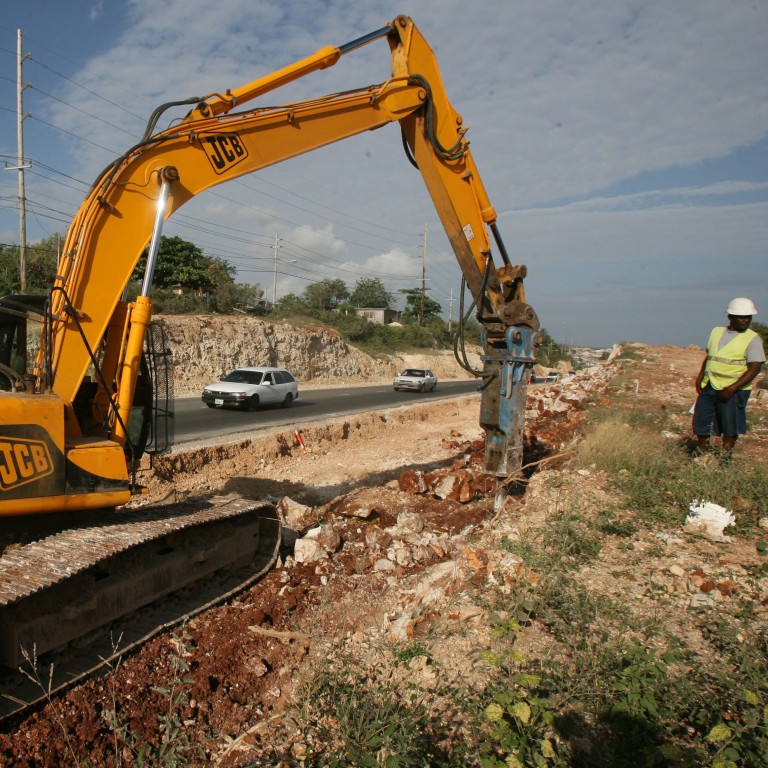 Why Jamaica wants to call time on Chinese borrowing
While the Caribbean nation is trying to cut down its high levels of debt, it may also want to address US concerns about growing Chinese influence
China's growing economic footprint has also prompted a domestic backlash amid complaints local workers are losing out
Jamaica has announced it will stop borrowing from China as it tries to balance its relationship with Washington and Beijing.
This April it signed up to the Belt and Road Initiative, Beijing's ambitious trade and infrastructure project, and China invested more than US$2 billion in Jamaica from 2005 to 2018, according to the China-Latin America Finance Database.
But following his visit to China early this month, Jamaican Prime Minister Andrew Holness said that while cooperation in infrastructure would continue "in keeping with its firm commitment to reduce debt rapidly, [the government] would not negotiate any new loan programmes with our Chinese partners".
China has been steadily making headway in the Caribbean through investment and loans, prompting growing concern in Washington, the region's hegemon since the 19th century.
But the impact of this investment in the island nation has also provoked a growing domestic backlash and the government's decision to avoid further borrowing from Beijing – an unusual move for a belt and road signatory – may owe as much to domestic concerns as it does to the need to alleviate Washington's disquiet.
Richard Bernal, Jamaica's former ambassador to the US between 1991 and 2001, said bringing down debt had become a central part of national policy.
"The decision not to borrow more from China is consistent with the debt reduction campaign. It serves as a general signal to international capital markets that fiscal discipline will be maintained," he said.
Jamaica is no stranger to debt: it had one of the highest debt-to-GDP ratios in the world at more than 145 per cent in 2012, according to the International Monetary Fund.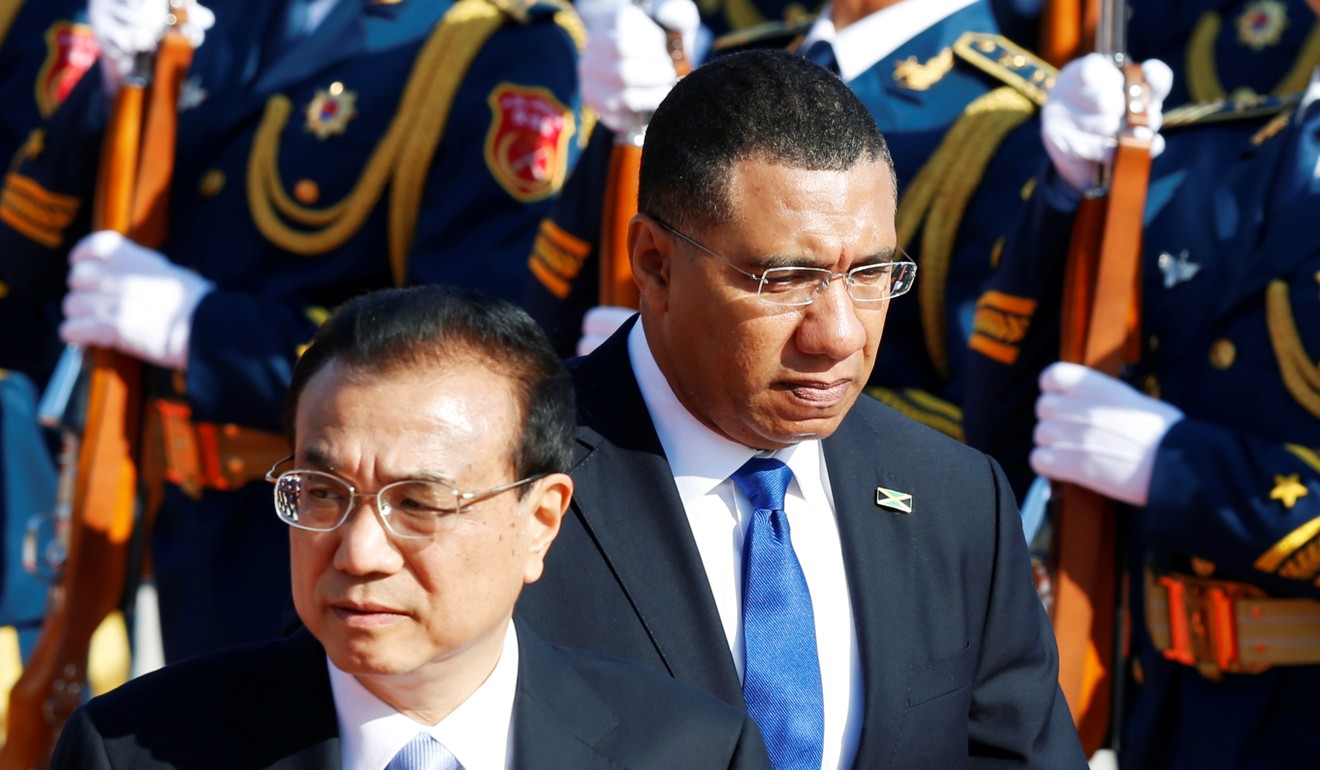 About 4 per cent of its national debt – of more than US$626 million – is owed to China, according to the Planning Institute of Jamaica.
Western countries have long criticised China of practising "debt diplomacy", or extending excessive credit in the hope of leveraging future concessions – something Beijing has always denied doing.
Donald Tapia, the US ambassador, warned in an interview with local media this week that Beijing was "a two-headed dragon" interested only in minerals and ports.
"Take all you can from them, but remember that the West is standing there with you," he said.
Bernal said that apart from addressing the country's debt levels, the decision to reject further loans "has the additional political benefit of appearing to have acknowledged hearing US concerns about indebtedness to China".
While Jamaica has a long-standing relationship with Beijing – during his visit Holness reminded his hosts that the country was the first in the Caribbean to establish diplomatic relations with the People's Republic – the growing Chinese presence in the region may also be down to a relative lack of interest from Washington.
The US State Department acknowledged this concern in a report in July, emphasising the need for engagement in Caribbean countries at a time when there are "perceptions that the US has withdrawn from the region, ceding influence to actors such as the People's Republic of China".
Still, from a road that connects the island's north and south coasts – at one point nicknamed "Beijing Highway" – to schools and hospitals, Chinese institutions were often the only ones willing to extend credit in countries like Jamaica, said Ruben Gonzalez-Vicente, a lecturer at Leiden University in the Netherlands.
But among locals, China's growing presence has stirred up mixed feelings, according to Gonzalez-Vicente, who studies China's engagement in the Caribbean and Latin America.
"The excitement comes from the new kind of leverage that the government has now to create economic activity," he said. "The suspicion comes [because] it can all be done in a less transparent and accountable way."
Locals were outraged when the Alpart alumina refinery in Nain less than 100km (62 miles) west of the capital Kingston, shut down in September and laid off hundreds of workers, according to local media outlets.
The refinery had been bought by China's JISCO group in 2016 with promises from the Jamaican government of creating jobs and boosting the local economy.
Over the years, trade unions have also complained that Chinese corporations outbid local companies for project contracts, then hire Chinese workers instead of Jamaican ones, according to Esther Figueroa, an environmental activist and maker of the documentary Jamaica for Sale.
She said most Jamaicans viewed China with fear and hostility and the two governments negotiated with little transparency, fuelling suspicions of Beijing's intentions.
"China's recent expansion into Africa with horror stories of exploitation and settlement have only added to African-Jamaicans' fears," Figueroa, who has been tracking Chinese investments in the country for more than a decade, said.
"At the same time, Chinese are considered to be very hard working, studious and industrious."
Despite these reservations, the Jamaican government still attached great importance to its relationship with China, said Don Marshall, director of the Sir Arthur Lewis Institute at the University of the West Indies.
"The business-to-business alliances across the two countries is what the prime minister will wish to see forged, as well as Chinese direct investment in new productive areas," he said.
During his visit to China, Holness met Chinese President Xi Jinping at the Shanghai Import Expo and also travelled to the Shenzhen headquarters of the tech giant Huawei – a firm the US has urged its allies to shun over security fears.
Figueroa described Jamaica's predicament as being "always caught between a rock and a hard place, reminiscent of the cold war years, the small island finds itself crushed between two fighting giants".
Jared Ward, a specialist on Sino-Caribbean relations at the University of Akron in Ohio, said some observers believed the US could still compete in the region by addressing problems that Caribbean nations all faced, such as climate change and security cooperation.
"My sense is that these countries still have an affinity in staying in the orbit of the US," he said.
This article appeared in the South China Morning Post print edition as: Jamaica puts end to borrowing from China