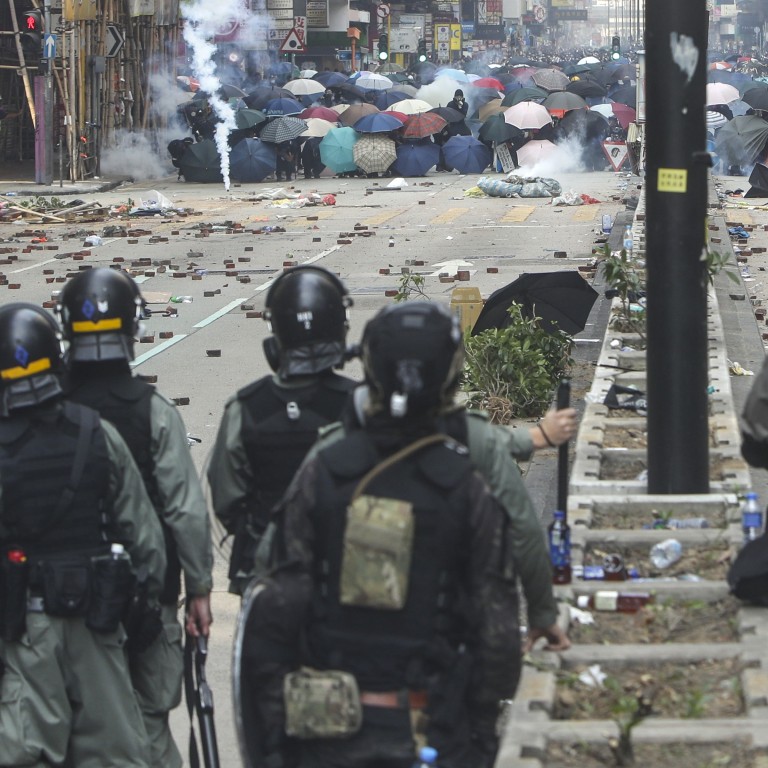 China has the 'resolution and power' to end Hong Kong unrest amid protests, says ambassador to Britain Liu Xiaoming
Diplomat says central government will not 'sit on its hands and watch' if the situation deteriorates when asked if PLA could be deployed in city
Liu blames protesters for unleashing 'black terror' and restates government's backing for city's Chief Executive Carrie Lam
China has the "resolution and power" to end the unrest in Hong Kong if necessary, the country's ambassador to Britain said on Monday.
Liu Xiaoming was speaking as tensions in the city remained high, with riot police and radicals facing off at a university. He blamed the protesters for unleashing "black terror" as he repeated Beijing's support for Chief Executive Carrie Lam Cheng Yuet-ngor's government.
When asked whether the People's Liberation Army might be deployed in the city, Liu replied: "They are already there in the Hong Kong garrison. They are there to show sovereignty and are responsible for defence purposes."
But, he added "if the situation becomes uncontrollable, the central government certainly would not sit on our hands and watch. We have enough resolution and power to end the unrest."
On Saturday a
group of soldiers left their barracks
to help clear rubble from the streets – a move pro-democracy campaigners criticised for breaching laws preventing the PLA from intervening in local affairs.
In September, Reuters released a leaked recording in which Lam said Beijing had "absolutely no plan to send in the PLA" because "the price would be too huge to pay".
Speaking in the guarded embassy building in central London which the ambassador said had been defaced by radicals wearing black masks, Liu declined to comment on the suggestion by former Legislative Council president Jasper Tsang Yok-sing, who told French news site Mediapart that those who committed minor crimes during the protests should be pardoned and called for an independent inquiry into police activities.
On Monday night Hong Kong's Polytechnic University remained packed with hundreds of radicals being besieged by the police, who deployed armoured vehicles and fired live rounds.
Liu played a video clip showing protesters' violent activities, including setting an opponent on fire, vandalism of shops, and the firebombing of a police vehicle.
"Some Western countries have publicly supported the use of violence," Liu said. "They look like they are balanced, but they are taking sides."
When asked by journalists if he would also condemn violence levied against pro-democracy protesters, such as the attack on passengers at Yuen Long station in July, he said he was opposed to all forms of violence.
Liu also discussed calls for Hong Kong's independence. Independence for the city is not among the five demands presented by protesters.
While he "appreciates" London's opposition to Hong Kong independence, Liu said, he "would like to see a more strong condemnation on independence [from the British government]."
The ambassador – who is one of the most outspoken Chinese diplomats about the affairs of the former British colony – said Beijing remained supportive of the chief executive and her team.
"I would say the [Hong Kong] government tried very hard to communicate. You need to give them opportunity you need to give them time," he said.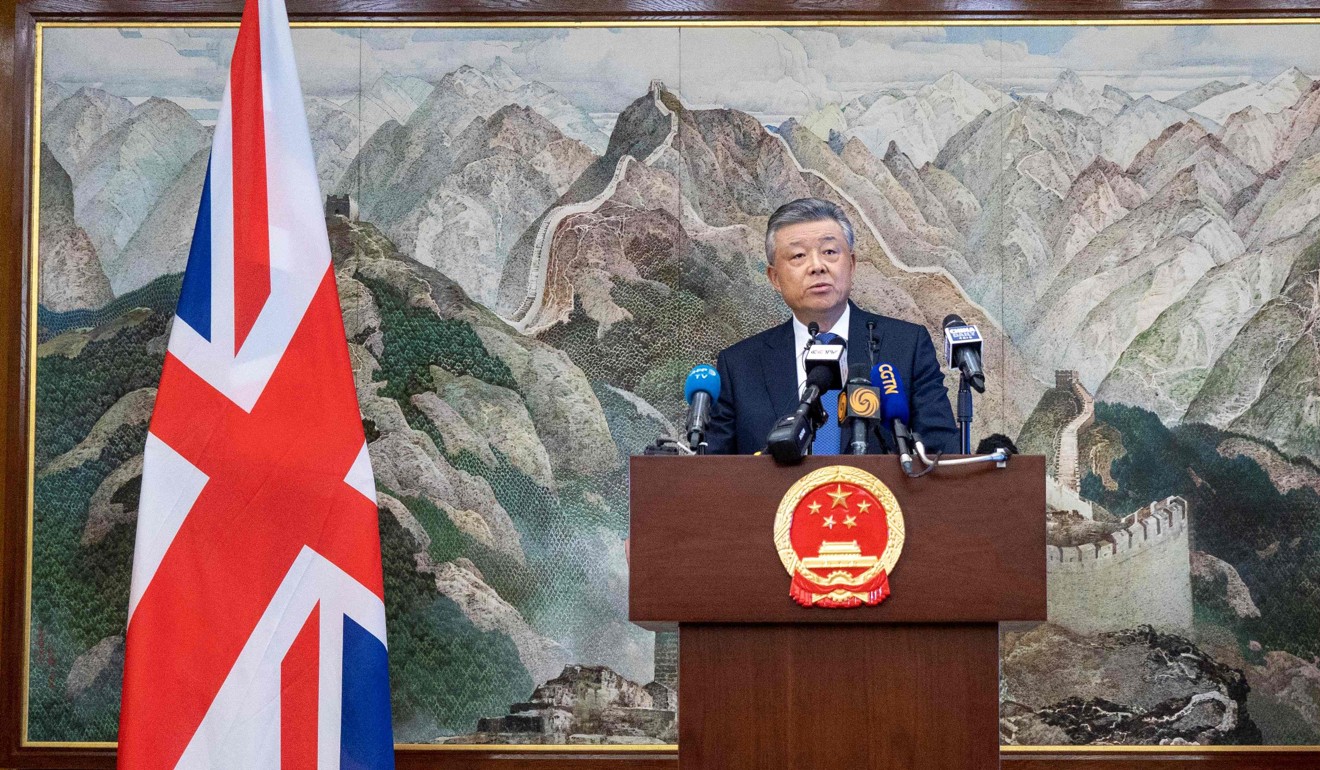 In the press conference, Liu was also grilled on the subject of Xinjiang, where China is accused of interning a million or more Muslims in re-education camps.
Asked about a New York Times article detailing how the Chinese government had implemented its policies there, he squarely rejected it as "fake news" and "pure fabrication".
Liu is not the only Chinese diplomat in Europe to speak out on Hong Kong. In Italy, Beijing's top envoy Li Junhua adopted a similar line, saying that no interference in Hong Kong affairs by external forces would be tolerated.
This article appeared in the South China Morning Post print edition as: Beijing has resolution and power to end unrest, Envoy to Britain says