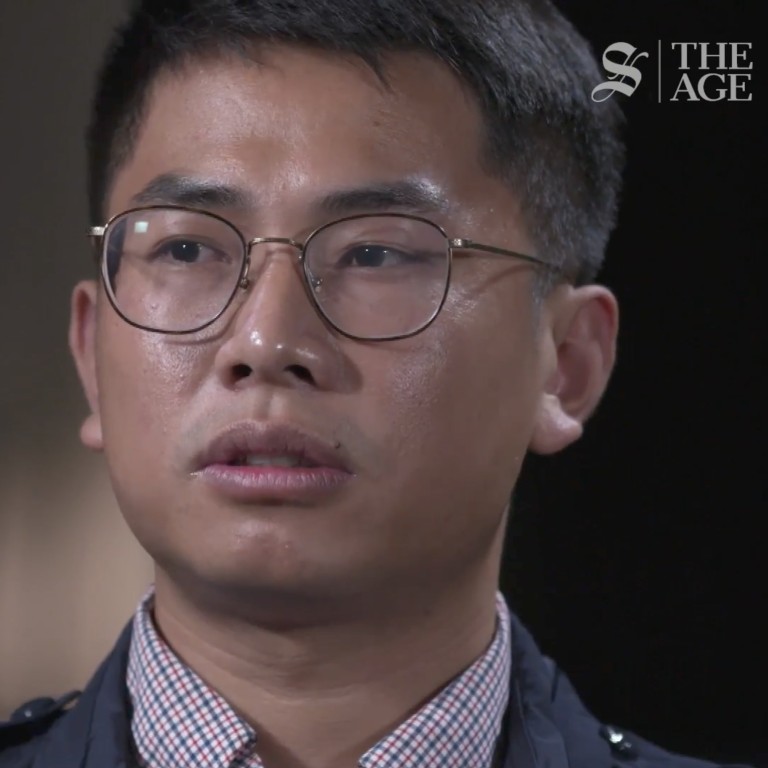 Self-proclaimed Chinese spy William Wang who defected to Australia is a fraud and wanted criminal, China says
Wang Liqiang convicted of fraud in 2016 and is under investigation for another alleged crime, Shanghai police claim
Wang claims to be Beijing-sponsored secret agent who undertook undercover espionage work in Hong Kong, Taiwan and Australia
A Chinese man claiming to be a Beijing-sponsored secret agent who defected to Australia is really a convicted fraudster and wanted criminal suspect, Shanghai police have claimed.
The police statement was issued late on Saturday, hours after Australian media reported that William Wang Liqiang gave a sworn statement to the Australian Security Intelligence Organisation (ASIO) about Beijing's efforts to ­influence politics in Hong Kong, Taiwan and Australia.
The reports said Wang had given ASIO the identities of senior Chinese military intelligence officers in Hong Kong, as well as ­details of how espionage work was funded and conducted there, as well as in Taiwan and Australia.
Shanghai police said Wang – described as a 26-year-old unemployed worker from Nanping in the southeastern province of ­Fujian – was given an 18-month suspended sentence in October 2016 for fraud by the Guangze county court in Fujian.
According to an online document in the case, Wang "made up fictional facts and concealed the truth" to defraud a father of two children of 120,000 yuan (HK$133,400) after offering to get the children into a special school in 2015. At that time, Wang was a student and it was his first offence.
The Shanghai police also said they had opened an investigation into Wang in April this year for ­allegedly cheating someone out of 4.6 million yuan via a fraudulent car import project in February. The investigation was ongoing.
Police said Wang left for Hong Kong on April 10, carrying a fake Chinese passport and a fake Hong Kong permanent residence ID.
Wang denied the claims by the Shanghai police, according to The Sydney Morning Herald.
He said he had expected the Chinese authorities to try to ­discredit him, but that he stood by the sworn statement he had given to the Australian government about his spy activities, knowing the consequences of making a false statement would be serious, the report said.
Another court document, dated December 2015, said Wang was involved in a dispute over a property purchase in 2013 in the southeast province of Anhui. The court dismissed the lawsuit in which Wang was accused of failing to repay loans.
According to Australian ­media, Wang said he had ­engaged in political infiltration and disruption operations in Hong Kong, Taiwan and ­Australia.
"I have personally been ­involved and participated in a ­series of espionage activities," The Age newspaper cited Wang as ­saying in his October statement to the ­intelligence agency.
He also said he was involved in the kidnapping and detention of
Lee Bo,
the owner of Causeway Bay Bookshop and one of five booksellers who disappeared in Hong Kong in 2015. ­Chinese ­authorities denied accusations that they had kidnapped the men, but accused them of ­distributing dissident materials.
Wang also said he was part of an intelligence operation hidden within a Hong Kong-listed ­company that infiltrated the city's universities and media to counter anti-government protests that have been ongoing since June. He also said he was part of infiltration operations to meddle in last year's regional elections in Taiwan and the upcoming presidential poll.
He is now seeking asylum in Australia and said he feared he would be executed if he returned to China. Australian Treasurer Josh Frydenberg said on Saturday that Wang's case and his accusations were "very disturbing".
The Global Times, a Chinese ­tabloid known for its nationalistic views, said that the Australian ­reports were short of ­facts and ­evidence, and that Wang's story was "a sheer lie" to smear China.
This article appeared in the South China Morning Post print edition as: 'secret agent' is A fraudster, wanted criminal, police say