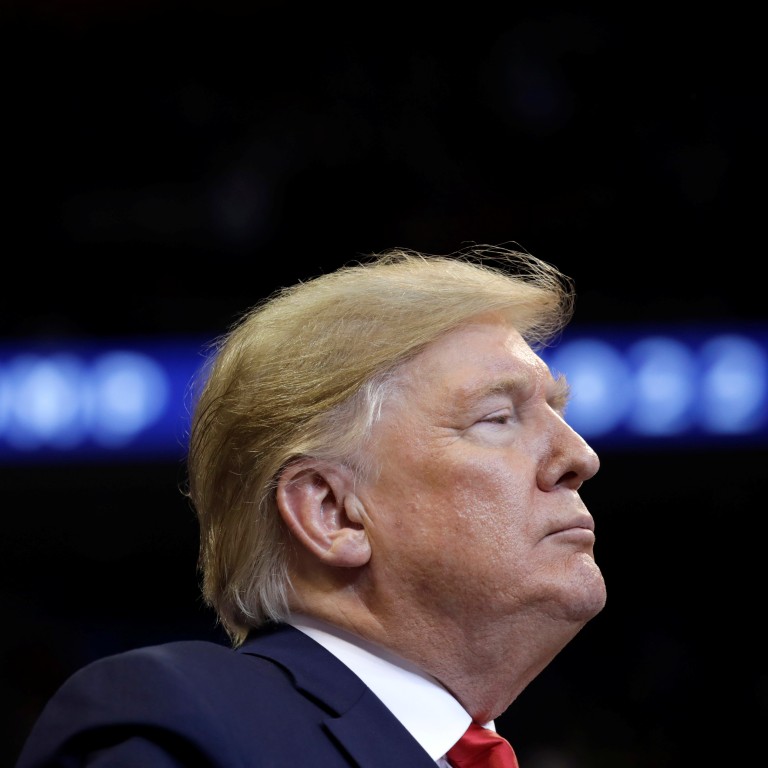 US-China trade deal is closer but we're watching Hong Kong, Donald Trump says
Talks on phase one deal 'in final throes' after phone conversation between China's Liu He and US' Robert Lighthizer and Steven Mnuchin
'But we want to see it go well in Hong Kong,' US president says
US President Donald Trump said an interim trade agreement with China was moving closer following Tuesday's
telephone call
between the countries' top negotiators, but added that he was monitoring events in Hong Kong after months of anti-government protests in the city.
"We're in the final throes of a very important deal," Trump said at the White House. "It's going very well, but at the same time we want to see it go well in
Hong Kong
."
His comments on Tuesday came hours after a phone conversation between Chinese Vice-Premier Liu He and the United States' Trade Representative Robert Lighthizer and Treasury Secretary Steven Mnuchin.
China's Ministry of Commerce disclosed the call on Tuesday, saying the two sides had "reached a consensus" on how to resolve core concerns and would continue to work on remaining issues related to their
trade war
, ongoing since July last year.
Trump said he expected Chinese President Xi Jinping to ensure a positive outcome for Hong Kong, which has been gripped by unrest for almost six months. The city has emerged as an acute point of tension in US-China relations as they negotiate over the trade deal.
The Hong Kong Human Rights and Democracy Act – which could pave the way for diplomatic action and economic sanctions against the Hong Kong government – is
on the brink
of becoming law after being passed by the US Congress, but China has said it amounts to interference in its affairs and demanded its progress be halted, threatening "strong countermeasures".
Trump did not indicate whether he would sign the democracy bill, but said he remained positive about a "phase one" trade deal, which the US announced last month was being pursued as an interim de-escalation mechanism. The agreement was expected to include further Chinese purchases of US agricultural goods and the cancellation of additional US tariffs that were due to take effect on December 15.
That deadline continued to hang over the talks after projections by both sides that an agreement could be reached by the end of November were disrupted by negotiating stumbling blocks, including which tariffs would be removed.
Trump addressed the delays during an interview for the website of former Fox News host Bill O'Reilly on Tuesday, saying that ensuring a good deal for the US was vital.
"I'm holding it up because it's got to be a good deal," he said. "We can't make a deal that's, like, even. We have to make a deal where we do much better, because we have to catch up."
His comments were echoed on Tuesday by White House adviser Kellyanne Conway, who said that Trump wanted to "do this in phases, in interim pieces, because it's such a large, historic trade deal".
"The president wants a deal. But President Trump always waits for the best deal," Conway told Fox News, saying that sticking points under discussion included forced technology transfer, the two countries' trade imbalance and alleged intellectual property theft.
Beijing said on Sunday that it would
raise penalties
for violations of intellectual property rights, in an attempt to address one of the major drivers of the US' efforts to rebalance its relationship with China.
The next day,
Global Times
, the nationalist tabloid published under the auspices of Communist Party mouthpiece
People's Daily
, offered a positive take on the potential deal's progress, saying that "broad consensus" had been reached while "differences over the scale of tariff removals"
remained to be resolved
before it could be signed.
Additional reporting by Reuters and Bloomberg
This article appeared in the South China Morning Post print edition as: but says he's watching HKUpbeat Trump says he is monitoring events in HK