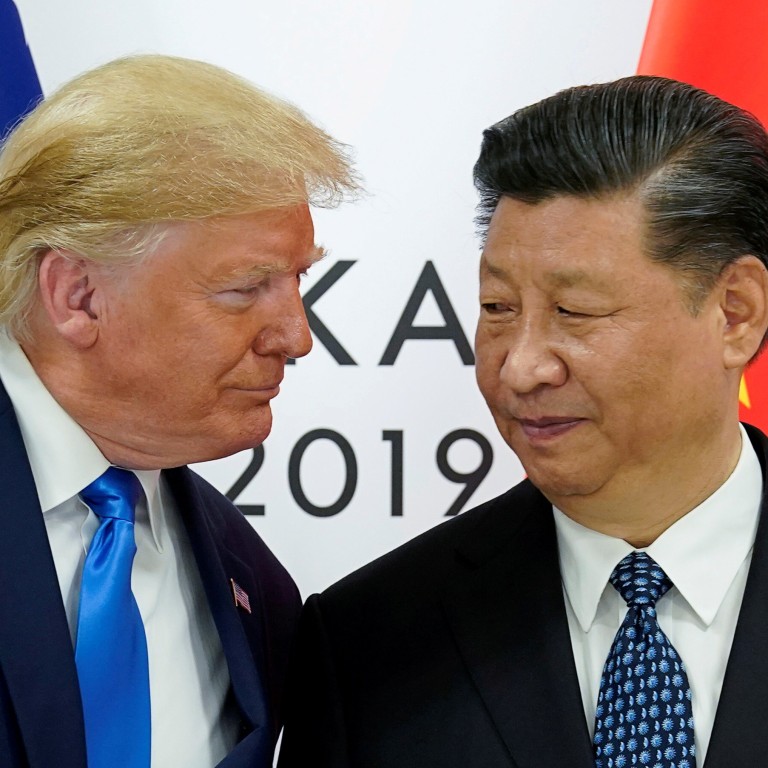 Hands tied by Hong Kong democracy act, Donald Trump sends signal to Beijing on trade
US president suggests that implementation of new laws could be at his discretion – in return for trade deal, analyst says
China could put off interim agreement but it has 'few cards to play other than protesting'
But he also suggested that signing the bill and enacting it are two different matters.
China reacted to the signing with the expected anger and outrage on Thursday, blasting the United States for "interfering in China's domestic affairs". The Ministry of Foreign Affairs also called in US ambassador Terry Branstad to lodge its protest.
And observers noted that Beijing may well temporarily put the brakes on trade talks with Washington to show its displeasure.
However, the same observers indicated the devil was in the details and those details were in the statement released by the White House on Wednesday and Trump's comments.
Trump spoke of his respect for Chinese President Xi Jinping as well as the people in Hong Kong. He said the bills – which also included the
Protect Hong Kong Act
– "are being enacted in the hope that leaders and representatives of China and Hong Kong will be able to amicably settle their differences leading to long-term peace and prosperity for all".
He also showed his displeasure with Congress and what he saw as its "intervention" in his foreign policy. As he signed the bills, Trump said that "certain provisions … would interfere with the exercise of the president's constitutional authority to state the foreign policy of the United States".
These comments were Trump's message to Beijing that implementation of the law would be at his discretion, said Gal Luft, co-director of the US-based Institute for the Analysis of Global Security,
"In this he signalled to Xi that he had no choice in the face of a vetoproof bill but he could control the enforcement of the new law if Xi gives him his desired [trade] deal," Luft said.
He said that the main initial casualty of Trump signing the democracy bill could be the US stock market if investors foresaw a delay in the trade negotiations.
"Investors seeing the prospects for a deal fading may panic and this could trigger a rerun of last year's December stock market crash, when an entire year's gains were erased in just a few days," he said, noting that Trump signed the bills after the closing bell to avoid a stock slump ahead of the Thanksgiving holiday.
Delays in trade talks could also hurt American farmers, who are preparing for next year's planting season and need clarity on the future of the Chinese market, Luft added. This is a key constituency for Trump if he wants their support in next November's presidential election, he said.
But no observer expected the trade negotiations to be derailed, as both Trump and Xi wanted to sign a deal.
Trump, mired in an impeachment investigation, needs to bring good news to his base in the rural farmlands. At the same time, Xi is facing mounting pressure from a slowing economy, which has seen growth fall to its lowest in nearly three decades – worsened by the biting trade tariffs imposed by the US.
"It won't have a fundamental impact on the trade talks as both sides still urgently need an interim deal to de-escalate the trade tensions," said Huang Jing, a US specialist at Beijing Language and Culture University's Institute of International and Regional Studies.
In addition, China has few options to retaliate against the US for passing the Hong Kong democracy bill, which conditions Hong Kong's special economic and trading relations with the US on its autonomy from Beijing. The US could also impose sanctions on officials for human rights abuses in the special administrative region.
"We don't have many cards on our hands apart from protesting," admitted an adviser to the Chinese government, who declined to be named. "Right now, what China and the US need is to solve problems between them, not create more and more problems."
Huang agreed. "I don't think the Chinese side has figured out what they could do to retaliate. It's more about posturing and making its stance known than anything else," he said.
In the past, China has typically shown its displeasure with a foreign government by "weaponising" its overseas tourism or similar measures. But most specialists do not expect China to use this method against the US.
One milder, passive-aggressive form of retaliation the Chinese could take, however, was to slow things down in the trade negotiations and push the "phase one" agreement – originally expected to be signed by the end of this month – to next year, they said.
"[Xi Jinping] can't be seen as eager to cut a deal with the US three or four weeks after they did this perceived 'interference' in China's internal affairs," said David Zweig, emeritus professor at the Hong Kong University of Science and Technology.
"They may slow things down, they might not answer phone calls, they may drag their feet more."
Moreover, Trump had no choice but to sign the veto-proofed bills – a fact that Beijing was well aware of, analysts said.
Unanimously passed by both the House and the Senate, the bills would eventually come into law as Congress could easily override Trump's veto with a two-thirds vote.
"Trump really had no choice. He's pretty much squeezed. He can't afford to have a fight with the Republican caucus now, during the impeachment process. He has to be 100 per cent on board, " Zweig said.
And if Trump is seen as dragging his feet on implementation of the Hong Kong bill, it will be members of the US Congress attacking him – not China.
"This bicameral, bipartisan law reaffirms our nation's commitment to democracy, human rights and the rule of law in the face of Beijing's crackdown," House Speaker Nancy Pelosi said in a statement.
"I am pleased that the president signed this legislation and look forward to its prompt enforcement."
This article appeared in the South China Morning Post print edition as: Trump 'sent signal to Beijing' while signing HK bills