Asean
Get more with myNEWS
A personalised news feed of stories that matter to you
Learn more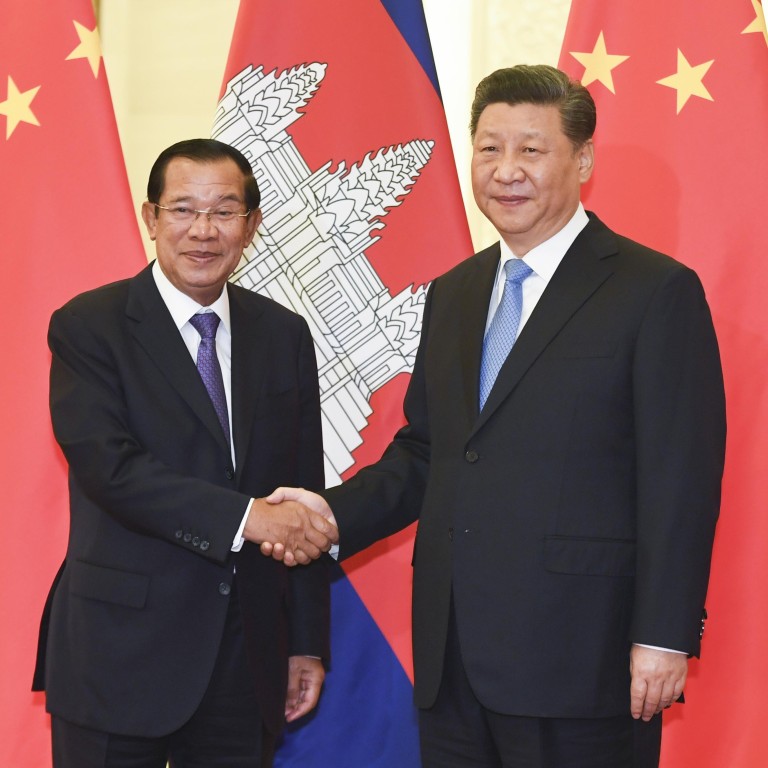 How the West could drive Cambodia further into China's clutches
Hun Sen's regime to discuss free-trade deal with China amid EU and US threats to end trade privileges over Cambodia's human rights record
But there has been growing resentment in Cambodia over Chinese investment
China and
Cambodia
are to open initial talks about a free-trade deal, with Beijing under pressure from the
trade war
with the United States and Phnom Penh facing scrutiny over human rights concerns.
A preliminary feasibility consultation for a free-trade agreement (FTA) between the two nations is set to start in Beijing on Tuesday, according to the Chinese embassy in Cambodia.
The negotiations – the first formal talks on such a deal between China, Asia's biggest economy, and Cambodia, one of its poorest – were part of an "important consensus" reached by the top leaders of the two countries, the embassy said.
If agreed, the FTA could further cement China's economic presence and political influence in Cambodia, while officials in Phnom Penh hope to gain access for Cambodian products to the world's largest market.
"China is also facing issues in trade with the US, so Chinese companies are looking for investment opportunities in Cambodia and Vietnam," Sok Sopheak, Secretary of State at the Cambodian Ministry of Commerce, told the Khmer Times last month. "The goal is to manufacture in these countries and then export to the US."
The free-trade talks come with Cambodian Prime Minister Hun Sen, entering his 35th year of rule, facing a crisis that has intensified over the past month after exiled opposition leader Sam Rainsy called publicly for a "peaceful uprising", before being prevented from returning to the country.
The talks also come with the European Union (EU) – Cambodia's second-largest trading partner after China – considering ending duty-free and quota-free imports from Cambodia because of concerns about its poor record on human and labour rights. The US has threatened Cambodia with a similar move, also for human rights reasons.
Although diplomatic observers said a potential uprising posed little threat to Hun Sen, some said the EU's threat to suspend trade privileges could push Cambodia further into China's strategic orbit.
The European Commission, the EU's executive, said the Hun Sen government had been given a month to respond to its report on the matter, which ends on December 12.
"The reimposition of tariffs is a serious matter for Hun Sen because it would affect tens of thousands of workers in the textile industry," Carl Thayer, a Southeast Asia expert at the University of New South Wales in Australia, said.
"This could prove to be grounds for political instability. If the EU suspended those preferences, it would make Cambodia even more dependent on China. China has already offered to support Cambodia and this support is unlikely to diminish."
Since overtaking Japan as Cambodia's biggest aid donor in 2010, China has seen its influence in the country grow steadily through a huge influx of Chinese investment, workers and tourists.
China has overtaken the EU as the largest importer of Cambodia's rice, its most important crop, and in April said it would provide assistance to Cambodia if the US carried out its threat to withdraw trade privileges. It has also pledged US$90 million in support of Cambodia's defence sector.
"China is Cambodia's biggest trading partner, major source of foreign investment, largest provider of development assistance and staunchest supporter of the Hun Sen regime and the Cambodian People's Party," Thayer said.
"Chinese influence is so extensive that it may be compared to European extraterritoriality in Asia during the colonial era. China has a huge stake in Cambodia politically, diplomatically, economically and commercially, and Cambodia is a client state that serves as a conduit for Chinese influence in the Association of Southeast Asian Nations."
Xu Liping, an Asian affairs expert from the Chinese Academy of Social Sciences in Beijing, said the EU's potential withdrawal of Cambodia's trade preferences could be an unexpected blow for Chinese companies operating there. Most have been trying to use their Cambodian factories to get around US tariffs on China's exports.
"A good number of Chinese companies in Cambodia have been involved in labour-intensive industries such as textiles, and such sanctions could have a big impact on them," Xu said.
Neak Chandarith, head of international studies at the Royal University of Phnom Penh's foreign languages institute, said Cambodia hoped to use a trade deal with China as a stepping stone to integrating further into the world economy.
"Cambodia wishes to set a good precedent for bilateral FTAs with other countries, such as South Korea, Japan and others in central Asia," he said. "Bilateral FTAs around the world would secure a stable development for the long run."
But Chinese investment and China-funded construction have triggered growing resentment in Cambodia over casinos built for Chinese customers – gambling is illegal for Cambodians – and a rise in crimes including drug trafficking and prostitution.
Cambodia's opposition leaders have been sharply critical of Chinese investment too. Speaking in Kuala Lumpur on November 12, Rainsy said Hun Sen's growing ties with China threatened the rights of Cambodians. "China is turning Cambodia into a Chinese colony," he told news website Malaysiakini.
Xu, of the Chinese Academy of Social Sciences, said the changing attitude of Rainsy, who used to support Chinese investment, could be an early sign of a challenge to China-Cambodia relations.
"Rainsy has appeared to take sides, and there's a possibility that when Hun Sen steps down there could be domestic political changes affecting Chinese investment," Xu said.
There have been painful lessons for Chinese investors elsewhere in Southeast Asia. When Malaysian Prime Minister
Mahathir Mohamad
won his country's election last year, he ordered the contract for a China-backed rail construction project to be renegotiated and the
cost to be cut
by two-thirds.
Astrid Noren-Nilsson, an associate senior lecturer at Lund University, said the Hun Sen government's approach to dealing with Beijing could change "slightly".
"While the government might slightly play down its close relationship with China in public, the relationship itself wouldn't fundamentally change, nor the stance towards Chinese investments," she said.
"[But] growing public resentment, rather than the activities of the political opposition, may prompt the government to recalibrate the extent of its commitment to China."