Nato
Get more with myNEWS
A personalised news feed of stories that matter to you
Learn more
Nato allies single out China and its policies as a strategic 'challenge'
The transatlantic military alliance considers a build-up in China's military capabilities and its cybersecurity threats to be looming problems
'The US and smaller European nations having been working together to bring up the topic of China in the Nato summit,' a diplomatic source says
The United States has steered Nato allies in Europe to define China as a strategic challenge for the first time in the military alliance's 70-year history.
Washington's effort is coupled with increasing geopolitical concern shared by some Central and Eastern European countries, according to diplomatic sources.
But other major European leaders were quick to keep China on their side – at least to a certain extent – after the Nato summit in Britain came to a close on Wednesday.
China's growing global power offered "both opportunities but also challenges," Nato Secretary General Jens Stoltenberg said on Wednesday, citing a build-up in military capabilities as a looming threat.
A Central European diplomatic source, speaking on condition of anonymity, said smaller nations in this region "are increasingly feeling the heat of China's presence".
"The US and smaller European nations having been working together to bring up the topic of China in the Nato summit," he added.
In a statement issued after meetings concluded, Nato leaders said: "We recognise that China's growing influence and international policies present both opportunities and challenges that we need to address together as an alliance."
While the US and to a certain extent France are concerned about China's military presence in the Indian and Pacific oceans, the Nato's overall consensus concerns its cybersecurity threats.
French President Emmanuel Macron cautioned that China should not be classified as an enemy in a military way, which he said applied to terrorist organisations such as Isis or al-Qaeda.
China, Macron said, should not "be the object of our collective defence … in strictly military terms" for Nato.
Julie Smith, a national security adviser to Joe Biden when he was US vice-president, raised multiple China-related issues that should concern the alliance.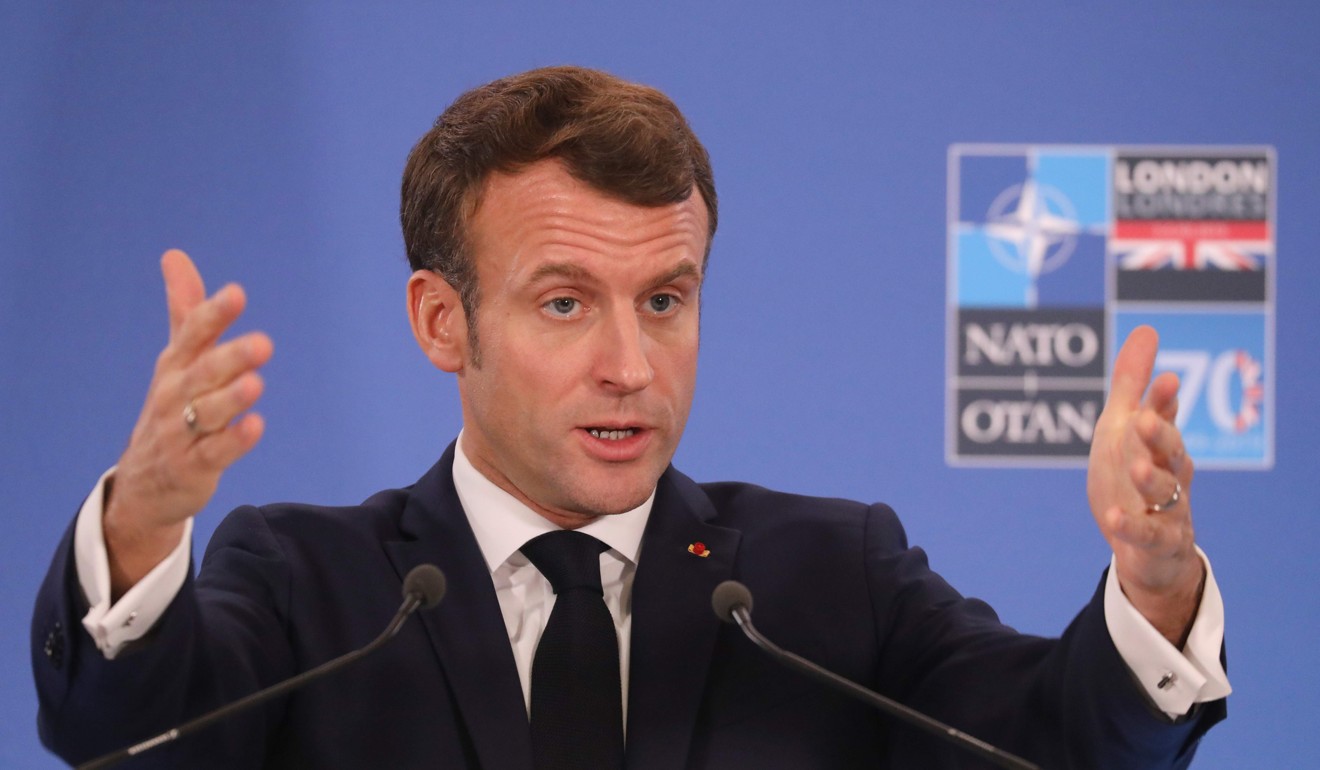 "Nato leaders should task the alliance to tackle several additional questions," she was quoted as saying in The Sunday Times of London this week.
"What are the implications of China's recent port acquisitions in Europe? How worried should the alliance be about China's ever-closer relationship with Russia? How will China's huge investments in artificial intelligence affect Nato's technological edge?"
The US also kept up its pressure on European nations not to allow Chinese tech giant Huawei Technologies to build their next-generation 5G mobile technology.
Italian Prime Minister Giuseppe Conte, who earlier this year signed a Belt and Road Initiative deal with China, was revealed by US President Donald Trump to be sceptical of the Chinese firm.
"I do think [Huawei is] a security risk; it's a security danger," Trump said.
"I spoke to Italy and they look like they are not going to go forward with [Huawei]," Trump said alongside German Chancellor Angela Merkel, who is pushing back against domestic support for a total rejection of the Chinese company.
British Prime Minister Boris Johnson also refused to rule out Huawei, although he stressed that national security should not be compromised in the introduction of 5G telecoms networks.
"On Huawei and 5G, I don't want this country to be unnecessarily hostile to investment from overseas," Johnson told reporters.
Additional reporting by Reuters