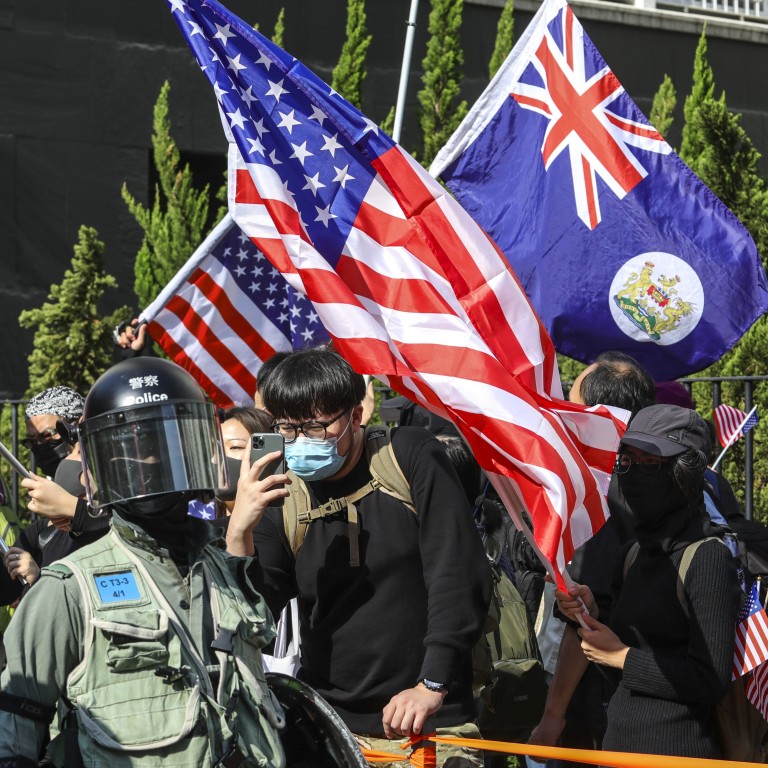 China launches PR blitz to combat 'foreign interference' in Hong Kong
Beijing's ambassadors around the world are taking an assertive – and sometimes aggressive – stance against their hosts' views on the city's unrest
Analysts say heightened activism aims to prevent further internationalisation of China's domestic issue
China's diplomats are waging an increasingly assertive public relations campaign to counter growing international criticism over its handling of the unrest in Hong Kong, now in its seventh month.
Diplomatic and political pundits believe the heightened activism among Chinese envoys underlines an overriding priority to prevent further internationalisation of what Beijing insists is an internal issue, in the wake of Washington's support for the city's anti-government protesters.
Already buffeted by a prolonged trade war, China's relations with the United States deteriorated further when President Donald Trump last month signed into law the
Hong Kong Democracy and Human Rights Act
, which American lawmakers passed almost unanimously.
More alarmingly for Beijing, Hong Kong protesters have been campaigning for other countries to follow Washington's lead and pass similar bills in support of their cause.
In response, ambassadors in Europe – where a major shift is under way in relations with China – and other countries along the geopolitical fault line between Beijing and Washington, are speaking out as never before.
Chinese Foreign Minister
Wang Yi
and his predecessor, Politburo member
Yang Jiechi
– who both serve on the Communist Party's coordination group for Hong Kong and Macau affairs – have led the way in blasting what Beijing sees as foreign interference, as Australia, Canada and Europe have joined the US in voicing support for the Hong Kong protesters.
In Britain, China's longest-serving ambassador
Liu Xiaoming
has been especially busy since the mass protests broke out in early June.
He was among the first batch of Chinese officials to comment after the initial rally – two days before any official statements were issued by Beijing's top bodies overseeing the city, the Hong Kong and Macau Affairs Office and the central government's liaison office in Hong Kong.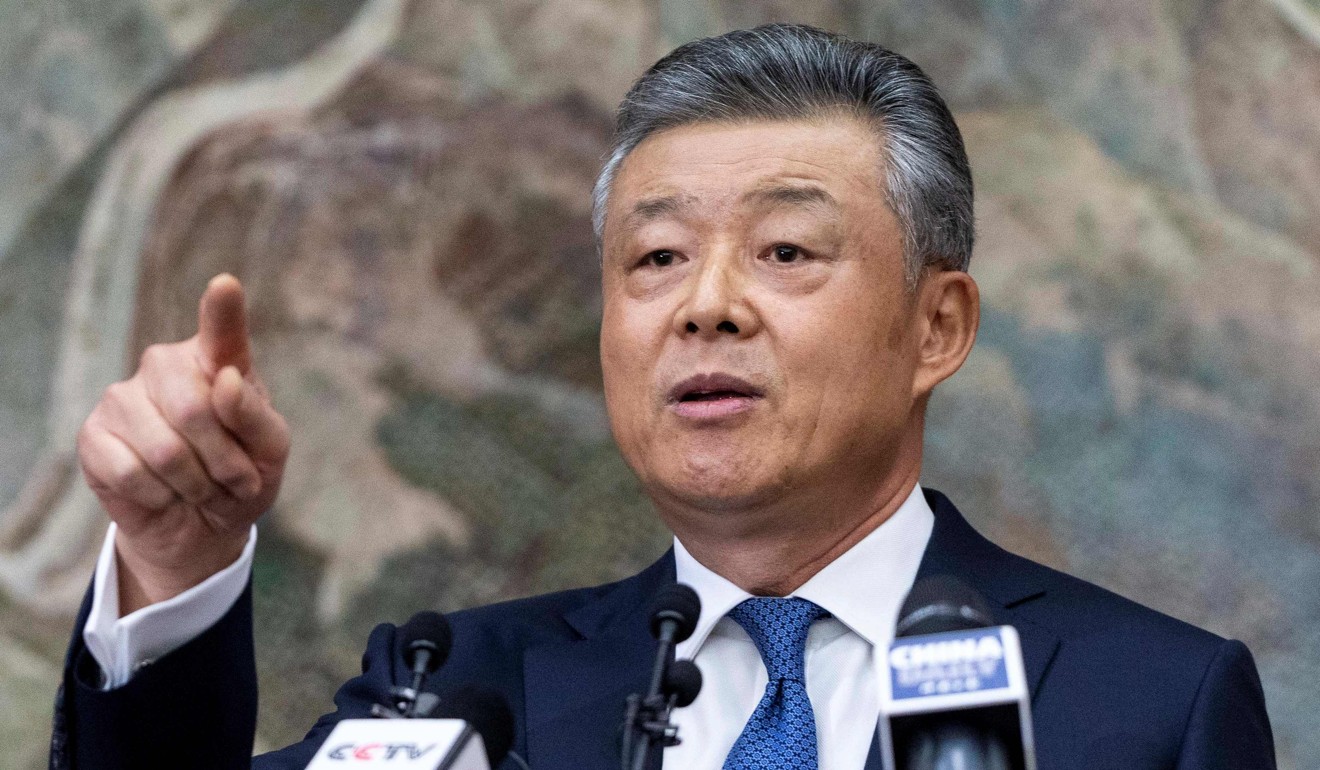 Apart from giving speeches and penning opinion pieces for newspapers around the world, Liu has so far hosted three press briefings specifically on Hong Kong and taken more than a dozen interviews from British, American and Chinese media outlets, according to his embassy's website.
Liu's messaging has been clear and consistent – unswerving support for the city's embattled local government and police force and condemnation of foreign interference and the violence perpetrated by protesters.
His lead has been followed by Chinese envoys in other European countries, such as Italy, France, Spain, Poland, Finland and the Netherlands, who have also spoken out, sometimes repeatedly, on the issue.
Ambassadors in Canada and Singapore, as well as dozens of others in the Middle East, Africa and Latin America have issued statements to local media, vigorously pushing Beijing's official line on the demonstrations.
China's foreign ministry and its diplomats in recent months have become visibly active on Twitter, which is blocked in mainland China, with envoys to the US, Britain, Iran, Saudi Arabia, South Africa and Austria joining the service this year.
They have also repeatedly grabbed headlines over their often assertive and sometimes aggressive remarks about their host countries' stance on China-related issues.
Writing last month inThe Australian Financial Review, China's acting envoy to Canberra Wang Xining urged Australians to "think twice, think thrice" before commenting on the disturbances in Hong Kong.
The Chinese ambassador to the Czech Republic, Zhang Jianmin, lashed out at the "hypocrisy" of Western media and politicians, insisting there was no room for double standards on the issue.
David Zweig, emeritus professor at the Hong Kong University of Science and Technology, said the involvement of the ambassadors "shows that this has become a foreign policy problem, and not just a domestic issue".
"The world is paying so much attention to Hong Kong, and the way China is handling it makes it look very poorly in the West. So, I guess the foreign ministry decided it needed to try and manage the fallout," he said.
Zhu Feng, an international affairs expert at Nanjing University, also said Washington's adoption of the pro-protester legislation on Hong Kong had created a new fault line in bilateral ties and posed a dilemma for Beijing.
"The mobilisation of the diplomatic establishment is clearly aimed at preventing the Hong Kong issue from internationalising and stopping other countries from following the US to take legislative measures on Hong Kong," he said.
Most analysts said the proactive stance on Hong Kong also reflected a broader shift in Chinese diplomacy in the era of President Xi Jinping. But, rather than signalling a rise in the diplomats' influence on Communist Party decision-making, some observers point to a tendency to reflect only what Beijing wants to hear.
"Domestically, China is steadily sliding in the direction of a more hardline, personalised authoritarian regime. Faced with this new reality, many bureaucrats – including China's diplomats – are increasingly performing for an audience of one," said Carl Minzner, a veteran China watcher and professor of law at Fordham Law School in New York.
"More and more, the information they channel to their superiors and their interactions with foreign officials are based on what they think Beijing wants to see, rather than reflecting either an objective evaluation of reality or China's long-term national interests," he said.
In a speech at the Central Party School in September, Xi called on officials to embrace a fighting spirit in the face of a "long-term struggle" against a variety of threats at home and abroad.
Wang Yi was even more specific about the need for a stronger fighting spirit among Chinese diplomats. At an internal gathering last month, he said diplomats should rise to the challenge and vigorously defend Beijing's policies when China was obviously under attack, according to Reuters.
Former Chinese ambassador to Britain Ma Zhengang said it was a positive sign that senior diplomats were allowed more freedom to voice their opinions on social media platforms.
"We were overly cautious in the past and often refrained from speaking out when our voice should have been heard. The changes we are seeing are partly due to the importance the leadership has attached to public diplomacy, which should help promote better stories about China," he said.
But, Ma said, while senior diplomats enjoyed a certain degree of freedom their key messages were usually preapproved – and not all China's envoys had sufficient training to know how to do the public relations side of their job properly.
"Although they may speak in their own words, it is clear that they represent the Chinese government's stance. And the fact that not all of the embassies are involved in this kind of campaign indicates that only a certain number of diplomatic missions are assigned to do the job," he said.
This article appeared in the South China Morning Post print edition as: Envoys in PR blitz over city protests