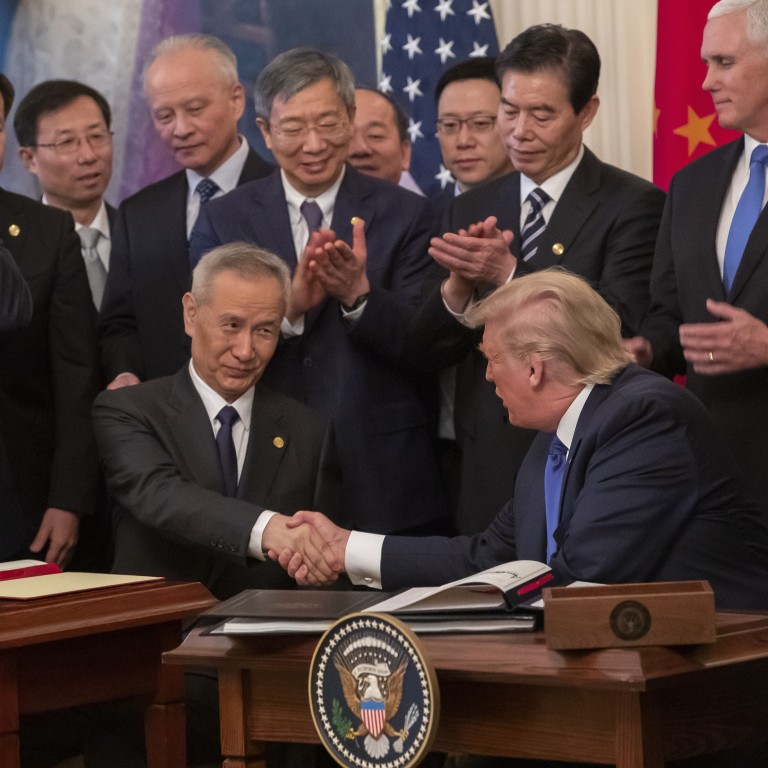 Chinese protesters angle for Liu He's attention as his motorcade whizzes past
With bullhorns, posters, brochures and chants, numerous demonstrators aired their grievances outside the White House
One protester said yelling at officials from afar wasn't as futile as it seemed: 'Maybe when the Chinese government loses face, they'll do something'
As Vice-Premier Liu He's five-vehicle convoy, sirens wailing, pulled into view along 17th Street in Washington before turning into the west gate of the White House, four Chinese protesters push the button on their megaphone and let it rip.
"The Chinese Communist Party is a liar and a cheater," they yelled repeatedly in Mandarin through their battery-powered red-and-white bullhorn while protester Hang Haodong held up a sign in English and Chinese that read: "Return my Home, Justice for my Mother".
As the black vehicle carrying Liu faded into the White House distance, weaving its way through a maze of trailers and service vehicles, the megaphone added a final, plaintive "Liu He, Liu He, Liu He".
Amid the fanfare, win-win language and exaggerated claims during Wednesday's signing ceremony in the East Room for a US-China phase one trade deal, a small but determined knot of protesters a few dozen feet away – and a world apart – pursued their own 15 minutes in the spotlight.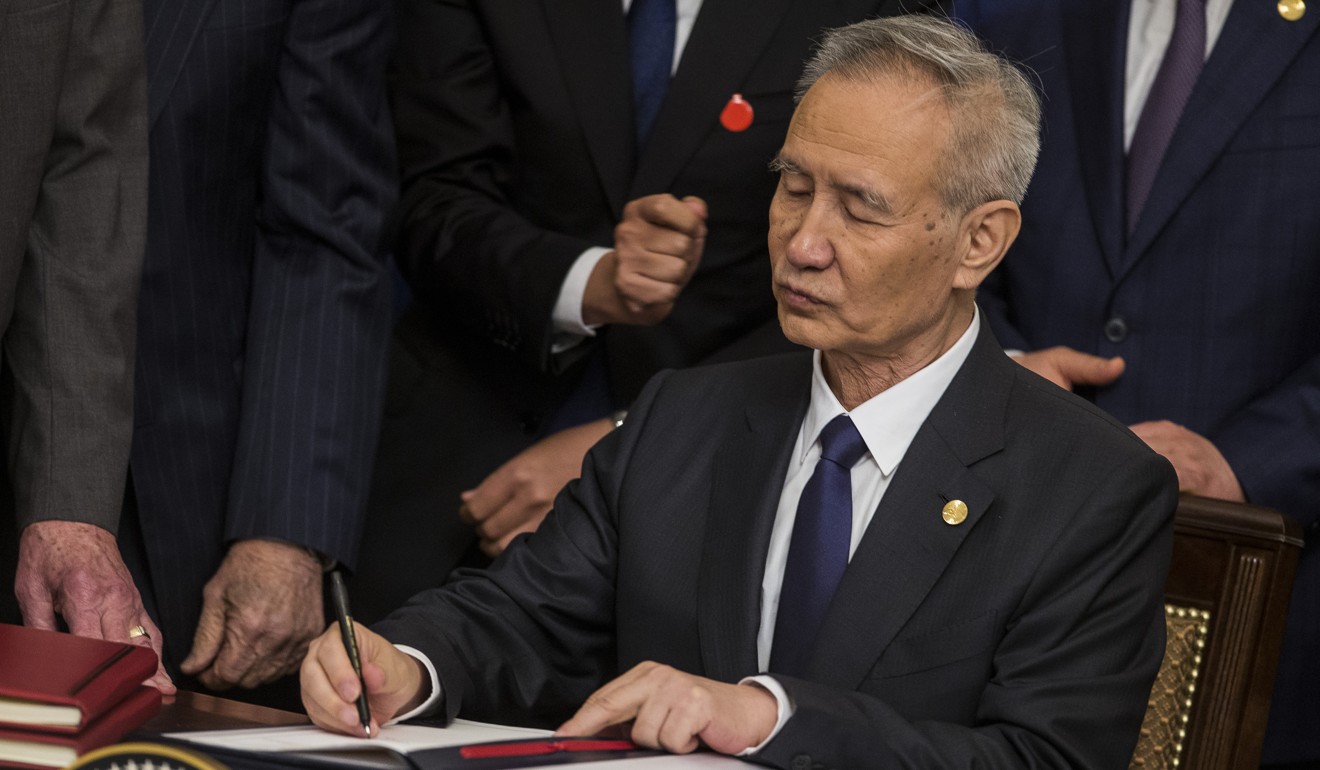 With Liu out of sight and traffic allowed to resume, four Secret Service agents shifted from hypervigilant to secondary threat mode, crossing the street toward the protesters.
"Can I see your ID?" one of the Secret Service officers asked Wang Chunyan, a 58-year-old protester dressed in a puffy yellow coat. "When were you born? We will check. We have reasonable suspicion. Can we look in your bag?"
Given Wang's almost non-existent English and the officers' absolutely non-existent Mandarin, Hang stepped in. The naturalised American citizen – protesting the demolition of his mother's house in Shanghai, which he said led to her death – was evidently an avid student of the American Constitution. "Do you have a search warrant?" he asked them. "By law we can be here."
Wearing a white shirt, bulletproof vest and all sorts of gizmos, the agent in charge gently corrected Hang: "It's not about a search warrant. And I'm not saying you can't be here. But we have probable cause."
Huddling with his colleagues around a cellphone – evidently displaying data on the protesters – the agent noted that Wang might have had an outstanding warrant: "If not, she can go. If there is, she'll go to jail. Can I see your phone?"
Wang, reading his body language, pulled her phone and some crumbled tissue from her pocket just as Hang explained what the agents wanted. "No, No, No," she quickly fired back in English, pulling her phone away.
Apparently deciding this wasn't worth it, the Secret Service opted for a tactical retreat. "You have a great day," Hang said as the agents headed back.
"They're trying to harass her," he added. "She jumped in the street in front of Liu's car earlier. She was cleared by the courts."
Over on the north side of the White House, several Uygur and Falun Gong demonstrators mix in with the protest regulars, who barely give them a second glance. Some have been at it for years. The most long-standing fixture was a makeshift tent plastered with signs decrying tax cheats; it claimed that it had been there for 38 years. A few feet away, a seated US veteran with grisly fetus photographs touted the evils of abortion.
Rule-of-law protester Cai Xiuling, 40-something with oversized posters that compensated for her small frame, was equipped with a bullhorn that erupted in recorded indictments: "Justice is bad in China. China is exporting judicial corruption to the world," it blasted out sequentially in Mandarin, English, Spanish and Portuguese.
Cai, in a white North Face puffy coat and cap, called Wednesday's trade deal a mistake. "It's a bad thing for US companies as long as China doesn't improve the justice system," she added.
Cai explained passionately and in great detail how Chinese courts in Shantou ignored evidence and sided with her well-connected brother, stripping her of a four-building inheritance.
"US companies don't know how corrupt Chinese courts are," she warned.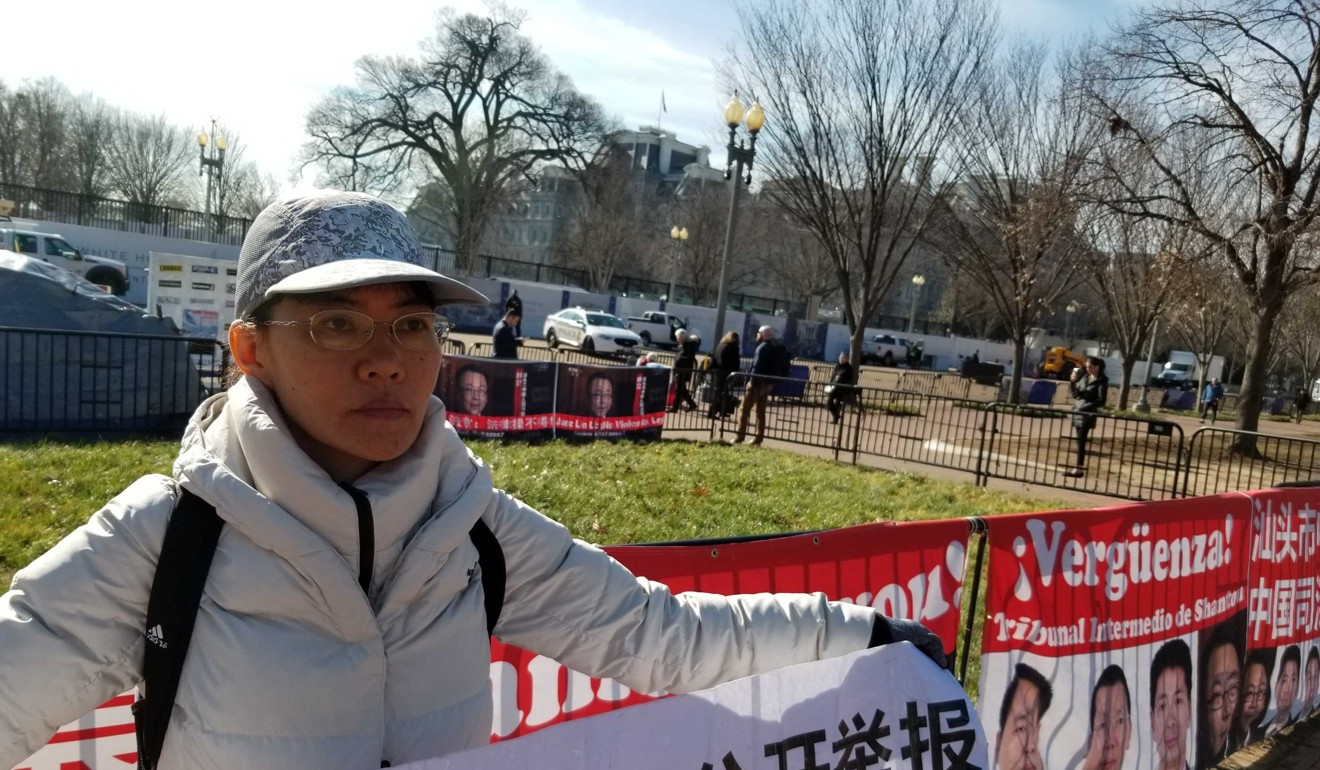 Andrew Nathan, a political science professor at Columbia University, said there was a long history of Chinese protesters trying to confront mainland officials travelling overseas to register their displeasure and publicise their causes using tactics that would be difficult to replicate at home.
"The idea of yelling at officials coming in and out, when's the last time anyone did that in China? They would quickly be swept away," said Nathan, an expert on Chinese political culture. "But I don't think the foreign leader hears anything or pays any attention to what's being shouted."
"I don't think that's the way you're going to get your case in front of the Chinese authorities," he added.
Cai said she'd been protesting on and off since 2018 and had formed a loose alliance with Hang, Wang and a dozen or so other Chinese with varied grievances. They take turns manning a tent in front of the Chinese embassy and make their presence heard in front of the White House when Chinese officials are in town. Most of their grievances seem to be connected to Chinese real estate.
Rapid development after 2000 led to widespread land grabs affecting tens of millions of Chinese. "There are virtually no legal protections against the state taking the land 'in the public interest'," said a 2008 paper presented at the World Justice Forum in 2008 in Vienna.
The Chinese embassy did not immediately comment.
Cui said that yelling at Chinese officials from afar wasn't as futile as it seemed. "I hope Liu He can listen. I have a friend who went to the White House and said you can hear from inside," she said, before adding: "Actually, Liu He doesn't do anything. He's been intercepted so many times … Maybe when the Chinese government loses face, they'll do something."
Notably absent were groups supporting Hong Kong protesters. Anna Cheung, an activist and board member with the Washington-based Hong Kong Democracy Council, said that the trade-deal signing was not prominent on their radar. Instead, she said, her group had been occupied with a series of rallies across the US planned for this weekend and aren't sure trying to catch Liu's ear from afar is the best strategy.
"We choose to do something more effective, like going in to talk to congressmen," said Cheung, a biology teacher at Manhattanville College in Harrison, New York. "We try to do more pushing in that way."
Nearby, a handful of Uygurs waved blue and white flags protesting against China's crackdown in Xinjiang that has seen up to a million Uygurs and other ethnic Muslims housed in what Beijing calls "vocational training centres".
"Our group doesn't want this trade deal to happen," said Salih Hudayar, president of the East Turkestan National Awakening protest group. "We feel there are secret deals to undermine our rights. President Trump needs to raise the issue of Uygurs and East Turkestan and stop the genocide. We want him to sign the Uygur Act, it's still stuck in Congress."
The legislation, strongly opposed by Beijing, would monitor human rights violations in Xinjiang and sanction Chinese officials deemed to have committed human rights violations.
Nearby a member of Falun Gong, a religious group banned by Beijing and condemned as a cult, passed out "prisoners of conscience" literature in English.
Cai surveyed the scene and reflected on her many months spent protesting. "Some of my friends have been protesting for 20 years," she said. "I won't do this for 20 years. I'd go crazy."
Purchase the China AI Report 2020
brought to you by SCMP Research and enjoy a 20% discount (original price US$400). This 60-page all new intelligence report gives you first-hand insights and analysis into the latest industry developments and intelligence about China AI. Get exclusive access to our webinars for continuous learning, and interact with China AI executives in live Q&A. Offer valid until 31 March 2020.