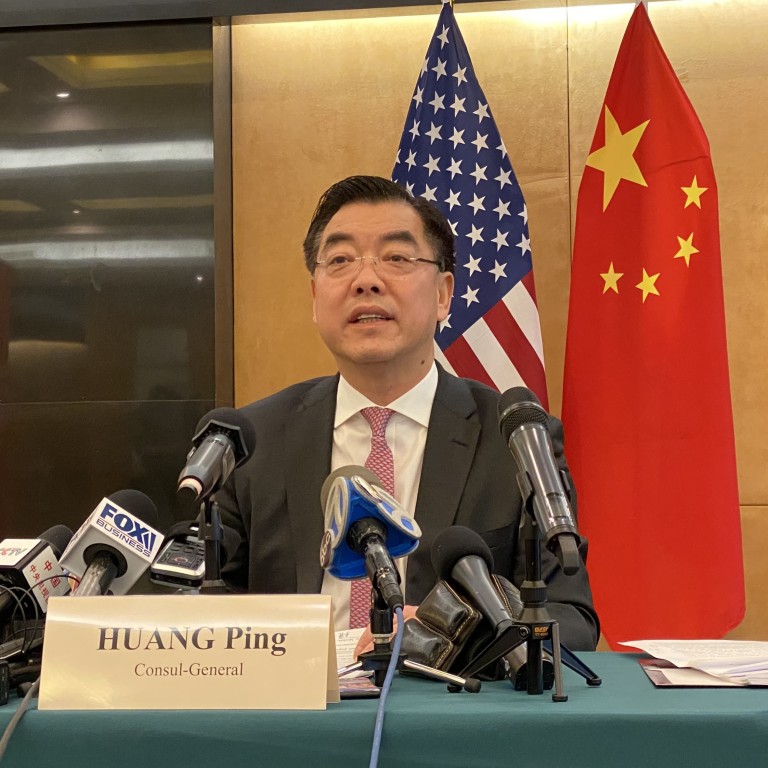 Coronavirus: Chinese consul general in New York thanks NBA for its donation to help fight outbreak
Gesture by Huang Ping comes a day after Beijing blames Washington for spreading fears about the contagion and doing 'nothing to help'
Official says other multinational companies have also donated cash and goods to the Chinese Red Cross and Hubei province
Chinese consul general Huang Ping expressed gratitude to the United States, and especially the NBA, for providing support for China's efforts to combat the
coronavirus outbreak
that is spreading around the globe.
"While China is bravely fighting the virus, people from United States and all over the world are offering massive support in preventing and controlling this outbreak," he said at a media briefing at the consulate in New York.
The
National Basketball Association
is providing donations worth US$1.4 million to Hubei province, where the contagion originated, including a medical device worth US$285,000 for use at Wuhan Fourth Hospital.
Huang said that multinational companies including Microsoft, Dell, Boeing and L'Oreal had donated an additional US$1.4 million in cash and goods to the Chinese Red Cross and Hubei.
His comments came just months after the biggest rift between NBA and China since the basketball league established ties – and billion-dollar deals – in China. In October,
Daryl Morey
, general manager of the Houston Rockets, sparked outrage among NBA fans in mainland China after he voiced support on Twitter for the pro-democracy protesters in Hong Kong, leading Beijing to cancel the telecasts of two preseason games being played in the country.
Huang's friendly gesture toward the US came one day after Chinese foreign ministry spokeswoman Hua Chunying blamed the US for spreading fears about the coronavirus and accusing Washington of "doing nothing to help contain the outbreak".
The US has barred entry to foreigners travelling from mainland China and has declared a public health emergency. It has also evacuated its diplomats from Wuhan, the city at the centre of the outbreak.
"We understand all the measures taken by the US and many other countries. But I think still we should follow the guidance from the WHO and not to issue measures stricter than that or overreact," Huang said, referring the
World Health Organisation
's opposition to restrictions on travel and trade, despite having declared the outbreak a global emergency.
"I believe all those measures should be on science scientific basis," he said.
The coronavirus has sent agriculture commodity prices tumbling and led to extended shutdown of Chinese factories and markets.
On Tuesday, White House economic adviser Larry Kudlow said the spread of the virus would affect China's ability to purchase massive amounts of US goods and services as part of the phase one trade deal. China is supposed to buy US$200 billion of US goods in the next two years according to the deal.
"The export boom from that trade deal will take longer because of the Chinese virus, that is true," Kudlow said on Fox Business.
At the briefing, Huang said he hoped the phase one commitments would not be affected, but: "The prevention and control of the outbreak is China's top priority and the most important work for now. People's well-being always comes first."
The virus has claimed at least 491 lives in China, including one in Hong Kong. The number of deaths in mainland China has far surpassed that of Sars. As of Tuesday, more than 23,000 cases had been diagnosed in the country.
The mortality rate of the known cases is about 2.1 per cent, which is lower than that of Sars and H1N1.
However, the pathogen can be transmitted from person to person and is contagious even in its incubation period, which lasts up to 14 days. The virus has infected more than 174 people outside China and has killed one person in the Philippines.
Life in China has changed dramatically over the past month.
Wuhan
, with a population of 11 million, has been under lockdown since January 23, although a reported 5 million people left the city before the travel ban was imposed.
With almost all cities in Hubei having been shut down, several cities in Zhejiang province, including Hangzhou, Taizhou and Weizhou, have ordered people to stay home or even closed roads as confirmed cases in the province hits 829, a total second only to Hubei.
"It's necessary for China to take the most strict and comprehensive measures just to control the spreading, and that's the urgent thing to prevent disease from transmitting to other countries. So it's kind of a sacrifice for Chinese people," Huang said.
He said he had recently visited a Chinese student in Boston who tested positive for the virus after returning from Wuhan and that the patient's condition was improving as the quarantine "has been quite properly arranged".
"The numbers are still going up," he said. "It's not the peak yet, but on the other hand, the numbers of people being discharged from hospitals are also going higher. I think we need to adopt a scientific way to deal with it, be reasonable, be calm and not cause any panic or disturbance internationally."
Purchase the China AI Report 2020
brought to you by SCMP Research and enjoy a 20% discount (original price US$400). This 60-page all new intelligence report gives you first-hand insights and analysis into the latest industry developments and intelligence about China AI. Get exclusive access to our webinars for continuous learning, and interact with China AI executives in live Q&A. Offer valid until 31 March 2020.