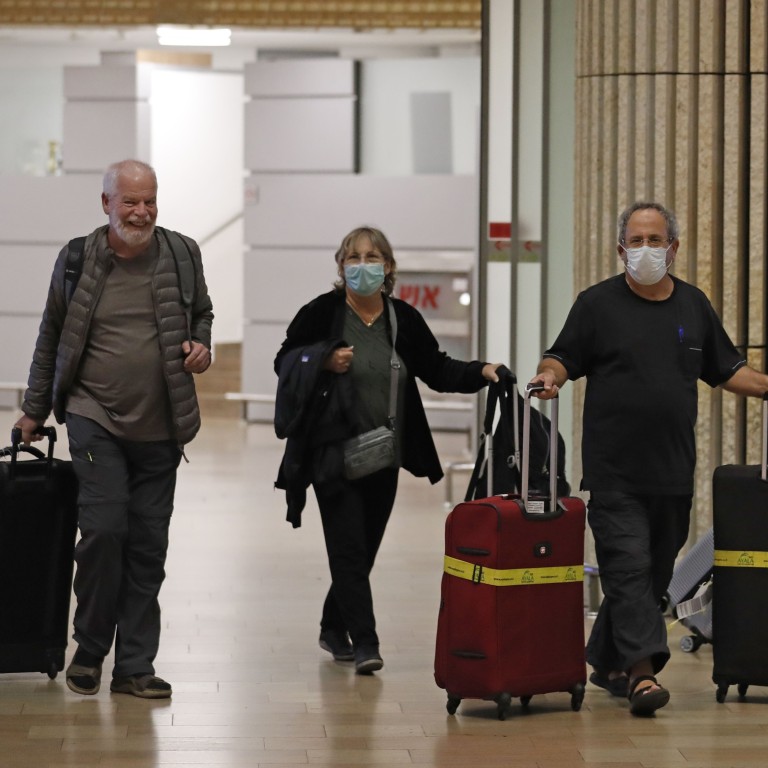 Coronavirus: Israel's ambassador to China under quarantine in Beijing after sharing flight with South Koreans infected with Covid-19
Zvi Heifetz travelled from Tel Aviv to Seoul on February 15 with nine South Koreans later confirmed as being infected, Israel says
But foreign ministry does not explain why he was on the flight or when he returned to the Chinese capital
Israel's ambassador to China, who last weekend shared a flight from Tel Aviv to Seoul with a group of South Koreans later found to be infected with the
coronavirus
, has been placed under quarantine in Beijing, according to the Israeli foreign ministry.
Zvi Heifetz was aboard the flight on February 15 that was also carrying nine South Koreans who had been on holiday in
Israel
for the previous eight days, the ministry said on Saturday.
It did not explain why he was on the flight to Seoul or say when he travelled from the South Korean capital to Beijing.
A spokesperson for the Israeli embassy in Beijing said that although Heifetz was on the flight he was seated in business class some distance away from the tourists and had worn a face mask for the duration of the trip.
"The ambassador feels very well and has been working since he arrived in Beijing," the person said. "There is a chance the Korean tourists became sick after arriving back in Korea."
Meanwhile, Israeli Prime Minister Benjamin Netanyahu was set to hold a meeting on Sunday morning to discuss the Covi-19 epidemic, The Jerusalem Post reported.
Moshe Bar Siman Tov, the director general of Israel's health ministry, told a press conference on Saturday evening that the likelihood of Israeli citizens being infected with the deadly virus had "risen significantly".
He also ordered all Israelis returning home from mainland China, Hong Kong, Macau,
Singapore
, Thailand,
South Korea
or Japan to quarantine themselves for two weeks.
While it is unknown whether the nine South Koreans contracted the virus before or after their return home, the Israeli health ministry is operating on the assumption that they arrived in Israel as carriers of the virus, which has a 14-day incubation period during which those infected are asymptomatic, according to the newspaper report.
Bar Siman Tov said the South Koreans had likely come into contact with "hundreds" of Israelis during their stay, which included visits to several towns, cities and tourist attractions in both Israel and Palestine.
Any Israelis who had been in contact with the infected tourists – defined as being within two metres (six feet) for at least 15 minutes – should quarantine themselves for two weeks, The Times of Israel said in a separate report.
About 1,000 South Korean tourists currently visiting Israel have been instructed to remain in isolation in their hotels, The Jerusalem Post report said.
South Korea reported 123 new coronavirus cases on Sunday, taking its total to 556, and two deaths, doubling its previous toll.
Additional reporting by Laura Zhou
Purchase the China AI Report 2020 brought to you by SCMP Research and enjoy a 20% discount (original price US$400). This 60-page all new intelligence report gives you first-hand insights and analysis into the latest industry developments and intelligence about China AI. Get exclusive access to our webinars for continuous learning, and interact with China AI executives in live Q&A. Offer valid until 31 March 2020.