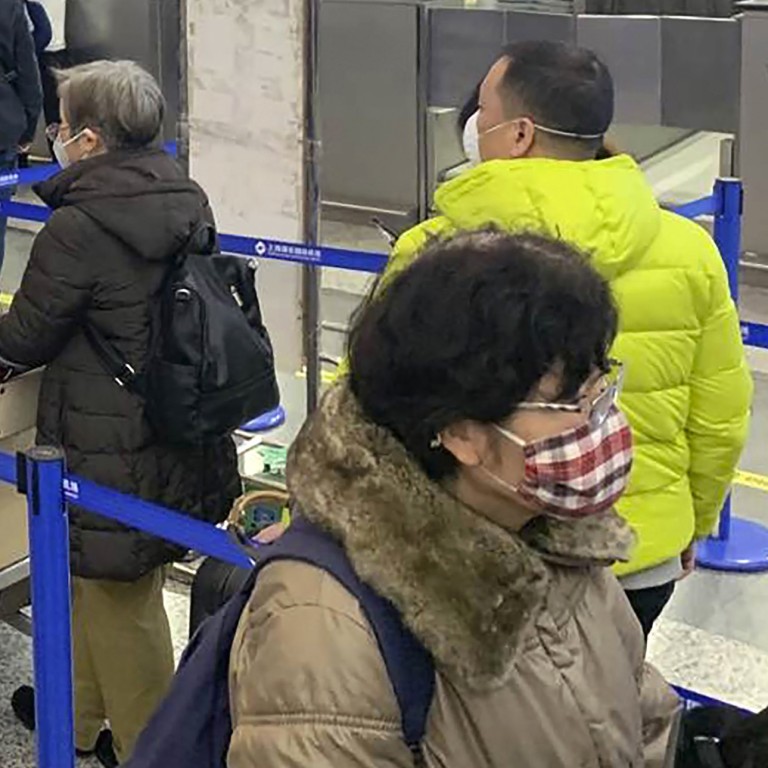 China hits back at American 'coronavirus overreaction' with travel warning for US
Beijing cautions Chinese travellers not to go to the United States, citing unfair treatment of people from China
Action symbolic but will further strain relations between the two countries, analyst says
China has issued a travel warning for the United States, urging its citizens not to travel to the country amid concerns over the
global spread of the coronavirus
, a move analysts say will worsen already heightened tensions between the two powers.
The advisory released by China's Ministry of Culture and Tourism on Monday cautioned travellers not to visit the US due to American's overreaction to the deadly virus, unfair treatment of Chinese tourists in the US and unspecified uncertainties over its domestic security.
Although it appeared to be a direct response to a similar step by Washington nearly a month ago, experts and industry insiders said Beijing's move was largely politically motivated and might not have much impact given the harsh travel restrictions already in place.
While more than 60 countries have imposed some form of travel restrictions on people from China and some two dozen countries have evacuated their citizens from Wuhan, the epicentre of the epidemic, Beijing appeared to be particularly offended by the US, which was among the first to act.
Pang Zhongying, a Beijing-based international affairs analyst, said Beijing's latest move showed China's strained and sometimes adversarial ties with the US over trade and geopolitics had been further marred by the coronavirus crisis.
"To be fair, it is a symbolic move because even if people might still want to go, the US has already imposed strict travel restrictions on Chinese visitors and suspended regular visa services in mainland China that effectively render such travel plans unfeasible," Pang said.
"It rather smacks of Cold War rhetoric and will inevitably fuel tensions between the two countries."
For Chinese visitors, the biggest concerns about travelling to the US during the epidemic were the uncertainty about applying for visas at US consulates in China and travel restrictions on entering the US from China.
One Beijing-based agency that helps Chinese citizens apply for visas in the US said it was receiving up to 30 inquiries per day about travel to the US, even in the midst of the epidemic, as people tried to get more information about travel arrangements.
"For Chinese citizens the significance is not very big. It's probably more about political chess," the manager of the agency said, declining to be named.
"For tourists, if it's their first time leaving the country they may not care so much, but they have already been to places in Asia and Europe, their desire to go is still quite strong even if there are restrictions or cautionary domestic messages."
He said Chinese tourists had already been affected by the protracted the China-US trade war, especially students wanting to study in the US and visiting scholars, who had had their visa applications delayed.
China was the fifth-biggest source of tourists to the United States in 2017.
But the number from China fell 5.7 per cent to 2.9 million in 2018 for the first time since 2003, largely due to the spiralling trade tensions and China's economic downturn, according to US government data.
Zhao Ma, an associate professor of modern Chinese history and culture at Washington University in St Louis, said Beijing might have overreacted to the US moves, which were largely based on public health concerns over the epidemic.
"It also appears to be using nationalism to divert public attention and mounting criticism towards the Chinese government over the disease control," Ma said.
Pang said Beijing's travel warning could also be considered a step, inadvertently or not, towards decoupling the world's two largest economies.
Last summer
China issued a travel warning for the US
, telling its citizens to beware of shootings, robberies and high costs for medical care. The US hit back with its own warning about travel to China.
Purchase the China AI Report 2020 brought to you by SCMP Research and enjoy a 20% discount (original price US$400). This 60-page all new intelligence report gives you first-hand insights and analysis into the latest industry developments and intelligence about China AI. Get exclusive access to our webinars for continuous learning, and interact with China AI executives in live Q&A. Offer valid until 31 March 2020.