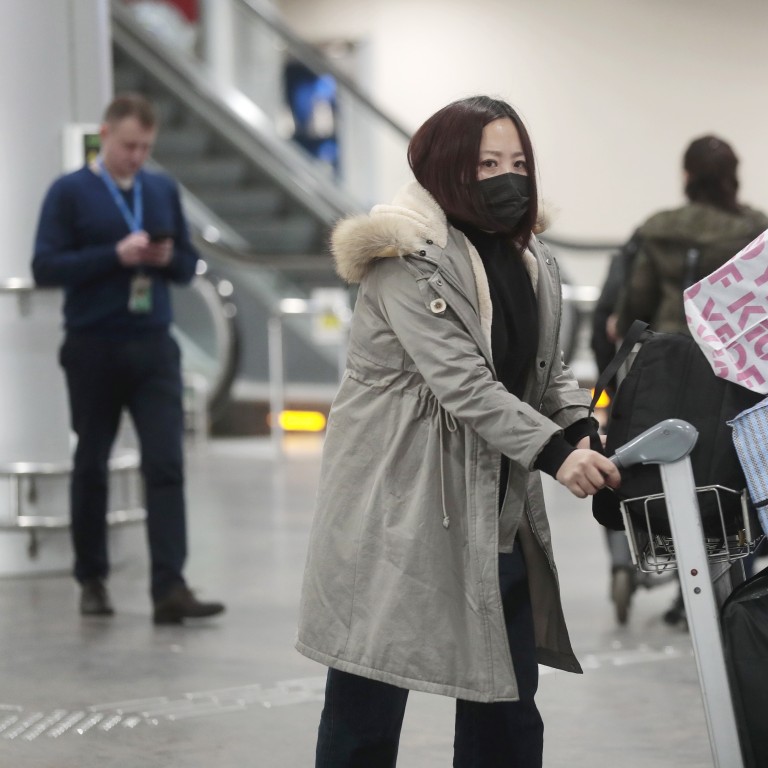 China complains of unfair treatment of Chinese in Russia amid coronavirus fears
Chinese embassy says restrictions should apply to all people with China travel history rather than just targeting Chinese citizens
Moscow mayor says 80 Chinese face deportation for violating quarantine orders
China has asked Russian authorities not to discriminate against Chinese citizens, amid reports of police raids in Moscow on people from China accused of evading quarantine measures.
The Russian capital has ordered all people from China and other coronavirus-hit countries and regions to quarantine themselves for 14 days to prevent the spread of the disease.
Moscow mayor Sergey Sobyanin said about 80 Chinese citizens and eight people from other countries were facing deportation for violating the quarantine orders since February 22.
In a leaked official letter, bus drivers in the Russian capital were also reportedly requested to call the police if they saw a passenger who appeared to be Chinese.
The Chinese embassy in Russia said on Friday that authorities should be "moderate and non-discriminative" in their treatment of Chinese.
The embassy said the identification and monitoring of alleged suspects were focused on "Chinese citizens", instead of "all people with a China travel history", suggesting unfair treatment.
"We hope the measures will be in line with the friendship and high-level relationship between China and Russia," an embassy spokesman said, citing the close political and military ties between the two governments in recent years.
The spokesman said the embassy had demanded that people be notified of any pending action and Chinese citizens in quarantine be supplied with daily essentials.
Sobyanin said the restrictions applied to all people from virus-hit regions and urged all Chinese citizens in the city to comply with the orders.
Russia has taken some of the strictest action since the deadly coronavirus emerged in the central Chinese city of Wuhan in December, closing its 4,300km (2,670-mile) land border with China as early as late January.
Russian Prime Minister Mikhail Mishustin also said in early February that the country might expel foreigners who tested positive for the coronavirus.
On February 19, Russia stopped issuing new visas to private Chinese visitors and students, and then banned the entry of all Chinese passport holders except those on diplomatic and official business.
Zhang Hanhui, China's ambassador to Russia, said last week that "the Covid-19 virus is not that scary", reminding Moscow of Wuhan's long history of friendship with Russia.
Russia has also suspended most flights between
South Korea,
and stopped issuing ordinary visas to
Iranian visitors
, as the disease began to spread in these two countries.
Purchase the China AI Report 2020 brought to you by SCMP Research and enjoy a 20% discount (original price US$400). This 60-page all new intelligence report gives you first-hand insights and analysis into the latest industry developments and intelligence about China AI. Get exclusive access to our webinars for continuous learning, and interact with China AI executives in live Q&A. Offer valid until 31 March 2020.