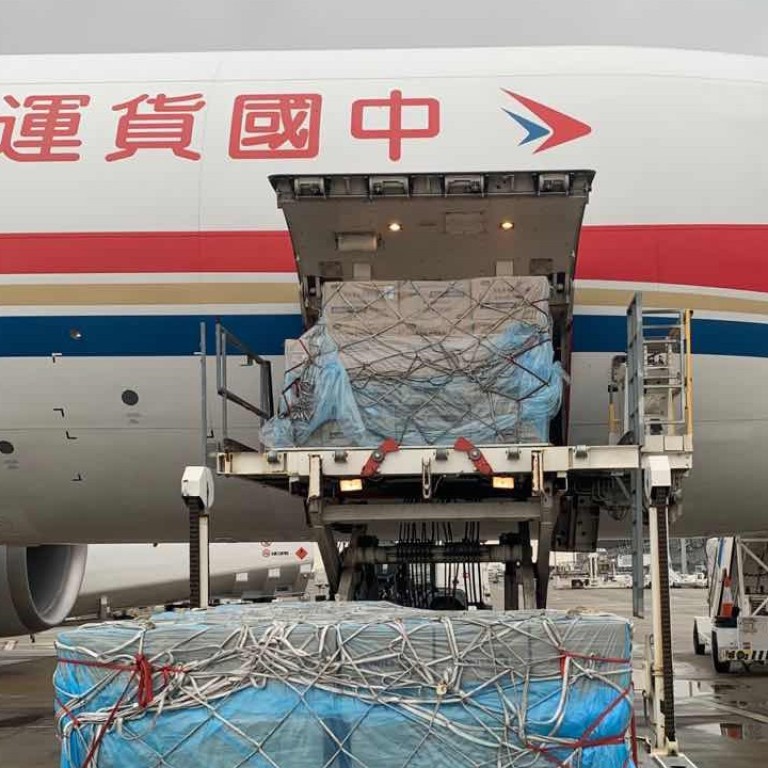 China steps up support for European countries hardest hit by coronavirus
President Xi Jinping has spoken to the leaders of the two most affected European countries, Italy and Spain, and promised medical supplies
In contrast to the offer to help Europe, Beijing's relationship with the US is deteriorating further during the pandemic
China is strengthening its engagement with European nations hit by the Covid-19 outbreak even as its relations with the US hit a new low over the crisis – and it is treating individual countries with a higher level of protocol than the European Union itself.
On Wednesday, China agreed to help the EU with "immediate shipments" of 2 million surgical masks, 200,000 N95 masks and 500,000 testing kits – but the amount stopped short of the 5 million surgical masks it gave Italy, which has seen the world's worst outbreak after China.
"China has not forgotten that in January … the European Union helped," European Commission President Ursula von der Leyen said on Twitter on Wednesday. "Today, we are the center of the coronavirus outbreak pandemic, and we need protective equipment ourselves. We are ramping up our production, we are converting new production lines, but this needs several weeks.
"And in the meantime, we are grateful for support from China," von der Leyen said, after a phone call with Premier Li Keqiang.
The fact that Li announced the support for the EU marks a diplomatic difference from how China treated Italy and Spain, the two European countries hit worst by the outbreak.
President Xi Jinping called Italian Prime Minister Giuseppe Conte and Spanish Prime Minister Pedro Sanchez this week, despite the fact that neither was at his level as head of state. Both countries have imposed national lockdowns in efforts to impede the spread of the coronavirus.
Xi told Sanchez on Tuesday that "China is willing to respond to the urgent needs of Spain and spare no effort to provide support and help, and share experience in prevention, control and treatment", Chinese state media reported.
The previous day Xi spoke to Conte and made a similar pledge.
Beijing has already sent 30 tonnes of equipment and materials and nine medical experts to Italy, and has further promised to supply 5 million masks, 10,000 ventilators and two extra medical teams.
Officials and public health experts from 10 European countries have been invited to join a video conference on Thursday, where the Chinese will share their experience of disease control, the Foreign Ministry in Beijing said on Wednesday.
"We … would like to provide support and help within our power in accordance with the needs of the European countries," Foreign Ministry spokesman Geng Shuang said on Wednesday, without naming the countries invited to join the discussion.
China, the world's largest producer of basic medical supplies, has already increased its production capacity fivefold and officials have said the outbreak inside its borders is under control.
Italy's ambassador to the EU, Maurizio Massari, recently complained that no EU members have responded to a call from Brussels to send equipment and supplies. Serbian President Aleksandar Vucic has also complained about a lack of support from Europe and said only China could help his country.
The offer to help comes at a time when China's relations with the US deteriorated further as President Donald Trump repeatedly refers to the "Chinese virus".
A Foreign Ministry spokesman in Beijing promoted a conspiracy theory that suggested the virus had been brought to China by the US Army – an action critics described as an attempt to deflect attention away from efforts to blame China for the outbreak.
Wang Yiwei, a professor of international relations at Renmin University in Beijing, said that China's support was also driven by the knowledge that it could only ease its stringent control measures and get its economy back to normal when the epidemic had been tamed in other countries.
"To help other countries fighting the coronavirus is also to keep all of us safe," said Wang. "Also, China now has an overcapacity in manufacturing medical equipment, which is in desperate demand in Europe."
He also said the move could create a clear contrast with the actions of the US, which has imposed a travel ban on the EU's free travel zone and reportedly tried to buy the rights to a potential Covid-19 vaccine from the German pharmaceutical company working on it.
"Some are quite disappointed at the US government, which is not performing like a world leader or a big brother to the West," said Wang.
Complaints from countries like Italy about the EU's failure to offer substantial support mean it is reasonable for China to offer to step in, said Cui Hongjian, director of the department of European studies at the China Institute of International Studies.
German Chancellor Angela Merkel has played down concerns about China's actions, saying that they were a gesture of "reciprocity" in return for earlier European support and that "we are very pleased".
She also said people "cannot expect everything to be provided in the framework of the EU".
Cui suggested that Chinese humanitarian aid should not be mixed with its political or economic agenda to reduce concerns about its actions.
"If necessary, China could work with international organisations, such as through the framework of WHO and the EU, to provide help," said Cui.
"If the Chinese government handles it properly, hopefully we will see an improvement in China's reputation among ordinary European people and a better foundation for future China-Europe cooperation."
Purchase the China AI Report 2020 brought to you by SCMP Research and enjoy a 20% discount (original price US$400). This 60-page all new intelligence report gives you first-hand insights and analysis into the latest industry developments and intelligence about China AI. Get exclusive access to our webinars for continuous learning, and interact with China AI executives in live Q&A. Offer valid until 31 March 2020.
This article appeared in the South China Morning Post print edition as: Beijing to help worst affected countries in EU