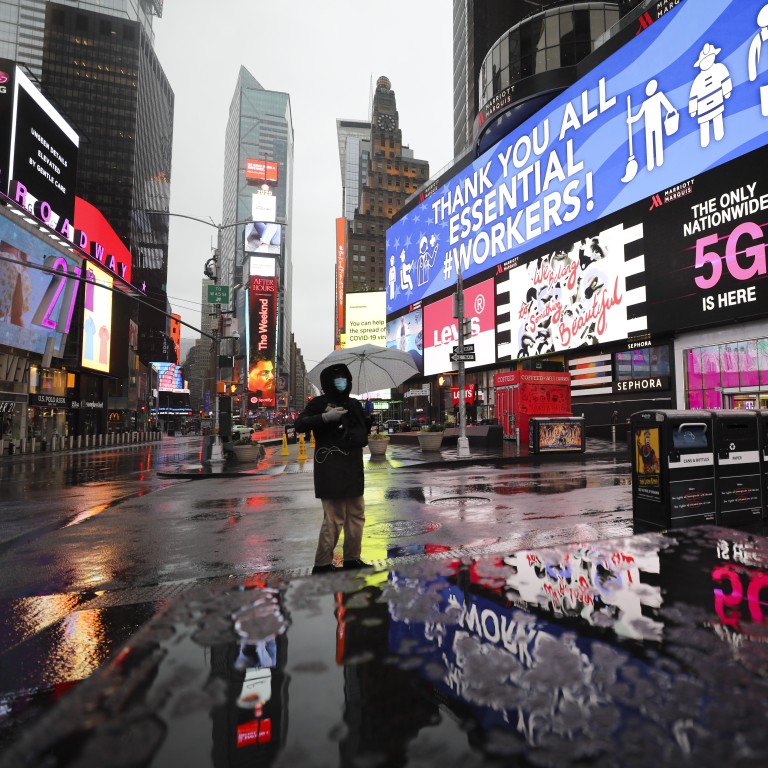 Hopes for G20 coronavirus summit truce in China-US war of words
World leaders could agree to work together to counter common threat from Covid-19 when they meet via teleconference, according to draft statement
But strategic mistrust between Beijing and Washington runs deep and there may be little more than a temporary ceasefire, analyst warns
According to a draft statement to be discussed at the summit, the leaders are expected to agree that the coronavirus is a common threat to humanity and united efforts are required to fight it.
In preparatory discussions for the summit, the two countries agreed to set aside their differences, according to a diplomatic source familiar with the talks.
"We all live on one planet and there will be no winner in the face of the onslaught of a pandemic," the source said, adding this was the underlying sentiment leading to the special summit.
According to the draft, the leaders agree that Covid-19 is a common threat and they will establish a mechanism to share information and experience to combat the illness.
The G20 members are also expected to promise to provide medical and financial support to less-developed countries, and look at ways to revive economic growth.
But the thorny issue of the oil price war between Saudi Arabia, which holds the G20 presidency this year, and Russia, is not likely to be on the agenda.
In a phone call with German Chancellor Angela Merkel on Wednesday, Chinese President Xi Jinping said China was willing to work with Germany to send a unified message about containing the pandemic. The two sides should also coordinate on macroeconomic policies, state media quoted Xi as saying.
Also on Wednesday, vice foreign minister Ma Zhaoxu said China was expecting "unity, cooperation and coordination" from the G20 summit.
"The virus knows no borders and no country can stand by itself," state media quoted Ma as saying.
In a teleconference on Monday, G20 finance ministers and central bankers resolved that G20 members should take joint action to manage the economic impact of the pandemic.
Wu Xinbo, director of the Centre for American Studies at Fudan University, said it would be in everyone's interests to have an agreement.
Major powers needed to work together on a raft of issues, from minimising global economic disruption and speeding up the development of vaccines, to strengthening border control and repatriation efforts, Wu said.
"President Xi is likely to emphasise the concept of shared destiny [during the meeting]. He will stress the importance of countries working together under the guidance of international organisations such as the WHO, and oppose politicisation of the issue," he said.
Wu said there were signs that tensions between China and the US were easing and this could help the members of G20 to reach consensus.
"Now that Trump has stopped calling it a Chinese virus, and ambassador [to the US] Cui Tiankai has also signalled a more conciliatory tone towards the US, the tension is lower," he said.
But some observers cautioned against optimism.
Wang Yong, director of the Centre for International Political Economy at Peking University, said the threat of the virus might temporarily ease China-US trade tensions but their strategic mistrust was much more deep-rooted and their ties would remain uncertain.
"This might be not much more than just a joint communique. They may agree on lifting travel bans, coordinating economic stimulus and keeping trade open. But in the end many countries will focus on their own policies and it is questionable how much the G20 can achieve," he said.
Meanwhile, German news magazine Der Spiegel reported on Tuesday that at a preliminary meeting among G7 foreign ministers, a US insistence on calling the pathogen the "Wuhan virus" was rejected by the other members.
Instead, it should be referred to as Covid-19, the report said.
Purchase the China AI Report 2020 brought to you by SCMP Research and enjoy a 20% discount (original price US$400). This 60-page all new intelligence report gives you first-hand insights and analysis into the latest industry developments and intelligence about China AI. Get exclusive access to our webinars for continuous learning, and interact with China AI executives in live Q&A. Offer valid until 31 March 2020.
This article appeared in the South China Morning Post print edition as: World leaders look to counter virus in G20 teleconference