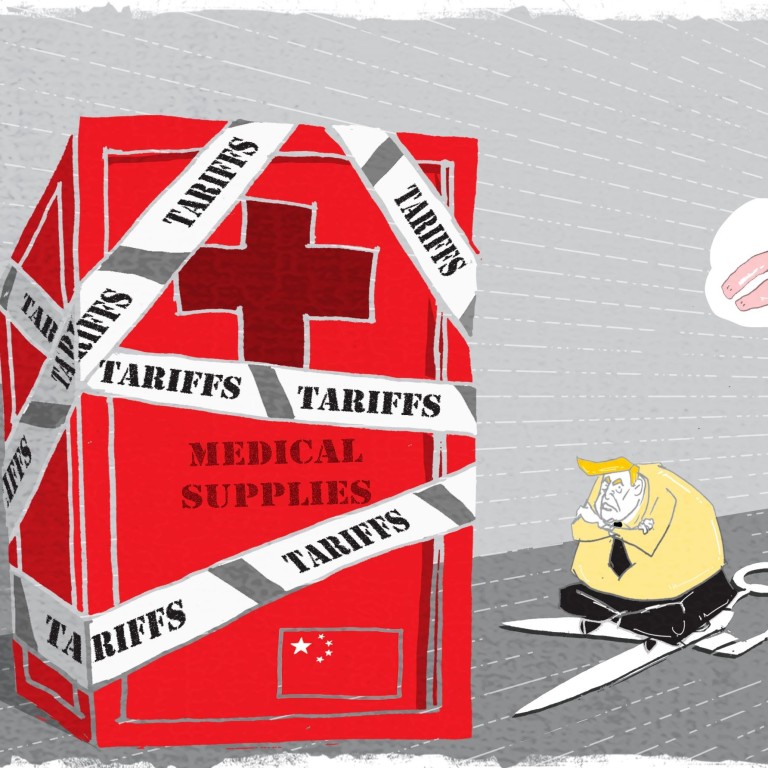 Coronavirus: trade war with China weakens crucial links in US medical supply chain
Trump administration hardliners resist medical supply imports despite Covid-19's toll
'The main distinction between Europe and the US in terms of lack of preparedness is that ours is more self-inflicted. We put tariffs on all of those products'
Hardliners within the Trump administration are trying desperately to avoid reducing tariffs on imported medical supplies from China, hoping to stave off mounting pressure from health care workers and a panicked public as the
coronavirus
death total mounts.
After an extended US-China
trade war
and President Donald Trump's signing of a phase one agreement in December, hawks within the administration are loath to set a precedent. Their concern is that emergency concessions could undercut their hawkish trade stance toward Beijing, which Trump sees as a cornerstone accomplishment leading up to the November elections, say former officials and analysts.
"There will be inexorable pressure to relax the tariffs. But the administration is going to hold the line as long as they possibly can because they see this is so fundamental to their trade policy," said Vanessa Sciarra, vice-president of trade and investment policy with the National Foreign Trade Council. "There's a lot of internal debate that you can't give China something for nothing and how to go forward."
A procedure for settling disputes, promoted by Trump in the December deal, is "supposed to hold a stick over the Chinese," she added. "It undermines his whole plan if the US starts unilaterally undercutting the agreement."
As Trump weathers growing pressure – after denying for weeks that the coronavirus was a serious threat – the administration has made modest concessions on Chinese medical imports, dropped quietly into the Federal Register. On March 10 and 12, it temporarily and without fanfare lifted tariffs on protective clothing, gloves and medical goggles, among other items.
And late Friday night, with the pandemic raging, the Office of the US Trade Representative (USTR) launched a feedback channel for medical supply importers that believe tariffs should be eased, adding: "This comment process does not replace the current exclusion process."
Critics say tariffs should be cut quickly and broadly. "If your strategy is to cut yourself off from China, which is the largest supplier of medical equipment, at this time of greatest need, that's a big problem," said Chad Bown, an economist with the Peterson Institute for International Economics (PIIE) and author of a study on medical tariffs.
Yet while many believe the crisis calls for global collaboration, leading figures in the Trump administration and Congress see it as an opportunity to weaken international ties with China, reduce global trade flows and heap blame on Beijing.
In recent days, several Republican senators have introduced legislation aimed at reducing America's reliance on China for medical supplies while administration hardliners reportedly search for regulatory changes toward the same goal, analysts say.
But critics say high tariffs on Chinese medical items and the legacy of the protracted US-China trade war have implications far beyond the dusty world of harmonised trade codes, potentially costing hundreds of lives.
Relative to Europe, poor US preparation "is a bit more self-inflicted because of the trade war," Bown added. "We put tariffs on all of those products."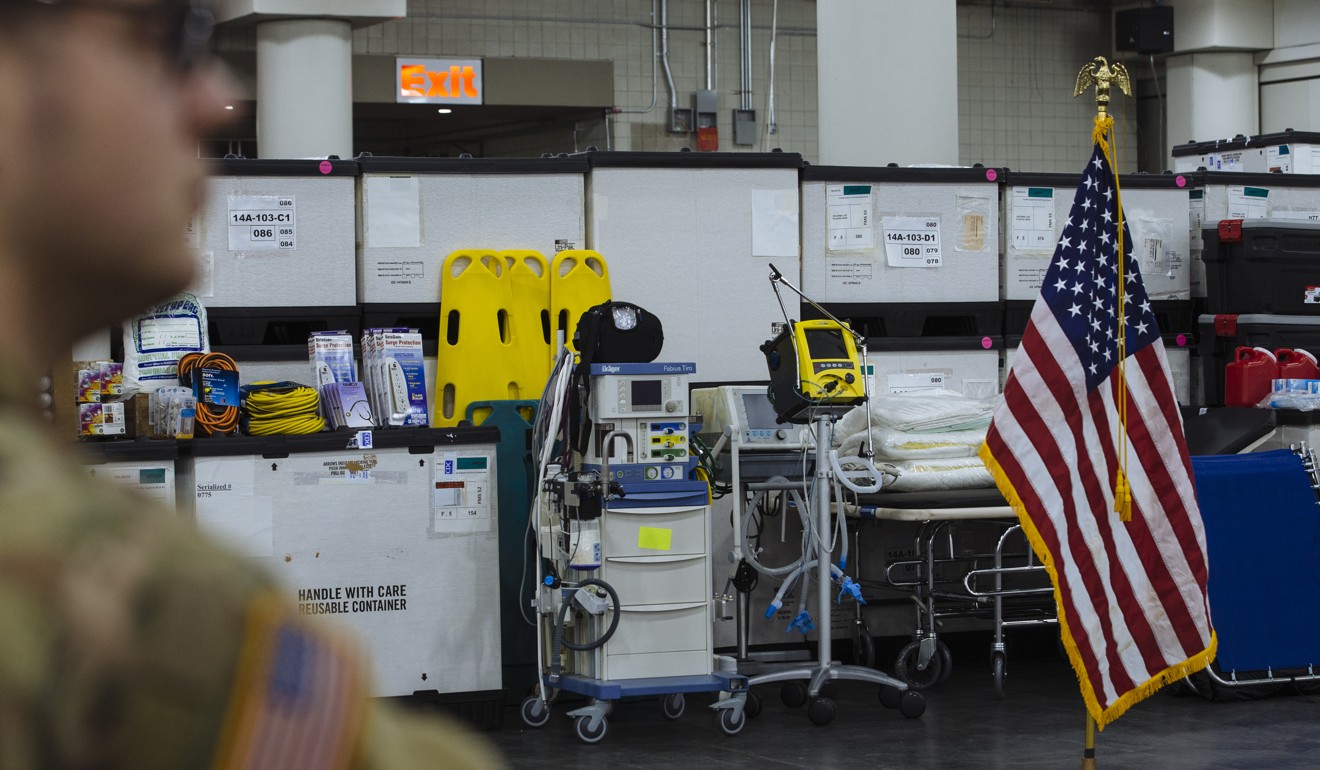 The March reductions excluded tariffs on a relatively small percentage of imported Chinese medical goods. But another US$1.1 billion of items potentially useful in treating Covid-19, the disease caused by the coronavirus, are still subject to Trump's 25 per cent tariffs, according to PIIE data, with another US$3.3 billion in critical health care products facing 7.5 per cent tariffs.
Governments worldwide are under blistering pressure as the pandemic rages, and directing resources where they are most needed is an admittedly mammoth task.
Even critics of Trump's trade policies say the West needs to adopt a tougher approach given decades of China's gaming of the global trading system, stealing data and technology, blocking foreign competitors and supporting "national champion" companies with subsidies and biased regulations.
But tariffs are a blunt tool and trade restrictions on Chinese medical imports arguably hurt the US most, analysts say.
"The US, I believe, was justified in adopting a much more aggressive policy toward China," said Clete Willems, a partner in Washington with the law firm Akin Gump and until recently deputy director of the National Economic Council. "But my worry is that we're going too far."
"Global problems require global solutions" instead of countries walling each other off, added Willems, lead US negotiator at the G7 and G20 groupings.
The challenge in micromanaging medical tariffs on millions of imports is seen with Gojo Industries. The Akron, Ohio-based manufacturer makes dispensers for the Purell hand sanitiser, which is in desperate demand to help stem the virus's spread.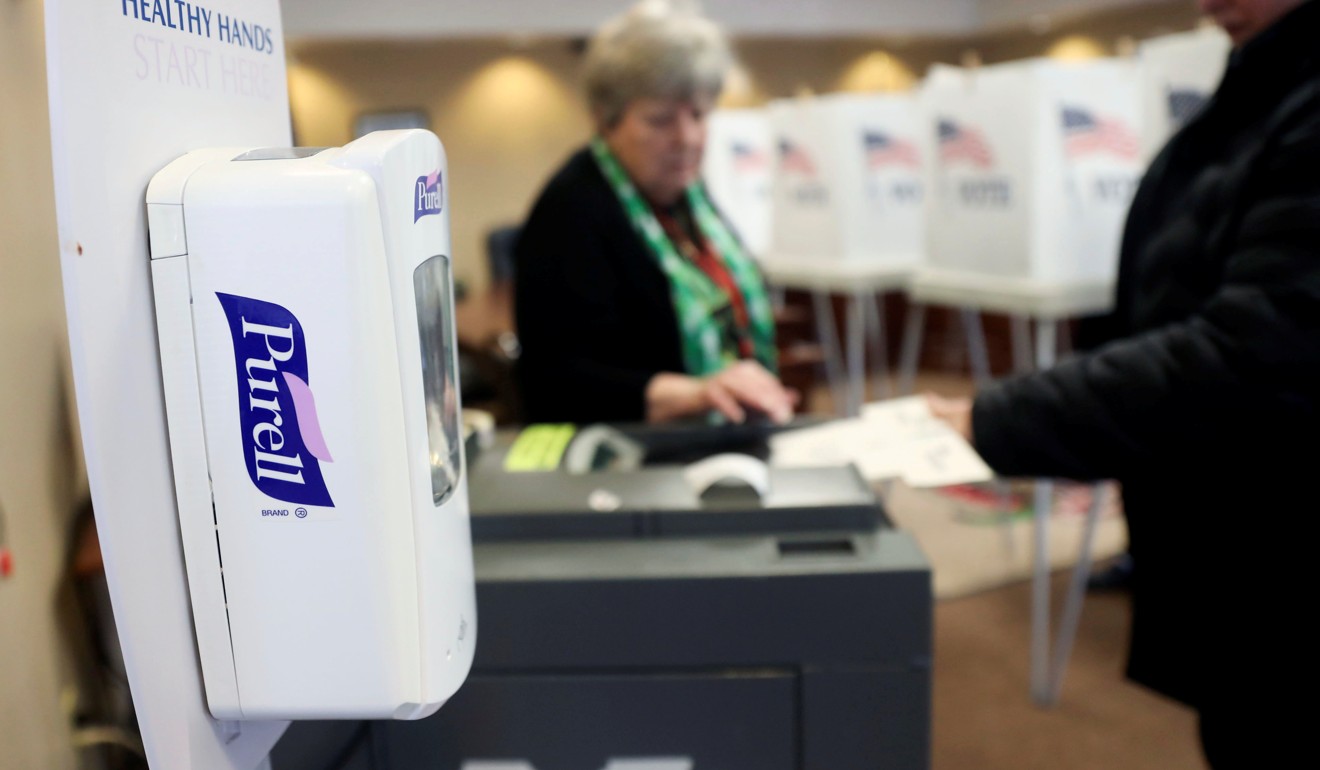 Although the dispensers are US made, Gojo must import two key parts from China, including an "E-key" sensor that fits on the Purell-filled plastic bags to communicate with the casing.
"They may be manufactured in the US, but it's a global supply chain," said Nicole Bivens Collinson, head of international trade and government relations at the Sandler, Travis & Rosenberg law firm representing Gojo. "We asked for an exemption. They denied it. This is for friggin' hand sanitiser."
One problem is that the USTR and the Department of Health and Human Services (HHS) are both involved.
"HHS looks at an open cap screw and says, 'why is that essential,'" said Bivens Collinson, a former USTR negotiator. "That's part of the problem. USTR doesn't know it from the health perspective, and HHS doesn't from the trade perspective."
In response to questions, the USTR referred to US Trade Representative Robert Lighthizer's letter to the editor in The Wall Street Journal on March 20, which criticised "hackneyed efforts to revive long-discredited arguments in favor of globalization" under the guise of insufficient medical imports.
The letter added that medical imports from elsewhere have increased and that the crisis underscored the nation's "strategic vulnerability" that Trump is addressing. HHS referred questions to the White House, which did not respond.
Before the US-China trade war, American tariffs on some US$22 billion in imported medical imports – including hospital gowns, thermometers, ultrasound systems and patient monitors – mostly ranged from zero to under 8 per cent.
Starting in 2018, Trump imposed duties of 15 to 25 per cent on some US$360 billion of Chinese goods, including US$5 billion in medical products, causing Chinese imports to fall sharply.
While other countries have filled much of the shortfall, medical imports have not kept up with the demand of an ageing US population, Bown says. Nor are replacements from other countries easily arranged, given laborious US health and safety protocols.
The Trump administration's reluctance to give ground on potentially life-saving medical items coincides with distrust toward China and a move to bolster US manufacturing capability and reroute supply chains. Trump has repeatedly blamed Beijing for infecting the US, terming it the "Chinese virus".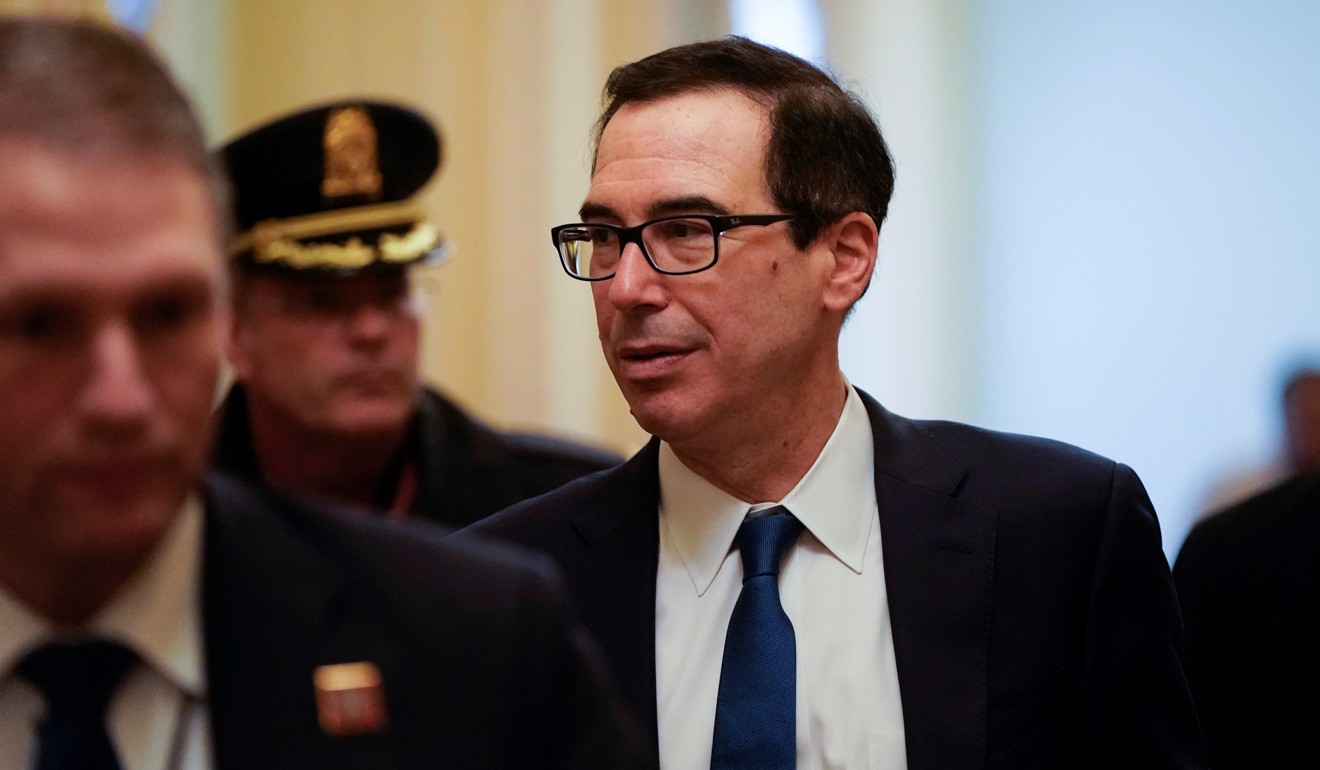 Within the administration, Trump's policy adviser Peter Navarro is seen as the biggest China hawk. "He never saw a trade restriction he didn't like," said one trade expert. Arguably most open to trade with China is Treasury Secretary Steven Mnuchin.
Analysts say Navarro hopes to use the crisis to disrupt the US medical supply chain, make the economy more America-centric and spur US manufacturing jobs. He has proposed several measures to curb imports and create conditions to spur increased production of American medicines, raw materials and vaccines, said media reports, citing a draft executive order.
"There are definitely hardliners in the administration that have been advocating long before the coronavirus that we need to bring our supply chains home to the United States. And now Navarro and perhaps others are advocating that this pandemic just shows the necessity to do this and do this quickly," said Wendy Cutler, vice-president with the Asia Society Policy Institute and a former senior USTR negotiator.
"I don't think that's the right policy," she added. "And frankly, in a global pandemic, this is precisely the type of global occurrence where you need multilateral cooperation."
Right-wing US news outlets, meanwhile, have reacted to nationalistic Chinese media warnings that the United States may be plunged into the "mighty sea of coronavirus" by possible Chinese export restrictions.
"China is threatening to wreak havoc on America's drug supply," wrote the National Interest. "China Threatens to Cut Off Medicine," screamed a Breitbart News headline.
Several US senators have announced legislation to lessen America's reliance on Chinese medical supplies.
Last week, Senator Marco Rubio, a Republican from Florida, introduced a bipartisan bill aimed at ending US dependence on China for pharmaceuticals.
Representative Michael Waltz, a Florida Republican sponsoring companion legislation in the House, called the virus "a wake-up call to the danger of American reliance on a hostile foreign power like China for medical supplies".
Senate Majority Leader Mitch McConnell, Republican of Kentucky, included provisions in a US$2 trillion stimulus bill passed unanimously by the Senate late on Wednesday that require reporting on the security of the US medical products supply chain.
And Senator Rick Scott, a Florida Republican, introduced a bill this week to create a stockpile of medical equipment to "promote American-made goods and get Communist China out of the US supply chain".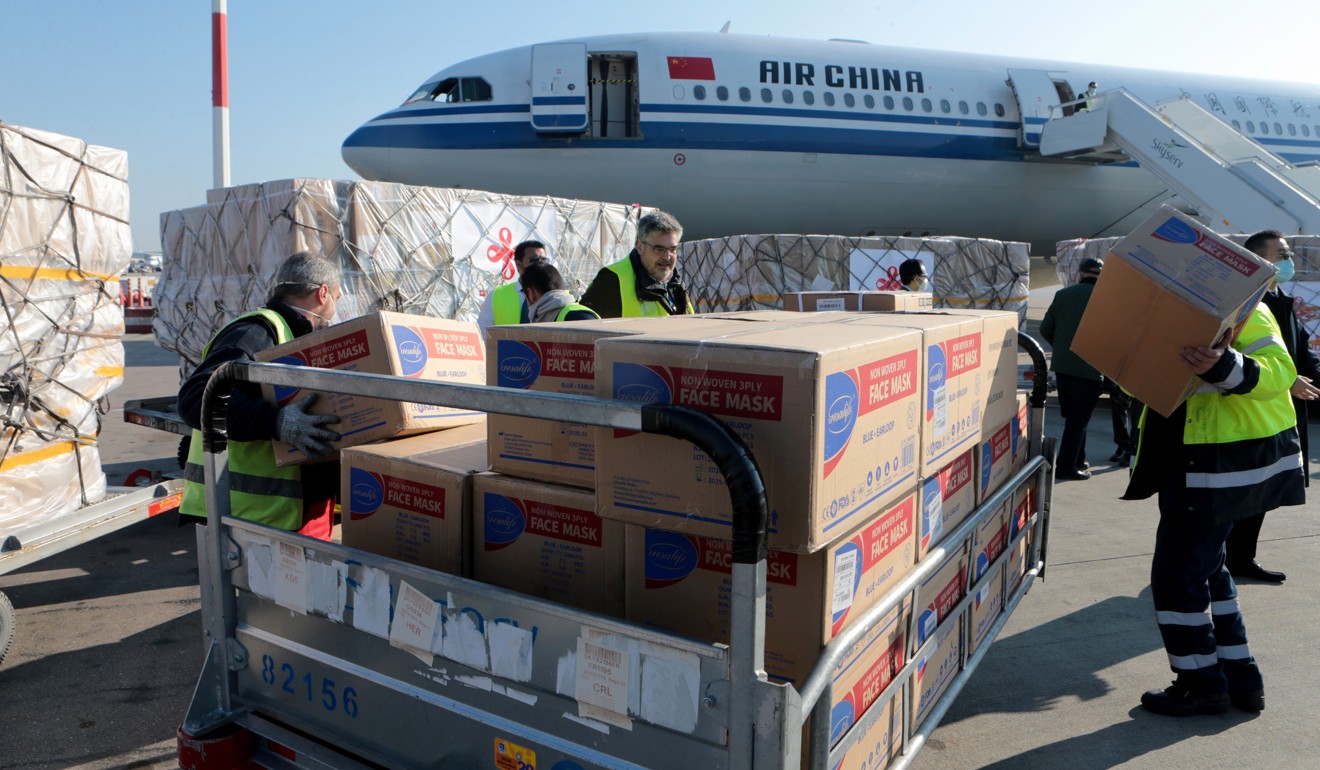 But some analysts argue that Chinese medical exporters aren't reducing shipments to the US out of spite but because of structural factors tied to the prolonged trade war.
Over the past two years, amid trans-Pacific chest thumping and tariffs, Chinese medical suppliers diverted exports to other countries without large tariffs and US buyers sought supplies elsewhere.
Now, with new trading patterns set, Chinese exporters face unprecedented global demand.
"There's a good chance they will sell elsewhere because there's a good chance President Trump will slap tariffs on them again," said Bown. "Italy needs stuff too and they don't seem to be threatening Chinese suppliers with tariffs. Much of this is self-inflicted."
But the US could face similar trouble gaining supplies from Europe. Trump's threats, increased tariffs and public insults toward allies threaten to leave European suppliers less eager to send scarce medical supplies to Americans, especially given their own dire needs. In a nationwide address on March 12, Trump announced a halt to all cargo shipments from Europe before stock futures sank and the White House walked it back.
According to Global Trade Alert, 54 countries have restricted exports of hospital masks and other personal protective equipment.
"The answer is not a misguided attempt to bring back all medical equipment production to America," Bown said.
"The United States also must lead a policy of international cooperation to fulfil needs tomorrow, not just today. Because the main lesson of pandemics is that any one of us could be next.
"The world needs American leadership now more than ever."
Purchase the China AI Report 2020 brought to you by SCMP Research and enjoy a 20% discount (original price US$400). This 60-page all new intelligence report gives you first-hand insights and analysis into the latest industry developments and intelligence about China AI. Get exclusive access to our webinars for continuous learning, and interact with China AI executives in live Q&A. Offer valid until 31 March 2020.