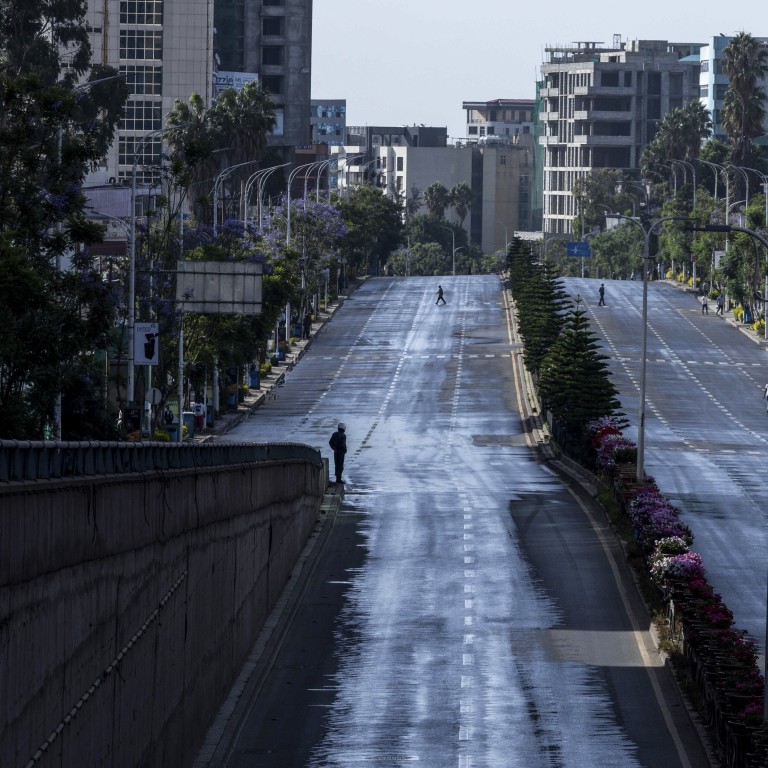 China asked to write off more African debts as coronavirus hits economies
African countries ask for relief to focus on containing pandemic and absorb its impact on exports and GDP
World Bank and IMF add to call for G20 – of whom China is the biggest lender to Africa – to ease pressure on countries struggling to cope
Rich countries including China are being asked by African nations to write off or restructure their substantial debts as their economies are battered by the
coronavirus
pandemic.
African countries, most of them teetering towards debt default, have called for US$100 billion in bailouts and debt relief to help them cope with the devastating effects of the outbreak. Their economies are limping after they ramped up measures to curb the spread of the virus, including lockdowns and the grounding of airlines, affecting trade, travel and tourism.
When the continent's finance ministers met on Tuesday, they called for debt relief and fiscal stimulus packages for all countries. In a statement issued after the meeting, they said a "waiver of all interest payments on bilateral and multilateral debt, and extension of the waiver to the medium term" would allow them to focus on dealing with the outbreak.
According to the International Monetary Fund (IMF), seven of the 35 low-income countries in Sub-Saharan Africa are in debt distress and a further nine have a high risk of debt distress. It says China is the largest lender to African countries.
The Economic Commission for Africa (ECA), a regional agency of the United Nations, has warned that the pandemic could cut the continent's GDP from 3.2 per cent to below 2 per cent as the crisis disrupts global supply chains.
The ECA has estimated that export revenues will fall US$101 billion, including US$65 billion for the oil-producing countries including Angola and Nigeria, as crude oil prices continue to tumble.
In Tuesday's statement, the African ministers asked the Group of 20 (G20) – made up of government and central bank representatives from 20 of the largest economies – for an urgent US$100 billion rescue package, including US$44 billion in written-off debt.
If the crisis were to continue, the ministers said, an additional US$50 billion may be needed next year.
The World Bank has estimated that in 2018 Africa had a total debt of US$584.3 billion to outside lenders, including the Asian Development Bank, the World Bank itself, bonds and other commercial creditors.
Since 2016, the Paris Club – a group of 19 creditor nations seeking solutions to indebted nations' financial problems – has cut lending, but Beijing's lending to Africa has increased, according to the IMF.
China is estimated to hold about a fifth of the total debt in Africa, according to London-based Jubilee Debt Campaign, which is pushing for the debts of the poorest countries to be cancelled.
Beijing is funding multibillion-dollar projects in several African countries to build motorways, ports, dams and railways under the
Belt and Road Initiative
, its transcontinental infrastructure construction and investment strategy.
Critics have warned that Beijing may be ensnaring nations with unsustainable debts under the initiative – claims China dismisses as groundless.
China advanced more than US$143 billion to African countries between 2000 and 2017, according to figures from the China Africa Research ­Initiative at the Johns Hopkins School of Advanced International Studies in Washington.
But – perhaps yielding to growing criticism – Beijing last year wrote off or restructured debt for some of the increasing number of African countries in financial distress.
The Chinese embassy in Kenya said last August that China was prepared to help heavily indebted African countries ease their debt burdens. "If some African countries encounter difficulties to repay ­Chinese loans, we will have bilateral consultations with them and take flexible measures according to international practice and market principles," the embassy said.
Beijing has in the recent past cancelled or restructured debt for some African countries, including extending the repayment period from 10 to 30 years for a US$3.3 billion loan Ethiopia had taken on to build its Addis-Djibouti rail line.
China in 2018 cancelled Cameroon's US$78 million debt, Botswana's US$7.2 million debt and US$10.6 million owed by Lesotho, and the previous year cancelled US$160 million owed by Sudan. Last year, it restructured debt owed by Congo-Brazzaville, helping to unlock US$449 million from the IMF.
The push for bailouts and a loan repayments freeze began in mid-March when Ethiopian Prime Minister Abiy Ahmed asked lenders to write off all interest payments for government loans. "Ethiopia proposes part of the debt of low-income countries should be written off," Ahmed said. "We suggest the remaining debt be converted into long-term low-interest loans with a 10-year grace period before payment."
He received the backing of other leaders in the continent last week when a meeting of the 55-nation African Union bloc convened by its chairman, South Africa President Cyril Ramaphosa, agreed to push for an "economic stimulus package that includes relief and deferred payments".
Also last week, African countries received support when the World Bank and the IMF called on bilateral creditors to suspend debt payments from International Development Association countries, including 39 African nations, to give them the liquidity to tackle challenges posed by the coronavirus.
World Bank president David Malpass said he had held a conference call with the G20 leaders to urge them to allow the poorest countries to suspend all repayments.
Malpass said the bank would make up to US$160 billion available over the next 15 months to support social safety nets in the world's poorest countries and structural reforms to rebuild confidence.
A statement released at the end of the G20 meeting last week said its members were gravely concerned with the serious risks posed to all countries, notably in Africa, "where health systems and economies may be less able to cope with the challenge, as well as the particular risk faced by refugees and displaced persons".
Although the G20 did not directly address the issue of bailouts or debt forgiveness for Africa, it said it would "stand ready to mobilise development and humanitarian financing".
Sign up now and get a 10% discount (original price US$400) off the China AI Report 2020 by SCMP Research. Learn about the AI ambitions of Alibaba, Baidu & JD.com through our in-depth case studies, and explore new applications of AI across industries. The report also includes exclusive access to webinars to interact with C-level executives from leading China AI companies (via live Q&A sessions). Offer valid until 31 May 2020.
This article appeared in the South China Morning Post print edition as: African nations seek debt restructuring or write-offs